Should Ron DeSantis Sue 'The Good Fight' Creators? Legal Experts Debate
The creators of The Good Fight included a controversial fictional sexual assault storyline that implicated the involvement of Florida Governor Ron DeSantis "to get ratings, not to do evil" according to one legal expert.
After six seasons, the Christine Baranski-led legal drama came to an end on Paramount+ on Friday, November 10, but the final episode caused a huge reaction by pulling a real political figure into a sensational fictional dispute.
In the final episode of Season 6, The End of Everything, the character Felix Staples (John Cameron Mitchell), who has appeared previously and been dishonest in the past, informs Baranski's character Diane Lockhart that he was forced into performing oral sex on "Governor DeSantis" following a CPAC conference while interning for his office.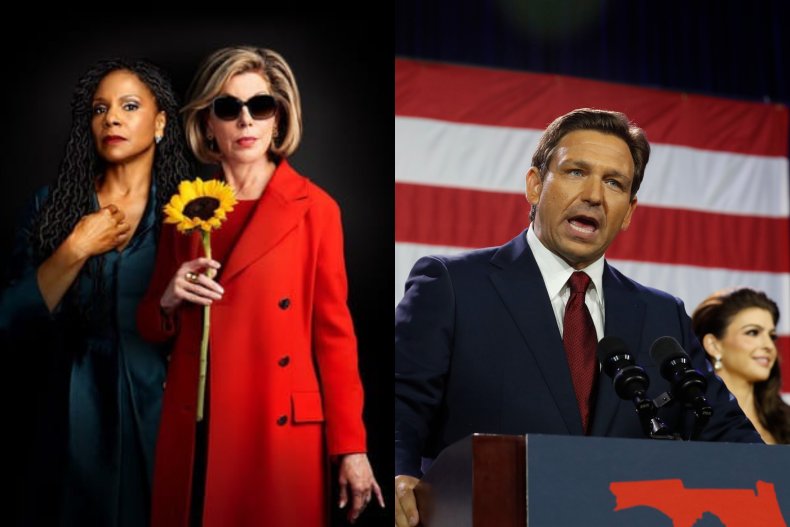 A two-minute clip where the character makes the accusation, and lawyers discuss the severity and merit of the claim, is making the rounds online.
Later in the episode, it's discovered that Staples was lying in an effort to hurt DeSantis and aid Donald Trump's run for president in 2024.
"Any false statement where you can prove the statement was made with malice because the governor is a public figure is actionable," David M Schwartz, Esq. of Schwartz Defense told Newsweek when asked whether DeSantis may be able to bring a defamation case against the show's producers. "Many courts have upheld that where a fictional character is so closely relatable to a real-life person and the statements about that character are false, the TV show can be held liable for defamation," Schwartz said.
Newsweek reached out to representatives of DeSantis for comment on this story.
Frank Salzano, a New York City-based entertainment attorney with Salzano Lampert & Wilson, LLP, agreed that DeSantis could "have a potential defamation claim against Paramount" but the producers would have a strong defense.
"It should be noted that any such claim would face a few strong defenses and challenges." Salzano told Newsweek, adding that The Good Fight is fictional, and "while that doesn't completely insulate Paramount from liability," the fictional nature of the show would make it hard for a public figure to pursue a claim.
Many TV shows feature a disclaimer before the start of an episode to suggest that likenesses and names similar to real-life figures are coincidental.
Attorney Andrew Lieb of Lieb at Law, P.C. in Smithtown, New York, believes Paramount and the producers of The Good Fight were fine to run the storyline.
"The fact is that there is nothing legally significant to The Good Fight's recent segment that delved into possible sexual assault purportedly perpetrated by Ron DeSantis. While morally questionable and offensive to those who care about the Florida governor, defamation requires a false statement of fact for it to be actionable and satisfying that burden will never happen based on a statement from a fictional TV show," Lieb told Newsweek.
"In fact, the show has a disclaimer stating just that, that all representations on the show are fictional. And, even if it was a documentary rather than a fictional show, and even if it didn't have a disclaimer which it did, public figures like Ron DeSantis have a higher burden of proof than ordinary citizens when bringing a defamation claim where they have to prove malice, and clearly the show runners' purpose of the segment was to get ratings, not to do evil."
DeSantis has yet to publicly address the recent storyline from The Good Fight finale and he hasn't tweeted since he was reelected as governor of Florida during last week's midterm elections.