Should Tech Have to Pay for San Francisco's Homeless Problem?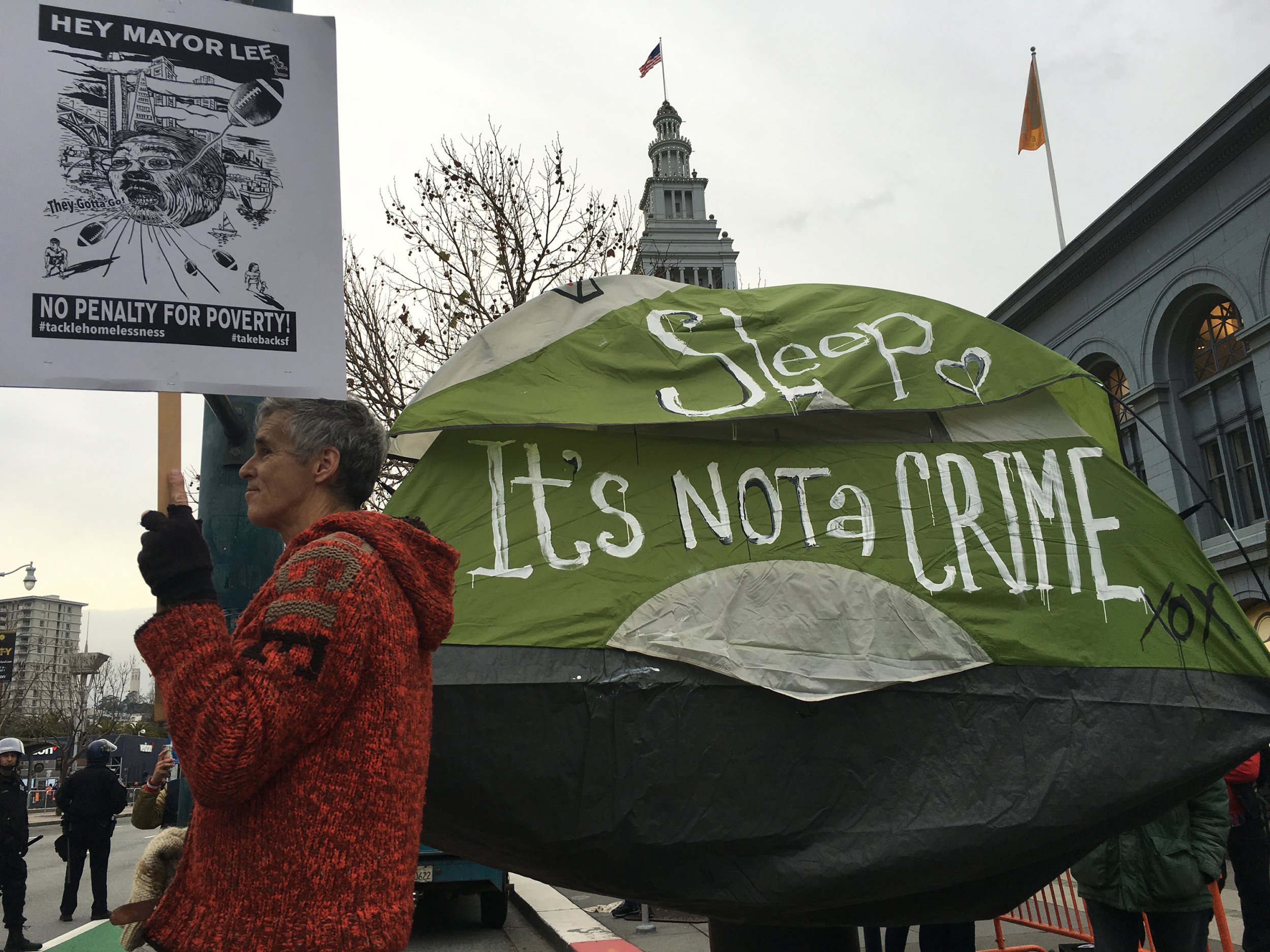 Wednesday was supposed to be a day of reflection and awareness in San Francisco. Seventy city and Bay Area media outlets chose Wednesday to all report on the causes of and potential solutions to San Francisco's worsening homelessness issue. But the discourse was partly mired in a fierce debate over a proposed payroll tax intended to siphon tech profits into homelessness services.
Two members of the Board of Supervisors, San Francisco's 11-member legislative body, proposed the so-called "tech tax" on Tuesday. The proposal seeks to impose a 1.5 percent payroll tax on tech companies who make over a million dollars in annual revenue. It is supposed to generate $120 million annually to fund affordable housing and homelessness services. The tax proposal needs to first get at least six votes in the Board of Supervisors to go on a ballot for San Franciscans to vote on in November.
The tech tax is the latest issue in San Francisco's nonstop debate on the chicken-or-egg question of what caused the housing crisis and inequality issues. The co-sponsors of the tech tax proposal, Supervisors Eric Mar and Aaron Peskin, belong to the more progressive wing of San Franciscan politics, which believes that tech workers with high salaries coming into San Francisco en masse have inflated housing prices to record levels.
"It's five years after this rapid tech boom with tens of thousands of new employees that make basically double the salary of the average San Franciscan employee," Mar told the San Francisco Chronicle. "The measure is addressing this issue by requiring these big tech companies to pay their fair share."
The more moderate, pro-tech political wing of the city, which includes Mayor Ed Lee, vehemently opposes the tax, saying it needlessly targets and victimizes job-creating companies like Twitter and Airbnb. Supervisor Mark Farrell called the tech tax proposal the "the worst idea I've heard in months." Lee's spokeswoman Deirdre Hussey told KQED that the "job-killing" ballot measure "will return this city back to the days of the Great Recession."
The tech tax can be seen as a direct retort to the tax break given to tech companies in 2011. In what is considered Lee's most significant action in his five years as a mayor, San Francisco gave tech companies tax breaks to stay in the city, a move many now call the "Twitter tax break." The tax break cost the city $34 million in 2014 and provided fodder for organized protests outside Twitter's headquarters. The tax break is set to expire next year.
Tech workers expressed dismay and anger at the bill on social media. Angel investor Jason Calacanis tweeted sarcastically, "Best idea SF's leaders have to solve housing/homeless problem? Tax only tech companies!"
Zynga CEO Mark Pincus tweeted, "Taxing tech companies will simply drive jobs out of SF. It's solving a housing crisis by hurting an economy." Zynga in February announced it will be selling its giant San Francisco headquarters. (Calacanis did not respond to Newsweek's request for comment; Pincus did not respond to Newsweek's request to speak on the record.)
Parker Thompson, who works a partner for angel investing platform AngelList, did share his argument against the tech tax with Newsweek. "This specific proposal is purely symbolic," Thompson says via email. "It is yet another sign that San Francisco's leadership is unwilling or unable to have an honest conversation with the people of San Francisco about what kind of change they want, more growth or less income diversity, as opposed to suggesting that change can be avoided."
Thompson also argues that the plan is "not enough money to have a meaningful impact on the housing crisis." If passed, the tech tax's $120 million projection will be about half of the current homelessness budget of $241 million. But the tax will be split among homelessness services and affordable housing. The San Francisco Coalition on Homelessness supported the proposal, as it provides "a sustainable revenue source" to its services.
Thompson says rezoning laws, a significant increase of market-rate housing development and a much larger, regional approach in housing laws are solutions to the current housing crisis.
As the tech tax proposal waits for its chance to get on the ballot, another homelessness-related initiative, proposed by Farrell, to allow authorities to remove homeless people from their tents after 24 hours' notice will go to the vote in November.