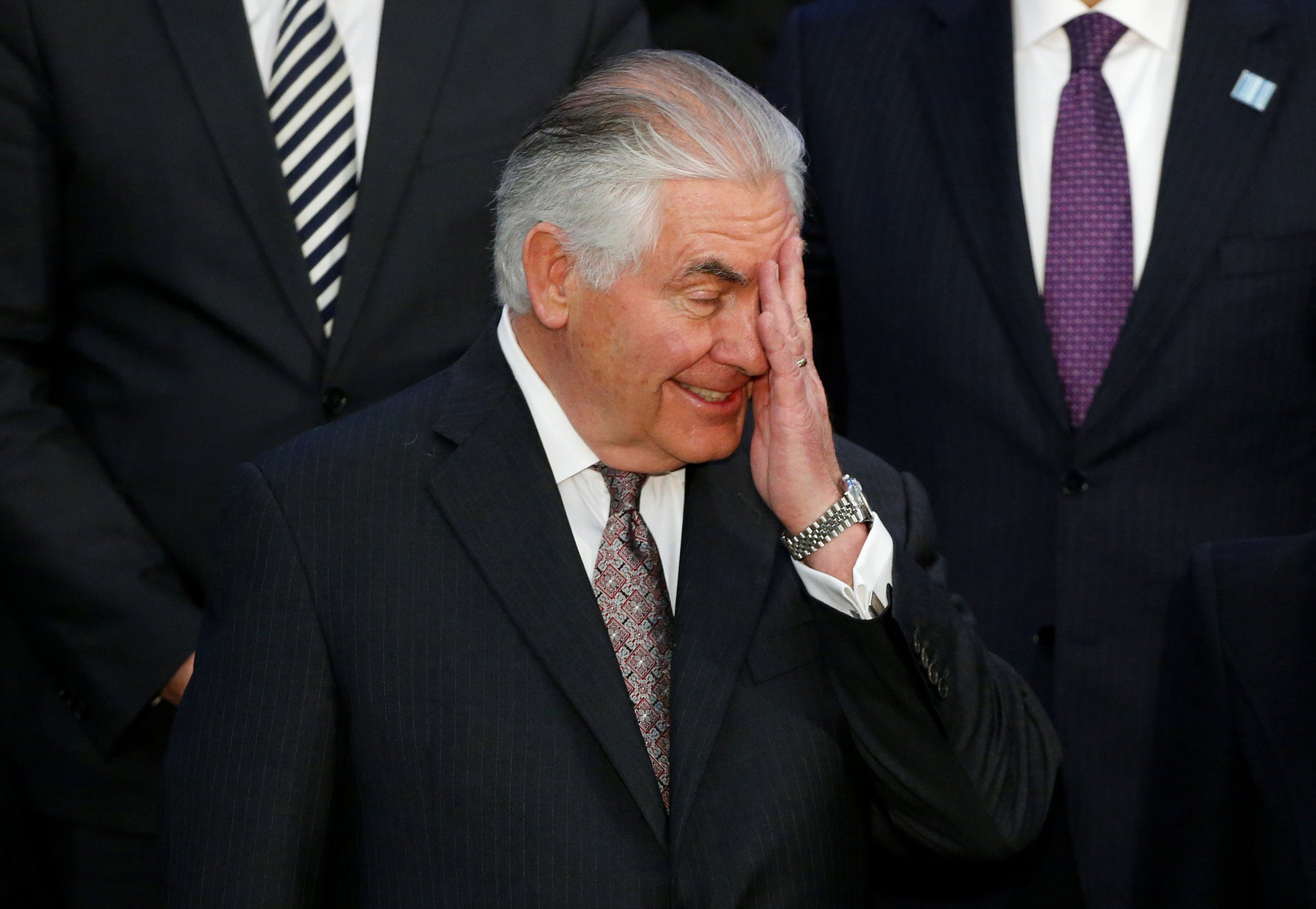 During his seven-day trip to Latin America, Secretary of State Rex Tillerson has attempted to garner support for more sanctions on Venezuela, including a possible oil embargo against the Nicolás Maduro regime—but his initiative did not get the feedback he expected, according to some reports.
Even though most of the countries Tillerson visited—Argentina, Colombia, Peru and Mexico—are against the Maduro regime, not all nations seem to be on board with an oil embargo against a country whose economy is already in shambles. Venezuela's socio-economic and humanitarian crisis has spilled into neighboring countries such as Colombia, which has witnessed a massive exodus of Venezuelans who are searching for food and medicine.
While in Jamaica on the last leg of his trip, Tillerson said Wednesday that he hopes Latin American energy powerhouses like Mexico will become "alternative sources of oil and gas in the Caribbean," according to Los Angeles Times. Tillerson added that the U.S. and Canada are creating a group that could assuage an embargo's effect on the Caribbean economy and on U.S. refineries that depend on Venezuelan crude. However, many island nations rely on Venezuela's cheap oil, thus making U.S. efforts to wield sanctions against Maduro at the hemispheric level a tough sell.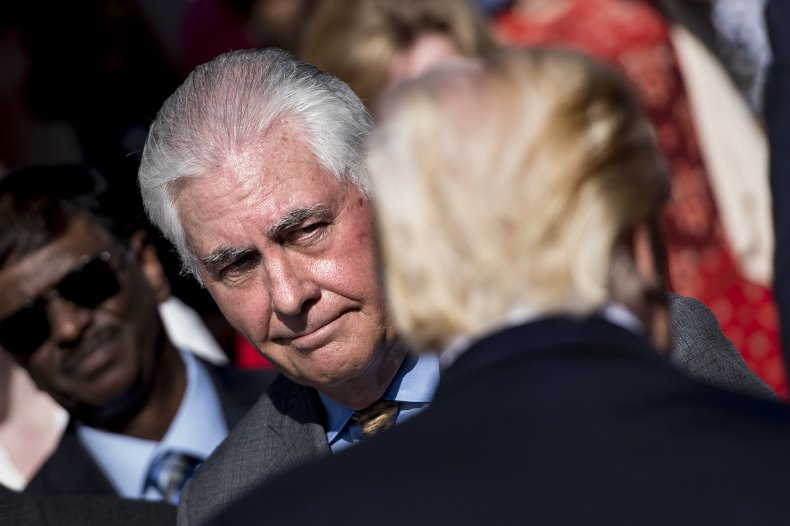 Tillerson's idea of imposing an oil embargo has raised concerns among experts. "It's very serious to be talking about doing energy-sector sanctions and reviving an embargo threat," Helima Croft, head of global commodity strategy at RBC Capital Markets, told Newsweek. "I think of Tillerson as a centrist person rather than a hawkish one, so when he makes this argument, you can tell there is a consensus building in the administration to display a coercive action against Venezuela."
Croft added, "What comes after [a possible embargo]? If you believe the sanctions can potentially alter the regime, what does the reconstruction [of the country's economy] look like? We can be in a situation [in which] Venezuela can get worse."
An oil embargo against Venezuela has been already discussed. Last year, Argentinean leader Mauricio Macri encouraged President Donald Trump to "go to a full oil embargo" and, this week, Argentina and the U.S. have studied the possibility of placing sanctions against Venezuelan crude. Even though this idea has gained traction in Washington, Michael Shifter, president of D.C.-based think tank Inter-American Dialogue, said that Macri's call would not get any support across the region.
"The sanction can reverberate echoes of the embargo against Cuba, which has only strengthened the Castro regime," Shifter told Newsweek. "So this move will be used for Maduro's advantage, which will [in turn] worsen Venezuelans' lives. There is also lobbying from Wall Street executives to go against this measure."
Such an embargo would also impact the U.S. economy. Recent numbers indicate that the U.S. imports nearly 800,000 barrels a day from Caracas, while Citgo—the U.S. subsidiary of state-owned Petróleos de Venezuela and largest buyer of the country's oil—employs 3,500 people at three refineries in Louisiana and Texas. Another 20 U.S.-based refineries depend on U.S.-Venezuela trade, so any restrictions could jeopardize nearly 525,000 refining-related jobs while skyrocketing gas prices for American customers.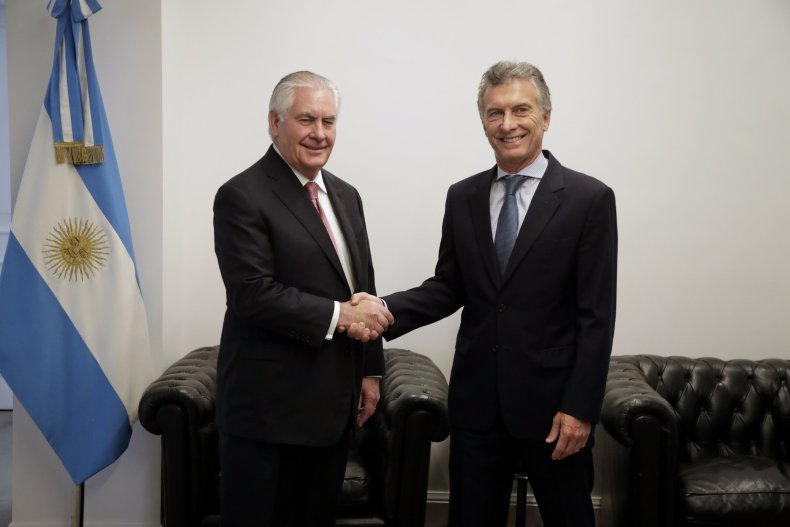 Overall, Tillerson's trip to Latin America got off to a rough start. During a speech in Austin, Texas, on February 1, he warned against China and Russia's presence in the region, advised Latin America to avoid being heavily dependent on economic ties with Beijing and raised the prospect that the Venezuelan military could choose to overthrow Maduro.
For some experts, Tillerson's discourse was reminiscent of the Monroe Doctrine, when President James Monroe proclaimed in 1823 that European powers should refrain from exerting influence in the Western Hemisphere—a territory he considered of great interest for the U.S. Historically, Latin Americans have grown suspicious of this policy.
"We live in a multilateral world, which means that not all countries are willing to impose sanctions on Venezuela," Guadalupe Correa-Cabrera, associate professor at George Mason University, told Newsweek. "Latin Americans don't hold Trump in high regard, so rather than debilitate the Maduro regime, he will use this to improve his image in the region's public eye."
However, Correa-Cabrera added that Mexico could support some of Trump's policies in order to warm relations with Washington. "Mexico has adopted a lukewarm position in the North American Free Trade Agreement negotiations, so in an effort to improve a deteriorating relationship, the [Enrique] Peña Nieto administration is likely to join a group that could offset the repercussions of an oil embargo in the Caribbean."
Shifter concluded that a Monroe Doctrine-like in the region has been "obsolete for a long time," and added that China has become a pivotal trading partner for several countries. "Latin Americans are pragmatic and are looking for partners they can find, and China has shown interest," he said. "Tillerson came off as patronizing and he may think that China is not a good partner, but that's for Latin Americans to decide."