Should We Be Optimistic About Crypto in 2022? | Opinion
Last year was a rollercoaster period for the blockchain industry. Whether it was China cracking down on crypto (again), market dips fueled by rogue Elon Musk tweets, or $10 billion in investor money lost to DeFi scams, industry leaders were kept on our toes all year. But despite the ever-lingering concerns of regulation, volatility and security, I'm very hopeful for the year ahead in crypto.
We'll always look back on 2021 as the year our industry went mainstream. In April, Coinbase went public, reaching a market cap of $54 billion. As the "Amazon for crypto," I think Coinbase has a shot at becoming a trillion-dollar company before long, and its success will encourage other digital asset exchanges to go public in the near future. We also saw sports, entertainment and crypto collide with the Staples Centers' recent name change to Crypto.com Arena.
This trend will continue in 2022 and further cement crypto's prominence in everything from pop culture to business and finance. Here are four reasons why I'm optimistic about the industry in 2022:
—The Convergence of NFTs and DAOs
While the innovation of the NFT (non-fungible token) first occurred in 2014, it took a bunch of Crypto Punks and Bored Apes to really launch the technology into the stratosphere. In 2022, I predict the NFT space may see 300-500 percent year-over-year growth. And while NFTs became popularized as digital art, we're now seeing communities form around owners of NFT collections. This is just a small taste of the interesting ways crypto and social/community tokens will allow people to connect in the Web3 era.
If this past year taught us anything, it's that it's tough to be social when you're remote. We're looking for more ways to connect with different people in our lives, and creating DAOs (decentralized autonomous organizations) that have the ability to gather like-minded people, collect and manage funds, share information and take action and specific directions based on votes will go a long way to helping us connect with others (for a great example of a fun DAO, check out Friends with Benefits).
NFTs and DAOs are the future—and we'll see this future really start to play out in 2022.
—Convincing Skeptics
While crypto has attracted huge sums of money, many people still have doubts about its everyday functionality. The biggest thing that will win over skeptics is utility. Stablecoins are a great example of crypto's utilitarian value. They represent everything good about crypto without the speculation or the FOMO aspect, especially when you look at regulated stablecoins like USDC. The ability to send peer-to-peer transactions instantly across borders without middlemen is what will convince skeptics that this technology is here to stay.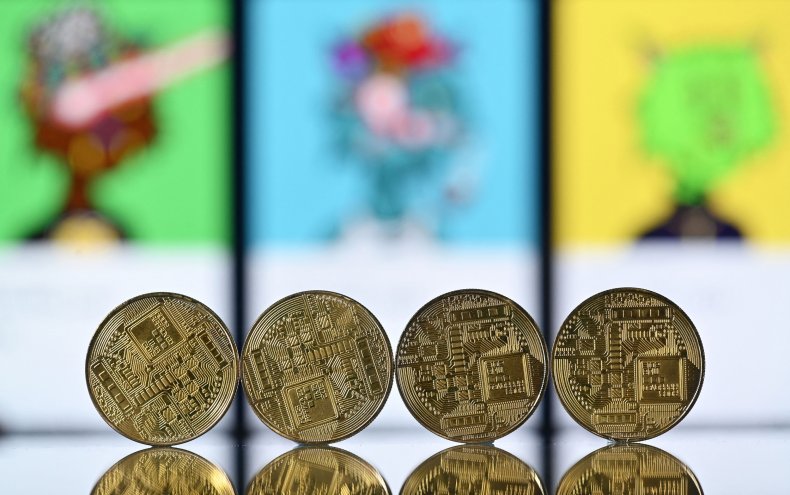 I believe stablecoins will be one of the fastest growing segments of crypto, and the market could be valued at $1 trillion by 2024, up from today's cap of about $159 billion. We're already starting to see how stablecoins can disrupt remittance payments and be useful in hyperinflationary environments internationally. As inflation continues to be a major concern, individuals and economies will look to stablecoins as a true game-changer.
—Incentives
In 2022, look for more brands introducing NFTs as incentives or proof of ownership for physical items as well as crypto rewards programs. It's easy to imagine sports leagues and concert venues minting tickets on the blockchain or social networks using it for identity information—think: tying your Twitter handle to an NFT.
Brands will test out the best ways to incorporate blockchain technology into their offerings as they explore how to connect with consumers digitally in a remote, post-COVID world. Soon, there will be more incentives than ever to participate in crypto, especially as consumers become educated on its benefits and start to demand blockchain-backed solutions.
—Regulation
As we've seen from congressional hearings, regulators are finally becoming better educated about crypto. With some exceptions, politicians are starting to wake up to the industry's potential to create jobs and economic opportunity. If we look at all of crypto's use cases, regulators working with the industry can find ways to keep the good parts while putting a framework in place, or incorporating crypto into existing frameworks, to mitigate outright scams and other negative aspects of crypto.
Environmental concerns are a big factor for some politicians, but these are starting to be mitigated with the introduction of layer 2 solutions and more advancements in crypto infrastructure, such as moving to proof of stake rather than proof of work.
Last year was the year that crypto started to reveal its potential to the world. The trend of crypto adoption will continue in 2022 as more and more consumers begin to use crypto products to save time and money in their everyday lives.
Matthew Gould is the founder and CEO of Unstoppable Domains, an NFT domain name provider with 2 million registered domains. Unstoppable Domains' NFT domain names replace cryptocurrency addresses with simple usernames, making it easier to send crypto and interact with Web3. Matthew's background is in entrepreneurship, product and analytics leadership.
The views expressed in this article are the writer's own.