Should Women's Rights Be In The Constitution? Equal Rights Amendments Gets Big Push After Me Too Movement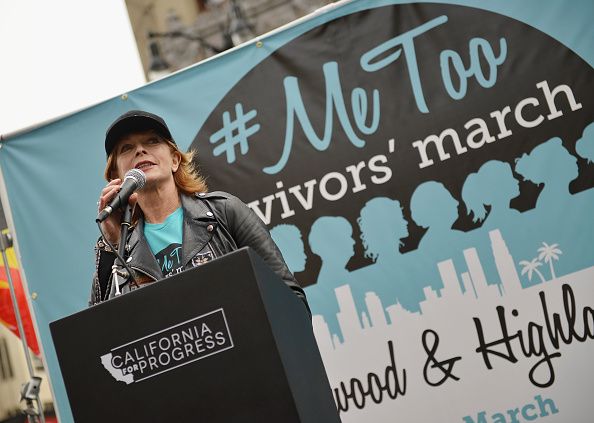 Equal Rights Amendment advocates are taking the MeToo movement to new heights.
As more women come forward with their sexual assault stories, Equal Rights Amendment advocates are pushing to renew Constitutional protections against sexual discrimination, USA Today reported.
"If you ever feel like you don't think that we need to have some changes, I'm going to just say two words to you: Harvey Weinstein," Rep. Carolyn Maloney (D-N.Y.), said Friday during a public event in New York City. "The only way we're protected is to have ironclad protection in the United States Constitution. Is it so challenging to say that women and men should have equality of opportunity, equality of protection under the law?"
Maloney and other women held "ERA YES" signs to call for an ERA after more sexual harassment stories in Hollywood, Congress, and newsroom leaders are being told.
The amendment would provide legal action against sex discrimination for both men and women. This is similar to how the U.S Constitution already prohibits discrimination on the basis of race, religion and national origin. There are currently 15 states in the U.S who have not ratified the amendment, according to Progress For All.
This is the 11th time Maloney has reintroduced the bill, but has high hopes that this would be the best time to do it thanks to the response to the "Me Too" movement.
The "Me Too" movement became a viral hashtag on social media in October to denounce sexual harassment after sexual misconduct allegations came out against Hollywood mogul, Harvey Weinstein.
Congress passed the amendment in 1972, but it wasn't ratified by the requisite number of states by the 1982 deadline. Since then, Democrats have pushed legislation to either remove the ratification deadline or start over, but the two proposals have failed.
The conservative groups that oppose the movement say it is unnecessary, would overturn laws or programs that benefit women, and could liberate restrictions on abortion. Right now, there are only five out of 108 cosponsors that are Republican.
Some of the difficulty stems from that 80 percent of Americans mistakenly believe men and women already have equal rights under the Constitution, according to a 2016 poll commissioned on behalf of the ERA Coalition/Fund for Women's Equality.
Cosponsors like Sen. Ben Cardin (D-Md.), have said that the climate in Congress may not be the most ideal, this is the best time to make sure this bill is passed.
"I know the political climate we have, but I think the case is pretty strong right now," Cardin told USA Today.