'Show Us Your Slats': Stephen Colbert Imagines Spring Break at the Wall
Late night comedy show host Stephen Colbert has taken aim at President Donald Trump's threats to close the southern border with Mexico, joking that the shutdown would hamper spring breakers.
"Show us your slats," Colbert said, punning on the fencing material that could be used to build the president's proposed border wall and suggesting students who were planning to vacation in Cancun this year could spend spring break at the wall.
The Late Show host began the segment with an April Fool's joke. "Speaking of national security...Trump is still concerned with our southern border. In response to a surge of migrants coming to this country today Trump unveiled a new approach that treats asylum seekers fairly and humanely. April Fool's—I gotcha," Colbert quipped.
"In fact, Trump threatened to shut the Mexico border just in time for spring break. Hey college kids, I know you had your heart set on Cancun but how about 'Spring Break: Wall?'" Colbert asked, speaking in front of a graphic showing college students cavorting in swimwear in front of a wall.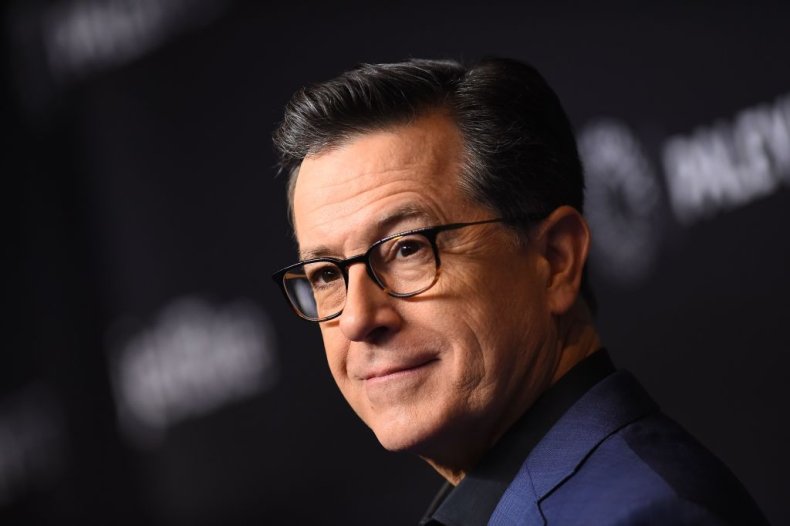 Colbert continued to mock the president's tweet from last Monday that threatened to close the border with Mexico. "Mexico has for many years made a fortune off of the U.S., far greater than Border Costs. If Mexico doesn't immediately stop ALL illegal immigration coming into the United States throug our Southern Border, I will be CLOSING…the Border, or large sections of the Border, next week," Trump wrote in what Colbert called "an epic, three-part policy tweet."
According to The Associated Press, Trump said Friday that his border closure threat could mean the end of all trade with Mexico. "We will close it for a long time," he added.
While the president has highlighted the money lost to policing the southern border and fighting the drug war, the U.S. Chamber of Commerce warned a full border closure would amount to "an unmitigated economic debacle," threatening 5 million jobs in the United States.
The U.S. and Mexico trade about $1.7 billion in goods daily. The burden of a border closure would fall on cross-border communities along the frontier, from San Diego to southern Texas.
For more than two years, both on the campaign trail and in the Oval Office, Trump has promised to build a wall along the length of the frontier. With a new migrant caravan heading north from El Salvador and Guatemala, the president has suggested closing the border for the short-term and visiting the frontier on Friday.