Shownu from Monsta X Enlists for Military Service, K-Pop Fans Share Messages of Support
Shownu, the leader of K-pop boy band Monsta X, officially enlisted in the military on Thursday in South Korea, where national service is mandatory for all men.
K-pop fans flooded social media with messages of support for Shownu, whose name has been trending on Twitter.
On the eve of his enlistment, images revealing his new buzz cut were shared on the official Twitter account of Monsta X as well as the group's official fan cafe page, where he simply wrote: "I'll be back."
Shownu will undergo three weeks of basic military training before he begins his service as a social worker.
The singer—who underwent eye surgery last year after being diagnosed with retinal detachment in his left eye and has recently been on a break from work activities—was placed in an administrative role as he was deemed ineligible for active duty service, local media reported.
According to local media, in a bid to prevent mass gatherings amid the ongoing COVID pandemic, Shownu's exact enlistment location and time weren't disclosed. His management agency said: "We ask for your warm support and encouragement for Shownu, who will faithfully perform his military service and return in good health."
The message from Shownu posted at the fan cafe was shared with an image of rubber shoes, referring to a Korean phrase that translates to "wearing your rubber shoes backwards," seemingly asking fans to remain faithful to him and wait for his return.
The Korean phrase is used to describe when a woman runs off with another man while her partner is serving in the military.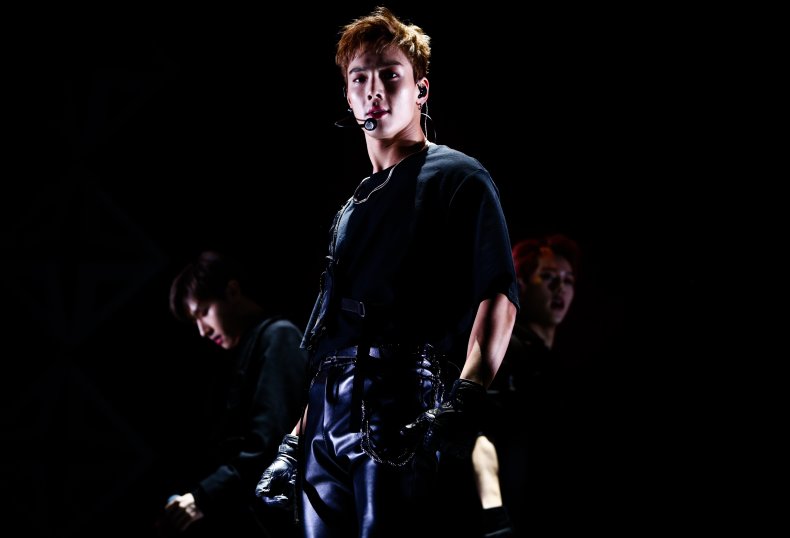 Alongside images of his new haircut, the singer wrote in a post on the Monsta X Twitter account: "Be careful amid the heat and look after your health and happiness. I love you."
Shownu was also pictured with his bandmates in another post on the Monsta X Twitter account, which tweeted: "Awaiting the day that we can all meet again, I'll keep in good health [while I'm in the military] and come back as a more mature, greater version of myself on my return. Thank you!"
Back in early July, announcing his military enlistment date, Shownu wrote at the fan cafe page: "It seems like yesterday that I first debuted [as a K-pop artist] and it's already time for me to head to the military," South Korea's Star Today reported.
"Thank you for allowing me to feel and experience so many things while working as part of Monsta X. I'll make sure to do all that I can to repay you for that, so I hope you continue to share great memories with Monsta X and Shownu," the singer wrote at the time.
South Korea's SBS News reported Shownu wrote at the time: "Thank you for showing me that we can live every day in a new way. Let's meet soon," thanking fans for their ongoing support.
A swarm of Monsta X fans on social media have posted messages of support and good wishes for the singer with the hashtag #SeeYouAgainShownu.
User @pupupipo wrote: "we will wait for you!!! good luck!!!!! #SeeYouAgainShownu #shownu #셔누." The post received nearly 2,000 likes at the time of reporting.
User @changkyunchive wrote: "always together #SeeYouAgainShownu," sharing images of the singer with his bandmate I.M, a rapper from Monsta X. The tweet received over 1,000 likes since it was shared at the time of reporting.
Sharing a video of Shownu addressing a fan from a laptop, user @WHLOOKS wrote: "We'll miss you on stage performing and being active within the industry but we'll #SeeYouAgainShownu love you <3." The post received nearly 1,000 likes since it was first shared.
Shownu has been on a temporary hiatus recently due to health concerns following his eye surgery, forgoing any promotional activities for the latest Monsta X EP One of Kind and the band's latest single "Gambler," which were released last month.
A teaser of the music video for their next single "Kiss or Death" under the Universe Music label, which is out on July 26 at 6 p.m. KST, was revealed Wednesday.
Monsta X, which consists of six members, garnered international fame following their appearances on various major American television shows, such as Good Morning America, Jimmy Kimmel Live and The Ellen DeGeneres Show.
The group was the first K-pop band to perform at a major music festival in the U.S. with their performance at the Life Is Beautiful Music & Art Festival in Las Vegas. On the same day, they were the first K-pop band to perform at the iHeartRadio Music Festival.
In 2020, they released their first all-English album, titled All About Luv. They have released songs in collaboration with other U.S. artists including French Montana and will.i.am.