5 Shows to Watch If You Like 'Sex/Life'
Sex/Life is holding on to its top spot in the Netflix Top 10, several weeks after it premiered on the streaming platform. The series follows the story of Billie Connelly (Sarah Shahi), a suburban wife and mother of two who has been reminiscing about her wilder life when she was younger and one ex-boyfriend in particular—Brad Simon (Adam Demos).
Across eight episodes, viewers watched Billie embark on a journey of self-discovery, jeopardizing her relationship with her husband Cooper (Mike Vogel) and risking falling into bad habits with her ex-boyfriend Brad.
In the end, Billie decided to choose both men. Opting for a relationship with her husband Cooper, Billie changed her mind at the last minute and ran into the arms of her ex-boyfriend Brad, proclaiming she wanted a relationship with him and her husband.
The series features plenty of racy sex scenes, nudity, and laugh-out-loud moments and one thing is for sure, Billie's story is far from over.
Unfortunately, there has been no news regarding a second season of the hit romantic drama. As fans await news on the show's future, there a plenty of other dramas to get into. Newsweek has listed the top five for Sex/Life fans below.
5 Shows to Watch If You Like 'Sex/Life'
1. 'Elite'
Elite is the Spanish drama on Netflix following the lives of students at a prestigious Spanish private school called Las Encinas.
However, this is no ordinary teenage drama. Elite's storyline is fueled with murder, sex, and love alongside touching on issues of sexuality, social class, sexual abuse, and drug addiction.
Season 4 of Elite recently dropped on Netflix at the end of May and just like Sex/Life has been holding on to its spot in the Netflix Top 10 since. The show's fifth outing is currently in the works and is expected to drop on Netflix in mid-2022.
If you like a good crime drama with a sexy twist, you will not want to miss Elite.
2. 'What/If'
What/If may have a much darker tone than Sex/Life but the concepts of both shows are pretty similar.
What/If is an anthology thriller series that follows the effects of what happens when people begin to break the rules and do an unacceptable thing.
Just like Sex/Life, What/If calls into question the impact of our decisions on those around us and, most importantly, ourselves.
The first series stars Jane Levy, Keith Powers, Blake Jenner, and Renée Zellweger to name a few famous faces in the cast.
What/If is streaming on Netflix now.
3. 'Too Hot to Handle'
If you fancy a break from watching serious dramas and prefer some lighthearted viewing with sex at its core, Too Hot to Handle is what you are looking for.
The reality series following a group of sexually driven singletons who believe they are taking part in a show called "Parties in Paradise."
In reality, they are taking part in Too Hot to Handle, a game show where no sex is allowed—no kissing, no sexual contact, and no self-gratification.
With every rule break—overseen by a robot called Lana—the prize fund of $100,000 decreases.
Along the way, couples are thrown out of the Too Hot to Handle villa for rule violations and for failing to make "real connections."
With that being said, the rules are sometimes eased and most definitely always broken, making for some entertaining viewing.
The first two seasons of Too Hot to Handle are streaming on Netflix now.
4. 'The Affair'
The Affair, starring Dominic West, Ruth Wilson, Maura Tierney, and Joshua Jackson, aired on Showtime for five seasons between 2014 and 2019.
The series explored the emotional effects of an extramarital affair between Noah Solloway (Dominic West) and Alison Bailey (Ruth Wilson) and their respective partners Helen (Maura Tierney) and Cole (Joshua Jackson).
The story is told from a different perspective of those involved and across different timelines throughout the show's five seasons.
The Affair won the Golden Globe Award for Best Television Series and Ruth Wilson took home the Golden Globe for Best Actress at the 72nd Golden Globe Awards in 2015.
Maura Tierney won the Golden Globe for Best Supporting Actress at the 73rd Golden Globe Awards in 2016.
The Affair is streaming on Hulu now in the U.S. and Amazon Prime Video in the U.K.
5. 'Normal People'
Normal People took the world by storm when it premiered on Hulu and BBC iPlayer in April 2020.
At the height of lockdowns across the world, people fell in love with Daisy Edgar-Jones and Paul Mescal who played the lead characters in the series.
Based on Sally Rooney's 2018 bestselling novel of the same name, Normal People follows the relationship between Marianne Sheridan (Daisy Edgar-Jones) and Connell Waldron (Paul Mescal) as they make their way through their final months of high school to their university years at Trinity College, Dublin.
Connell and Marianne come from entirely different worlds but the romantic and sexual connection between them is undeniable.
If you want to laugh, cry and feel hot and bothered all at the same time, Normal People is the show for you.
Normal People is streaming on Hulu now in the U.S. and BBC iPlayer in the U.K.
Sex/Life is streaming on Netflix now.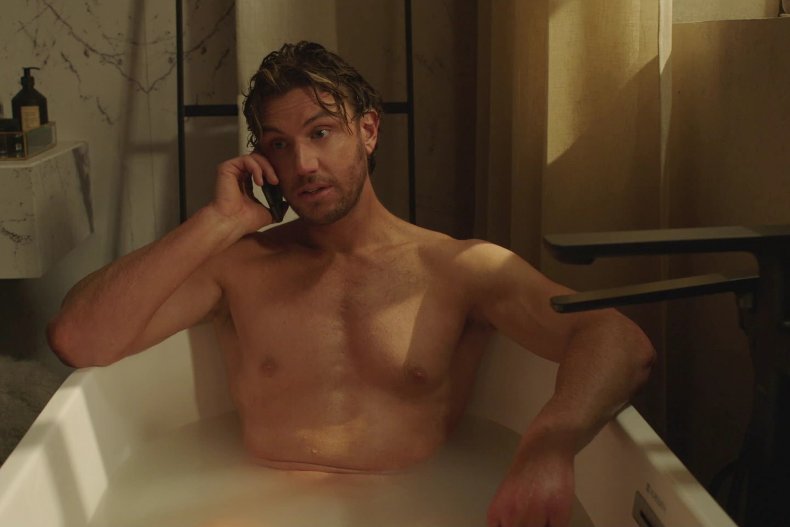 Newsweek has affiliate partnerships. If you make a purchase using our links, we may earn a share of the sale.