Shutdown: Republican Senator Bob Corker Blames Trump for Bowing to Conservative Talkshow 'Tyrants'
Tennessee Republican Senator Bob Corker criticised President Donald Trump for being swayed by the "tyrants" of conservative talk radio.
His comments followed a barrage of criticism of the president from normally supportive right-wing media figures after learning that Trump was considering signing a temporary federal government budget that did not contain any money for his wall on the Mexican border.
Read More: Trump's new chief of staff Mick Mulvaney described Trump's wall as "absurd" and "almost childish"
Trump on Friday rejected the deal. The failure to agree a budget saw a quarter of U.S. government departments close Friday, with hundreds of thousands of federal workers sent home on temporary leave.
Trump's decision not to approve the deal has reportedly angered senate Republicans, who hammered out the compromise with Democratic colleagues.
"Do we succumb to tyranny of radio talk show hosts?" Corker said, reported CNN's Manu Raju.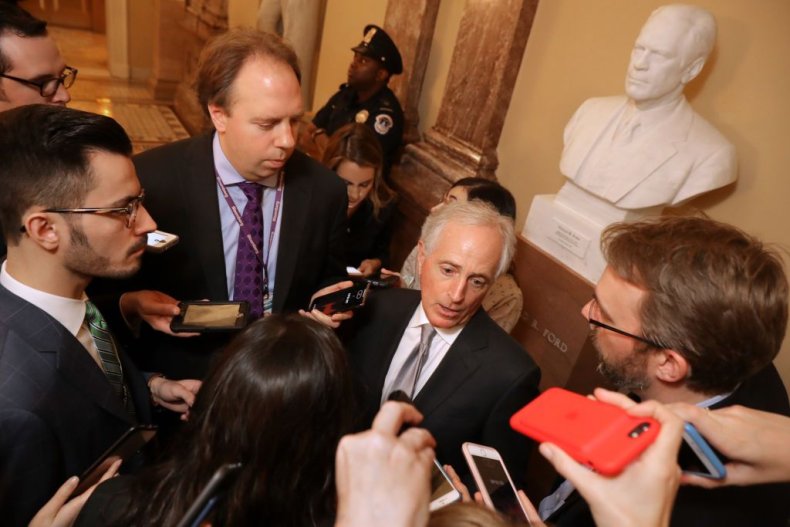 Conservative host Rush Limbaugh had earlier in the week complained of the deal that "Trump gets nothing and the Democrats get everything, including control of the House."
Commentator Anne Coulter said that if Trump did not secure funding for the wall, she would not be voting for him in 2020.
She told the Daily Caller that without building the wall Trump would will "just have been a joke presidency who scammed the American people, amused the populist for a while, but he'll have no legacy whatsoever."
Corker reportedly told Raju "We have two talk radio hosts who influenced the president. That's tyranny, isn't it?"
Lawmakers are continuing attempts to reach a deal and end the closure.