ShutDownDC: Climate Protesters Block Streets for Another Day of Disruption in Washington
A coalition of climate activist groups are set to cause morning rush hour chaos as they stage another #ShutDownDC protest in Washington.
The organizers promised to "hit the streets again" after more than 2,000 people protested across 22 intersections in the capital on Monday September 22 as part of their demands for an "end to the age of fossil fuels" and a transition to renewable energy.
The protesters, among them members of Extinction Rebellion, Beyond Extreme Energy, and Friends of the Earth Action, are due to stage a similar demonstration, but this time confronting some of the institutions "most responsible for the climate crisis"—investment firm Black Rock, bank Wells Fargo, the Environmental Protection Agency, and the Trump Hotel.
Kaela Bamberger, a spokeswoman for the coalition, told The Washington Post that nonviolent disruption to the city "will be part of the action."
Get your unlimited Newsweek trial >
"Monday's #ShutDownDC mobilization was a huge step forward, but we still have a long way to go to create the level of disruption that we'll need to force the politicians and rich power brokers to abandon their program of delay and inaction so we can move forward with a bold program to address the climate crisis," the organizers said in a statement.
The protest is due to begin at 7 a.m. ET at McPherson Square. It is due to head to Blackrock, down to the EPA building and towards the Trump Hotel before heading back up to Wells Fargo near McPherson Square.
Alaina Gertz, a D.C. police spokeswoman, said told The Post that police
were "aware of the assembly," but have not issued any traffic advisories.
Social media users noted the police presence as the protesters started to arrive for the event.
Get your unlimited Newsweek trial >
A total of 32 people were arrested during Monday's #ShutDownDC protest, a majority being college students. All were released without charge later that day.
Following the travel disruption, Black Lives Matter DC released a statement alleging police targeted their group more than any other of the demonstrators that day.
"The BLM DC affinity group was given three warnings and immediately threatened with arrest when they took the intersection. Our comrades, who were majority white people, took over other intersections throughout the city and were able to remain until they dispersed from the intersections," said Nee Nee Taylor, spokesperson for the group.
"The police blocked our banners and immediately arrested white allies who stood in solidarity with Black Lives Matter DC.
"This is confirmation that climate injustice and health injustice cannot be addressed and uplifted without speaking about the environmental injustice and racial injustice for oppressed Black and Brown people in marginalized communities."
It is unclear how many people are due to attend Friday's #ShutDownDC in Washington.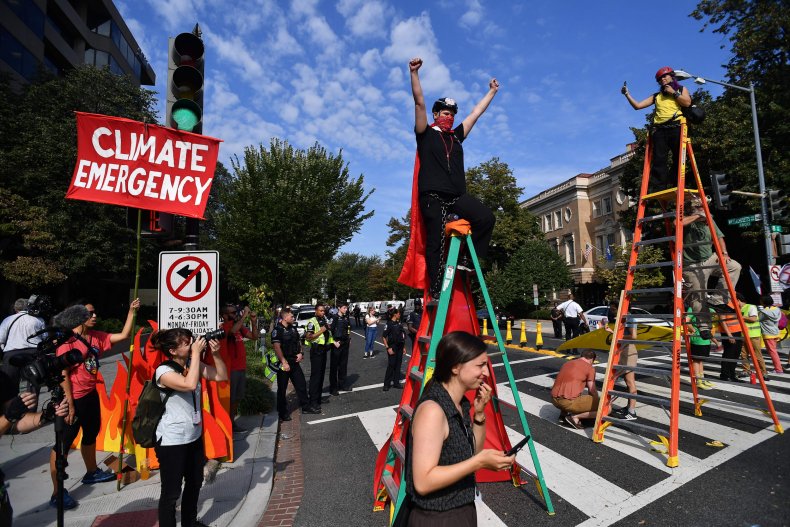 ShutDownDC: Climate Protesters Block Streets for Another Day of Disruption in Washington | U.S.