#ShutDownDC Trends as Planned Climate Protests in Nation's Capital Divides Internet: 'Going to Hurt People You Don't Want it to Hurt'
Demonstrators rallying to raise awareness and push for serious action to address the dire global threat of climate change blocked key intersections throughout Washington, D.C. on Monday.
Activists had used a large pink and yellow sailboat, vans and other vehicles to block important streets, obstructing traffic, according to local FM radio station WTOP. "If you're coming in anywhere near the National Mall, you're going to be impacted by this," NBC4's Adam Tuss told the station.
Police are on the scene, and have made several arrests. Some protestors had attached themselves with metal to the boat they had used to block a key intersection. Police were reportedly cutting the metal to remove the demonstrators from the scene.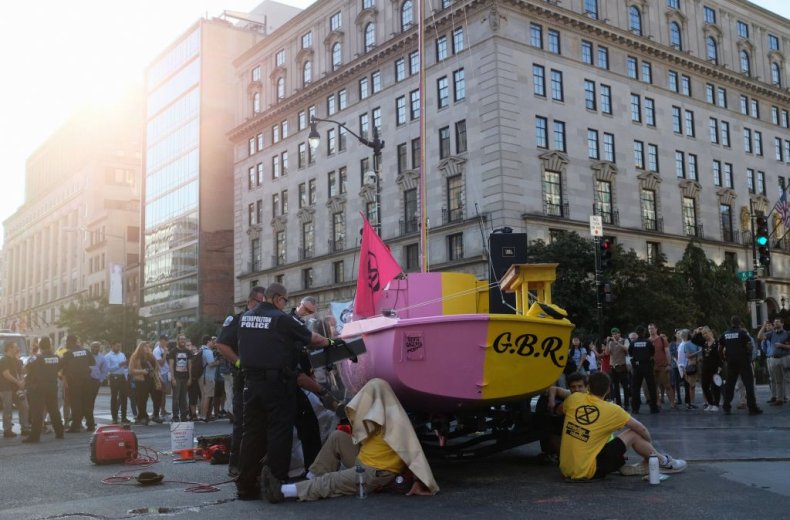 On social media, the hashtag #ShutDownDC began trending on Monday morning, with supporters and critics sharing their views.
"'We see heroes' chants and honks of support for climate protestors on NY Ave. #ShutDownDC #Solidarity," Aaron Huertas, who works in communications for the Voter Participation Center, wrote in a tweet. "Westbound traffic is blocked. Arrests underway," he noted, sharing a photo.
"We out here to raise the alarm. Climate justice is health justice. health justice is justice for Black people," BlackLivesMatter DC tweeted.
"Amazing sight: Healthcare workers together with #BlackLivesMatter have set up free health screenings and blood pressure clinic on Independence and Washington in DC," climate and racial justice organizer Adam Greenberg posted. "Welcome to #ShutdownDC. Building a better world is good for you, so come on down."
However, others mocked the demonstrators.
"Increasing carbon emissions from idling vehicles to own the cons," Jesse Hunt, the communications director for the National Republican Senatorial Committee (NRSC), wrote. He retweeted a post including a video of the protests with the caption: "Curious what causing thousands of cars to idle together in place does for the environment."
"Dear #ShutDownDC folks, you are amazing! Do me a favor: please replicate this in every major city in America that is in a state with a senate election in 2020. I would be forever in your debt," Kevin McLaughlin, who is also from the NRSC wrote, suggesting that the protests would backfire for activists.
Twitter user Carly Anne Wooten also raised concerns about how the demonstrations would impact working people in the nation's capital. "I'm all for climate change activism, and I think sustainable energy will be the future. But this is really going to hurt the people you don't want it to hurt," she wrote, sharing a screenshot of a longer post about such concerns.
That post complained that poor and lower-income workers would be negatively impacted and extra stressed, while the wealthy and better off would face relatively little fallout. "Are you trying to make enemies? I don't get it," the writer asked.
But 350 DC, one of the groups behind the demonstrations, pointed out that addressing climate change requires serious action.
"This disruption is temporary—but the climate crisis is permanent. We're here because we need the leaders in that building to wake up and start acting like our house is on fire. Because it is," the group said in a tweet.