Taylor Swift Fans Accuse Sia of Performing in Blackface, 'Chandelier' Singer Claps Back
Taylor Swift fans, known as Swifties, are out in force to defend their leader after the "Me!" singer's scathing claims about music manager Scooter Braun. Celebrities are picking sides in the battle, many siding with Braun, including singer Sia. After the singer came out publicly to support Braun, Swifties dug through Sia's past to dig up dirt. What did they find? A picture of the "Chandelier" singer in what appears to be blackface. But things aren't always as they appear.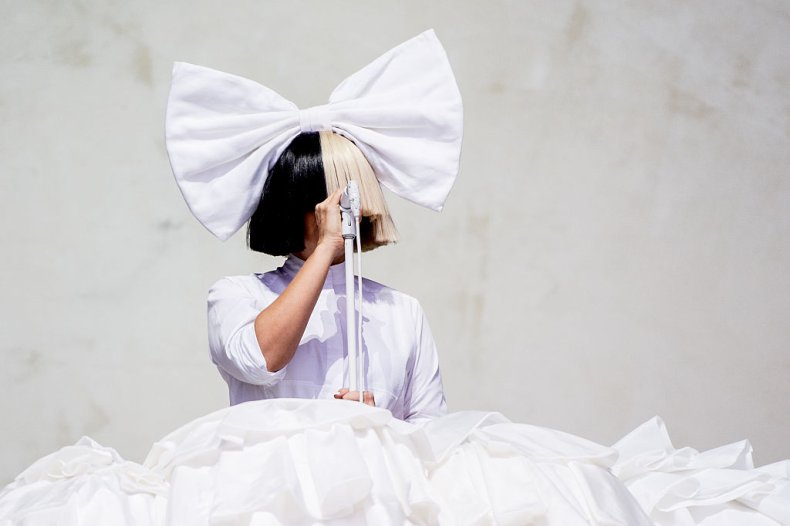 "For the swift fans trying to make out that I would ever do blackface please see this video," Sia tweeted. "I was painting myself into the backdrop, it was a pre cursor to the wig..."
The video, shot by a person in the audience, shows a live performance where Sia is painted in all black in order to blend into the background of the stage.
Sia, known for concealing her identity in public appearances and performances, often dons a large black and blond wig, long enough to cover her face.
Sia originally tweeted her support of Braun shortly after Swift published her post to Tumblr.
"You're a good kind man @scooterbraun I hope this passes quickly. I love you keep going," the singer tweeted.
The Swift vs. Braun battle started when it was announced the entertainment executive would acquire Big Machine, a music production company that owns the rights to the original recordings of most of Swift's early albums.
While online observers have speculated that Swift was given the opportunity to buy her music catalog from the company, but her attorney issued a statement denying these rumors.
"Scott Borchetta [the founder of Big Machine] never gave Taylor Swift an opportunity to purchase her masters, or the label, outright with a check in the way he is now apparently doing for others," said Donald Passman, Swift's attorney.
Singers Halsey and Bendon Urie have sided with Swift.
"Taylor Swift is a huge reason why I always insisted to write my own music," Halsey tweeted. "She catapulted her stadium into the Milky Way. And it turns my guts that no matter how much power or success a woman has in this life, you are still susceptible to someone coming along and making you feel powerless out of spite. It speaks volumes to how far we have to come in the music industry. The way writers are treated. How as an entertainer you are respected but as a writer you're walked all over. Even when you are both in one single body. I am standing with her."
On the other hand, artists like Justin Bieber and Demi Lovato have come out in support of Braun.
"Scooter has had your back since the days you graciously let me open up for you," Bieber posted to Instagram, directing the caption at Swift. "As the years have passed we haven't crossed paths and gotten to communicate our differences, hurts or frustrations. So for you to take it to social media and get people to hate on scooter isn't fair. What were you trying to accomplish by posting that blog? seems to me like it was to get sympathy u also knew that in posting that your fans would go and bully scooter. Anyway, One thing i know is both scooter and i love you."
Swift has not commented on the conflict with Braun since her original Tumblr post.