Video Shows Siberian Tiger Try to Attack Young Boy at Zoo, Is Blocked by Glass Wall
Video footage widely shared on social media shows the dramatic moment a tiger tried to pounce on a young boy—only to be thwarted by a pane of glass.
Rob Costelloe and his 7-year-old son Sean were checking out the tiger enclosure at Dublin Zoo in the Irish capital during a family visit on Sunday.
The boy has his back to the glass window, oblivious to the approaching feline, which twitched, raced towards him and then leapt towards him.
The pane of glass was enough to keep the full-sized Siberian tiger at bay but the boy got a fright and bystanders got a laugh.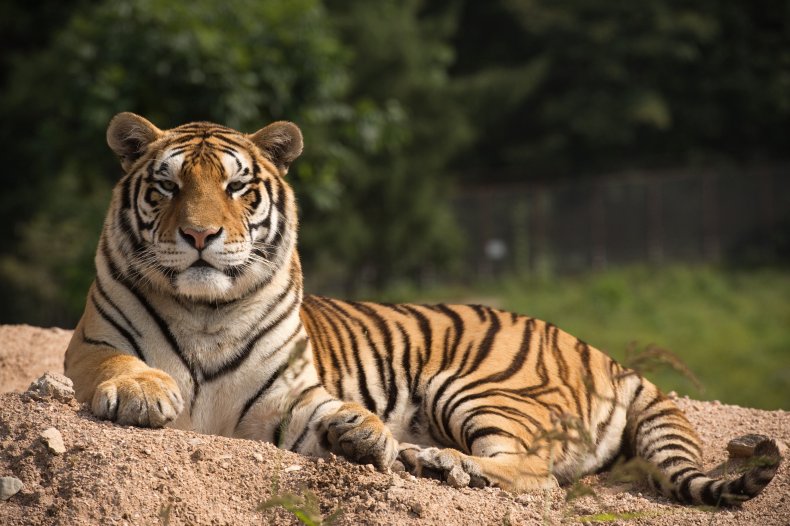 Costelloe told RTE how he had noticed a change in the tiger's stance which gave him an inkling that something was about to happen.
When Sean turned his head, the tiger launched itself towards the glass, with its paws raised up giving the impression it was on the lookout for lunch. The boy shouts and beats a hasty retreat.
Rob Costelloe posted the video to Twitter on Sunday and it's already garnered over 45,000 likes and nearly 10,000 retweets. He wrote with the video: "My son was on the menu in Dublin Zoo today #raar'."
He told RTE: "I took out my camera and as soon as I did, the tiger ran down the hill and launched at the window fairly furiously. Sean got a laugh—it didn't particularly faze him. I kind of laughed hysterically. I think it's something he'll enjoy telling his friends at school when he's back after the Christmas break."
A regular at the zoo, Costelloe, said getting the moment on camera was "a little special."
"As much as there's a bit of a laugh, it is also quite sad as well, because obviously there's great conservation that happens in zoos around the world, but they [the animals] are obviously captive as well so you do have to consider that as well," he added.
Newsweek has contacted Dublin Zoo for comment.
The Siberian tiger or Amur tiger is the largest cat in the world and can weigh over 1,000 pounds. A solitary and territorial tiger, it marks trees and rocks to establish its area and is renowned for its power and strength, according to the website tigers-world.com.
The Siberian tiger does tend to avoid contact with people, but it may approach them if they are sick, injured or unable to hunt normally, the website added.