Sibling Slammed for Bashing on Their Brother's 'Not Traditional' Wedding
The internet has slammed a sibling after they called their brother's wedding "not traditional."
In a viral post published on Reddit's r/AmITheA**hole forum, a sibling under the anonymous username u/gentlemayonaise shared their story for feedback from the "AITA" community. The viral post has over 4,000 upvotes and 2,000 comments.
The original poster (OP) began their story by explaining that their brother is soon to be married to his wife. However, the OP wrote they aren't having a "traditional" wedding. They said the bride wasn't wearing white, the groom isn't wearing a suit, the officiant was a friend, and the cake will be colorful. The couple also had planned to have their small wedding at the bride's family's lake house and have the reception there as well. The OP believes that the wedding will be more of a "party" rather than a wedding.
The OP explained that the wedding party was instructed to wear green and they joked that they would just wear a bikini and pack things for the lake instead of wearing a dress. Their brother reminded them that there will be a photographer and that it would "be nice" if they wore something business casual.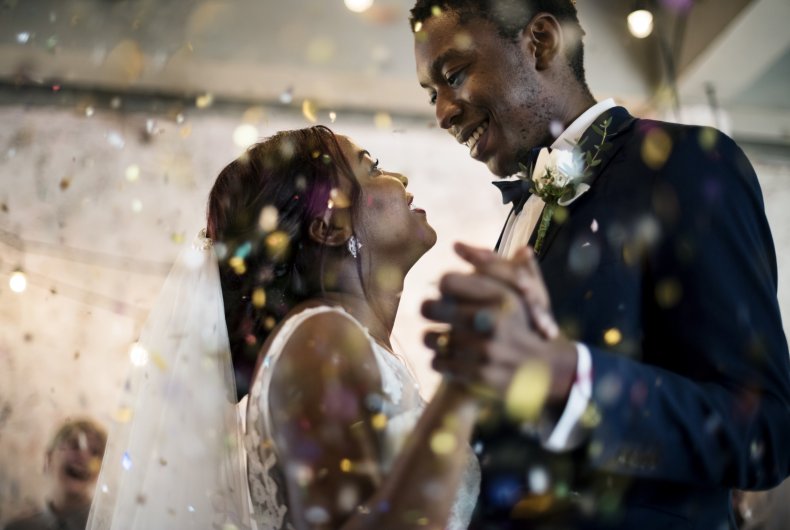 The OP wrote, "I told him if he really wanted wedding pictures he should probably have a wedding and not just a party. With the guidelines he gave and hands off approach the photos likely won't look very good or cohesive. There are so many shades of green it won't look as good as a normal weddings anyways. Plus his fiancée is wearing 'a traditional African dress' so it's very pretty but it just looks like a party dress and very highly patterned so it's going to clash no matter what.
"My brother got very quiet and sad and I've been arguing with my other siblings and mom about it ever since. The way I see it they are paying maybe 5 grand, probably less for this event so they need to accept that it won't be as aesthetically pleasing as a wedding like mine for example that was 10x that. I simply am stating the fact that it seems their expectations do not meet the execution and I don't think that makes me an a**hole but they do," they concluded.
In a recent update to the post, the OP realizes that they were in the wrong and plans on apologizing. They confirm that their future sister-in-law is not African as her mother is from Jamaica and that it's "not a traditional African wedding." She writes that she wants to protect the bride from being called an "appropriator."
Newsweek reached out to u/gentlemayonaise for comment.
A guide to wedding dress codes
There are plenty of dress codes a wedding can go by. According to Brides magazine, here is a look into all the wedding dress codes:
White-tie: very formal attire required. Examples include floor-length gowns, earrings, elegant clutches for women and formal white shirts, white vests, bow-ties, and white or gray gloves for men.
Black-tie: formal attire required, but have exceptions. Examples include a floor-length dress that doesn't reveal the ankles but if the wedding seems less formal, a cocktail dress may be acceptable and pantsuits. For men, black bow ties, vests and leather shoes.
Formal or black-tie optional: slightly less formal but black-tie is exceptional and can be considered elegant and comfortable. Examples include floor-length gowns, fancy cocktail dresses or pantsuits for women and men have the option to wear a tuxedo or they can wear a dark suit, white shirt and conservative tie.
Cocktail: not as formal as black-tie or black-tail optional. Cocktail dress codes are considered the most popular dress code choice. Examples include tea-length, knee-length or midi dresses for women and a suit and tie for men.
Semi-formal or dressy casual: This dress code takes the time of day the wedding into consideration. A tip is to wear lighter colors for daytime weddings and darker colors for nighttime weddings. Examples include a nice pair of wedges or flats with a below-the-knee dress or a dressy shirt and top for women and for men, a dress shirt and slacks.
Festive: When the bride and groom have opted in for a "festive" dress code, they want their guests to be creative with their outfits. Examples include a cocktail dress with bright colors and men can wear a suit with a bright tie or pocket square.
Casual: When "casual attire" is stated on the invitation, this means it it's typically used for outdoor or beach weddings. Examples include sundresses for women and khakis, dress pants or a collared shirt for men.
Tropical/Destination: These types of weddings are typically held in the tropics. Examples include sundresses and sandals for women and Guayabera shirts for men as they come in many colors and styles.
Concept style/themed: Dress codes vary for concept style as it depends on what the couple's wedding theme is. Newsweek has published articles where a couple wanted a Game of Thrones-themed wedding as well as a puppet-themed one.
Redditor reactions
"[You're the a**hole]. Your brother's wedding sounds true to who they are and what they want. Not everyone wants to waste money on 'aesthetically pleasing' photos and basing choices of what the wedding industry says you should have," u/Somnitree exclaimed, receiving the top comment of over 14,000 upvotes.
"Thank you for putting your xenophobia and racism blatantly out there," u/Miserable_Airport_66 wrote, "[You're the a**hole] is not your wedding. No one cares what you think. Either go or don't go but let them have the wedding of THEIR dreams without your commentary."
"[You're the a**hole] Is this wedding actually non-traditional or is it just traditions you happen to look down upon? What kind of tasteless woman would show up in a bikini when business casual is requested? You are incredibly trashy," u/FunkyOrangePenguin said.
U/Mysterious_Friend_52 commented, "[You're the a**hole]. His only expectation was to have some nice photos. Not perfect or necessarily pinterest-worthy, just nice. And you just s**t all over that idea. Why? What exactly did anyone gain from you saying that?"