The governor of Sicily gave overnight orders to rid all refugees from centers on the Italian island and to ban new migrants from arriving out of fears over the spread of the coronavirus.
"By midnight on Monday, all migrants present in the hotspots and in every reception center in Sicily will have to be transferred to structures outside the island without delay," Nello Musumeci said in the ordinance. "It is not possible to guarantee the stay on the island in compliance with the health measures to prevent contagion."
The 33-page ordinance also states: "In order to protect and guarantee public health and safety, in the absence of suitable reception facilities, it is forbidden to enter, transit and stop in the territory of the Sicilian Region by every migrant who reaches the Sicilian coasts with large and small boats, including those of NGOs."
The ordinance ends somberly: "Failure to comply with the obligations set out in this ordinance entails the sanctioning consequences provided for by the law in force."
In recent weeks, at least 70 migrants have tested positive for COVID-19, the disease caused by the novel coronavirus. Military troops were deployed to the region in August to help ensure the infected complied with quarantine measures.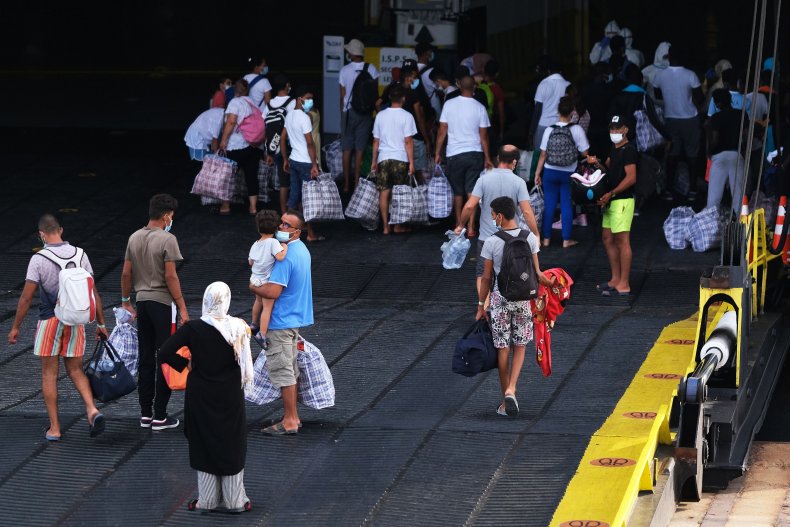 Italy has seen a recent spike in coronavirus cases since the start of the official summer holiday. The daily case count in Italy has been mostly rising from July 29, while weekly totals have been mostly rising from the the end of June to the start of August 10.
The country's seven-day moving average of daily new cases has risen since July 1, with the latest average roughly 555 cases on August 20. Masks are still required in public spaces and gathering sizes are limited.
"We cannot nullify the sacrifices made in past months. Our priority must be that of opening schools in September, in full safety," Roberto Speranza, the Minister of Health, warned last weekend in a Facebook post.