'Sick and Tired of Being Babied': Embiid Lashes Out on Instagram As Sixers Lose
Joel Embiid has lashed out in frustration after being forced to watch from the bench as the Philadelphia 76ers lost Game Two in their first-round series against the Miami Heat.
The 24-year-old has been sidelined since March 28 with a fractured eye socket and while he has been cleared through the league's concussion protocol and has been given a protective mask, the Sixers' medical staff has still not given him the green light to return.
The enforced absence has clearly taken its toll on the All Star center, who took to Instagram to vent his frustration on Monday night.
"F*****g sick and tired of being babied," the Cameroonian wrote in an Instagram story.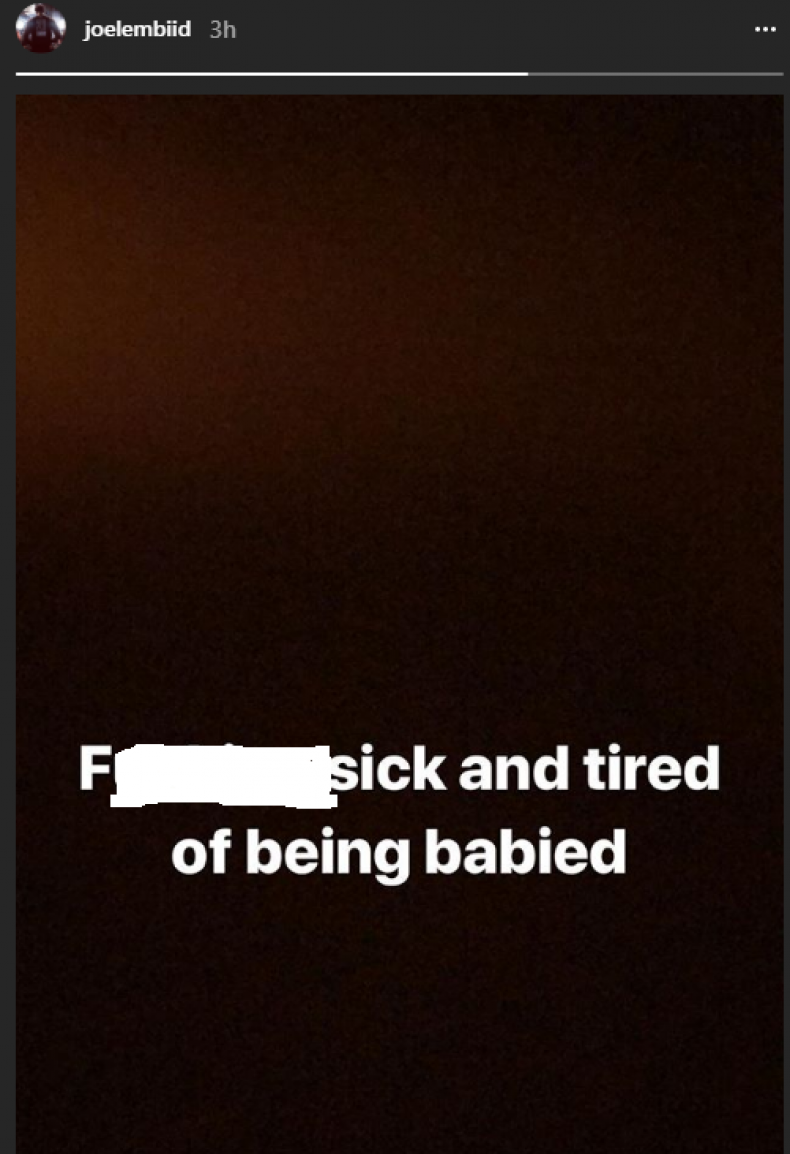 Embiid's frustration was undoubtedly exacerbated by seeing the Heat break Philadelphia's 17-game winning streak, levelling the series at 1-1 after a 113-103 win, inspired by Dwyane Wade's 28 points.
Asked about the post, the former Kansas student explained his anger stemmed from being unable to help his teammates on the court after playing such a pivotal role in helping Philadelphia reach the post-season for the first time since 2012.
"I promised the city the playoffs and I'm not on the court and I may not be on Thursday either," he told ESPN. "I wish more than anything that I was out there. I just want the green light to play."
Sixers' coach Brett Brown was sympathetic with Embiid but declined to comment over the medical staff's decision not allow his player to return.
"He just wants to play basketball," he was quoted as saying by NBC Sports Philadelphia. "He wants to be with his team, he wants to play in front of the fans and he wants to see this through.
"When he's not able to do that, he gets frustrated, and I respect his frustrations. It's borne out of him wanting to be with his team. And so the medical side, different reasons, I'm not going to go there."
Brown said Embiid's post also spoke volumes about the competitive spirit the Sixers have built this season.
"I do know the spirit he delivered that [Instagram story] you just talked about reflects my conversations with him. It's completely driven by team, competitiveness, I want to play basketball, that type of feeling more than anything," said Brown.
Embiid's status for Game Three in Miami on Thursday night (April 19) is yet to be determined and Philadelphia will hope to have their star player back as soon as possible.