Sick ICE Detainees Beg Fed Judge to Let them Go Home: COVID 'Death or Permanent Harm is Imminent'
Immigration detainees held in South Florida detention centers are requesting that a federal judge release them as the threat of coronavirus becomes more imminent.
In their direct requests to U.S. District Judge Marcia Cooke, 13 detainees asked if they could continue their deportation proceedings from their home country because "death and/or permanent harm is imminent." The detainees said they have serious underlying medical issues that would exasperate their condition if they were to also contract coronavirus.
More detainees are anticipated to file requests in August, and Cooke is expected to review their filings and make a decision in the coming weeks, the Miami Herald reported Wednesday. Cooke declined to comment to Newsweek on the matter.
Their statements first came around two weeks ago after the U.S. Immigration and Customs Enforcement (ICE) said that a detainee died from coronavirus at a Palm Beach County hospital -- Florida's first and only reported ICE detainee death from COVID-19.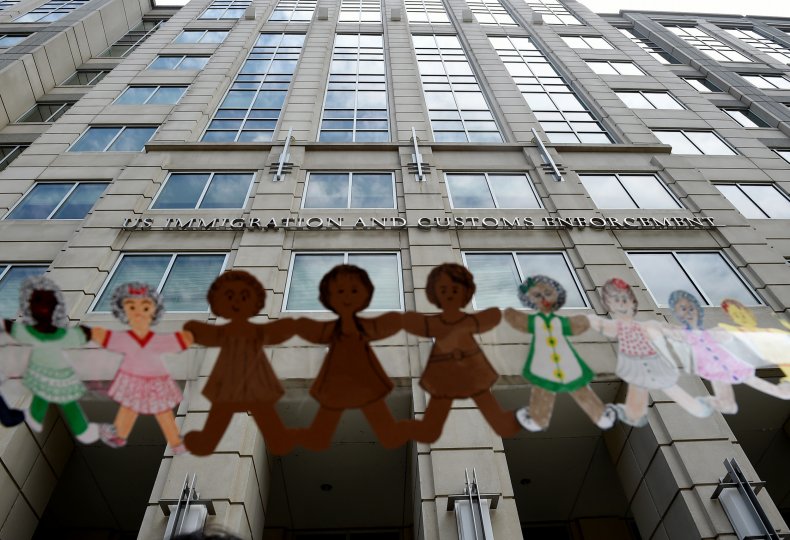 The requests are part of an ongoing class-action lawsuit originally filed April 13 which seeks the release of about 1,200 ICE detainees at three Florida facilities: the Krome Processing Center in Miami-Dade County, the Broward Transitional Center in Pompano Beach and the Glades County Detention Center in Moore Haven.
On April 30, Cooke filed a 12-page order alleging that ICE had acted with "deliberate indifference" to the detainees' conditions and demanding that the agency release its non-criminal and medically vulnerable populations.
Her decision came hours after the Herald published a story detailing conditions inside Krome, reporting that detainees who had been exposed to coronavirus were isolated in a dormitory together and were not provided with masks or hand sanitizer.
The three detention centers named in the lawsuit make up the bulk of infected detainees in the state. As of August 4, ICE data shows that the Krome and Glades County facilities have 132 and 149 total confirmed coronavirus cases, respectively, and the Broward facility has 59 total cases.
Allegations in the detainees' recent requests to Cooke suggest many of these conditions have not improved. Among them include the fact that social distancing is impossible inside the detention facilities, there isn't enough soap or hand sanitizer, face masks are not mandatory and COVID-19-positive patients are being exposed to other detainees.
Lawyers representing the detainees and their requests for release have described to Cooke their clients' medical conditions, arguing that many of them at risk of death or serious harm if they were to contract coronavirus.
Immigration Attorney Linda Osberg-Braun, who is representing Miryam Lopez of Argentina, said that her client is not a risk of flight or a danger to the community, and deserves to be released.
"The virus will likely be fatal for her because her debilitated lungs would not endure COVID-19," Osberg-Braun said according to the Herald. Lopez's medical conditions include chronic obstructive pulmonary disease, chronic bronchitis, asthma, hepatitis C and gastroesophageal reflux disease, Osberg-Braun said.
Lopez has been detained by ICE for 18 months and is currently being held in the Broward facility. Continuing to keep her there "places ICE in peril of suffering a likely death under its watch," Osberg-Braun said.
While ICE has not yet responded to Lopez' request for release, the agency did file responses for three other detainees' requests, opposing all of them. In the three responses, ICE argued that improper social distancing measures are not grounds for release.
Detainees are "attacking the fact of [their] confinement as opposed to the conditions of [their] confinement. This a distinction without a difference because the reasons [they] claim [their] confinement are unconstitutional are all based on the conditions of confinement," ICE said.
Tamara Spicer, an ICE spokeswoman, told Newsweek in an email that the agency could not comment on pending litigation "as a matter of policy."
"However, lack of comment should not be construed as agreement with or stipulation to any of the allegations," she wrote, adding that ICE "has taken extensive precautions to limit the potential spread of COVID-19."
Update (08/05/20, 5 p.m.): This article has been updated to include responses from U.S. District Judge Marcia Cooke and ICE.