Responders are scrambling to save a sickly orca whale which hadn't been seen for three days and was feared dead.
On Monday, multiple organizations reported that the three-year-old female, known as J50 or "Scarlet", had been spotted with its pod in the Salish Sea—a network of coastal waterways spanning Washington state and British Columbia in Canada.
A collaboration of various groups which have been tracking the whale have mobilized in order to assess her health and treat her accordingly, according to a National Oceanic and Atmospheric Administration (NOAA) statement. So far, Vancouver Aquarium vets have managed to deliver a full dose of antibiotics via a dart gun to complement a dose administered two week ago.
The treatment priority now has shifted to administering a dewormer, also via a dart gun, to get rid of parasites that are thought to be in her system. In normal circumstances, these wouldn't be much of a problem, but in her weakened state, they could make things worse.
J50 has been in poor condition for months now, often appearing lethargic and lagging far behind her pod. Just hours before she was spotted on Monday, the NOAA released a statement saying that she had not returned over the weekend from open waters off the West Coast of Vancouver Island to the Salish Sea with the rest of her pod.
After she was found, scientists noted that she appeared severely emaciated, albeit remarkably active and engaged with the rest of the pod despite her condition. They also observed her sticking close to her mother, J16, and making long dives which would be expected of healthy whales.
Nevertheless, there are fears that she may not survive much longer, further reducing the numbers of the critically endangered Southern Resident orca population which numbers only 75 members.
"She is just a canary in the coal mine that says, 'Look, something is wrong. Something needs to be done. Start doing something about it,'" Jeff Hogan, an expert on the Southern Resident population, told Seattle news outlet KING-TV.
Officials have discussed several different possibilities for treating J50, the Canadian Press reports, including capturing her to provide more advanced care in a special facility, although this is not a favored option at the moment. In the meantime, she will continue to be monitored.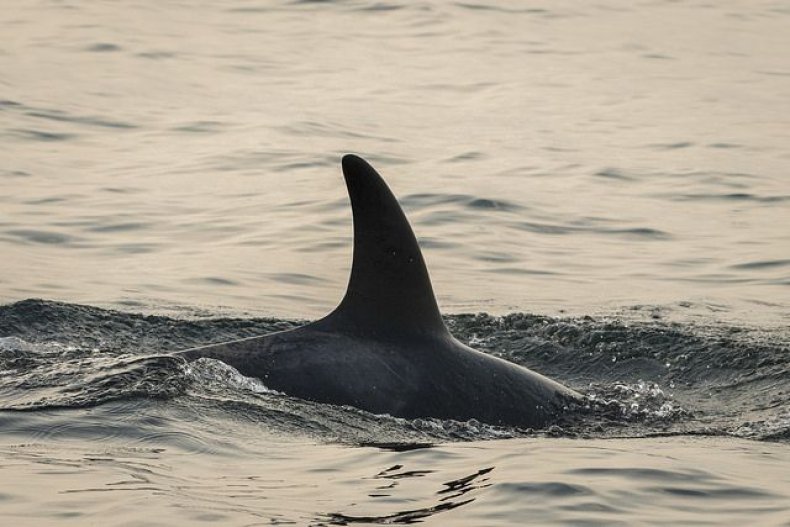 J50 is not the only Southern Resident killer whale to have caught people's attention recently. In August, another female, J35, was observed carrying her dead calf for over two weeks.
Orcas are the most widely distributed of all whales and dolphins and are found in every single ocean. However, they face a number of threats worldwide, according to non-profit Whale and Dolphin Conservation, including collisions with boat traffic, sea pollution and being caught in fishing gear.