Sick Oregon Employees Instructed to Fake Temperature Checks During Pandemic, Lawsuit Says
A woman who used to work for a construction company in Boardman, Oregon filed a lawsuit against the company, alleging it asked her and other employees to fake temperature readings so they could go to work.
The lawsuit was filed on behalf of Katrina Bryant, who said she worked for Gray Construction, Inc. According to the lawsuit filed by attorney Michael Fuller, Bryant's job involved taking employees' temperatures as they entered the construction site, which was in the process of building warehouses for Amazon.
According to the suit, workers were not officially allowed to go to work if they had a temperature above 100.4 degrees Fahrenheit, a rule that was also in place for Amazon's own employees.
Despite the rule, the lawsuit alleged employees with fevers were allowed to slip through the cracks and go to work at the construction site. Bryant alleged she observed the company using "faulty" thermometers that occasionally didn't work at all. In the event that the thermometers gave a reading above the designated 100.4 degrees Fahrenheit mark, Bryant said she and the employees who were feverish were instructed to manipulate the temperature reading in some way.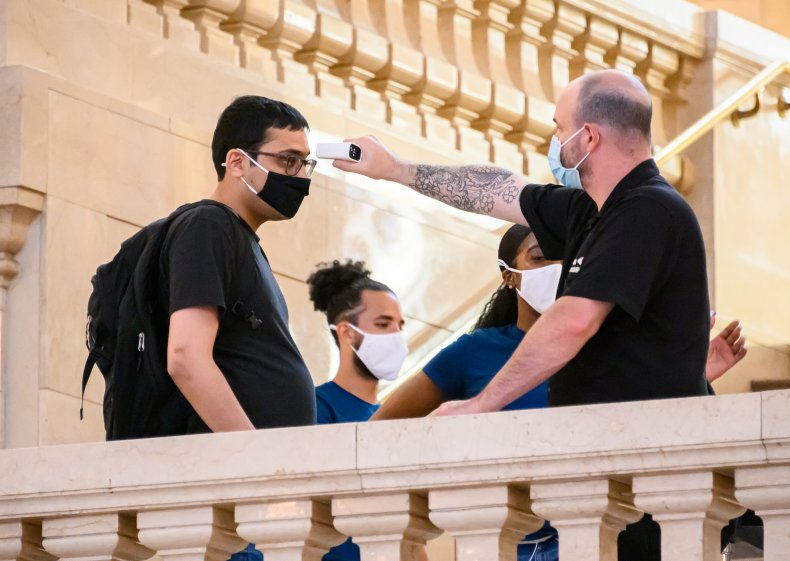 "When thermometers would read 100.4℉ or above, [Bryant] was directed to manipulate the readings by taking temperatures behind the ear, so employees would be allowed to enter the construction site, in violation of the rules.
"[Bryant] reported that employees with temperatures over 100.4℉ were instructed to manipulate their readings by placing cold drinks on their foreheads and by rolling down the windows in their cars and by turning on the air conditioning, so they would be allowed to enter the construction site, in violation of the rules," the lawsuit alleged.
Aware of the company's official temperature requirements for its employees, Bryant said she reported the alleged incidents to a superior on May 13. She was fired on May 16, according to the lawsuit.
Bryant was let go "because [she] had reported information she believed to be evidence of a violation of a state or federal law, rule, or regulation, causing [Bryant] non-economic damages including emotional harm and interference with daily life activities," the lawsuit alleged.
As the coronavirus pandemic raged throughout the U.S. this spring and summer, many companies have struggled with decisions regarding how to handle workplace safety while keeping their business alive. While state and federal health officials have offered guidance on when workers should stay home and when they should be allowed to go to work, many companies like Gray Construction, Inc. have introduced rules of their own to navigate the pandemic.
Gray Construction denied Bryant's allegations in a statement provided to Newsweek on Friday.
"Gray Construction's first priority is always the safety of our team members, subcontractors, customers and business partners," Jill Wilson, the vice president of communications and marketing at Gray Construction, said. "Our exemplary safety record affirms that commitment. The Company has taken appropriate precautions during the pandemic to help protect everyone on our jobsites.
"We strongly believe Ms. Bryant's claims have no merit and will address them through the legal process," Wilson said.