'In Sickness and Health': Couple Exchanges Vows in Houston Emergency Room
A Texas couple got married in the hospital after the groom had to be rushed to the emergency room on their wedding day.
On November 13, the morning of their wedding day, Timeka Eakins received a phone call from Houston's Memorial Hermann Emergency Room after her fiancé, Frank Eakins, called an ambulance because his implanted defibrillator went off multiple times, according to local news station KPRC. Frank suffered from congestive heart failure and was a patient of Dr. Sriram Nathan, an advanced heart failure transplant cardiologist, who played a pivotal role in helping the couple tie the knot.
In the ambulance, Frank decided the sudden rush to the hospital wasn't going to keep him from saying his vows to Timeka. Nathan got on board with the plan and told KPRC that they jump-started Frank's heart to give him his "God-given rhythm" back and that he was stable enough medically to continue with the ceremony.
"You can look at the cup as half-empty or half-full. For Mr. Eakins, I wanted to keep the cup as half-full," Nathan told local news station KHOU.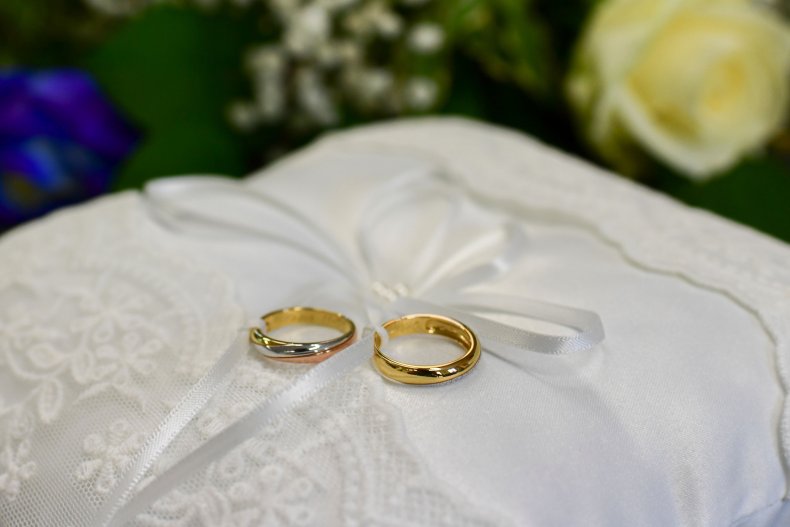 With her makeup done and donning her wedding dress and jewelry, Tamika headed to the emergency room. Their pastor by their side and a bouquet in hand, Tamika and Frank said their vows inside the hospital.
"I just blocked it out, I felt like I was right at the venue—marrying him," Timeka told KPRC.
Given that they had planned their wedding for that day, Frank told Timeka to go enjoy the reception. Once there, Timeka put Frank on FaceTime so he could enjoy the celebration, as well.
"He could have been gone that day, so I'm just glad he's here," Timeka said.
While it wasn't the wedding day they envisioned or planned for, Frank said it's a lesson to "finish what you set out to do," and "never let obstacles get in your way." Timeka noted to KHOU that the specific details that come with planning a wedding and reception weren't the important part of the day. She said the only thing that mattered was that they got married.
"All the extravagant stuff, it didn't matter to me at all at that point. I was just ready to marry the love of my life," Timeka said.
Moving forward, Nathan is working to make Frank eligible for a heart transplant and the couple has put a literal meaning to the vow, "in sickness and in health."