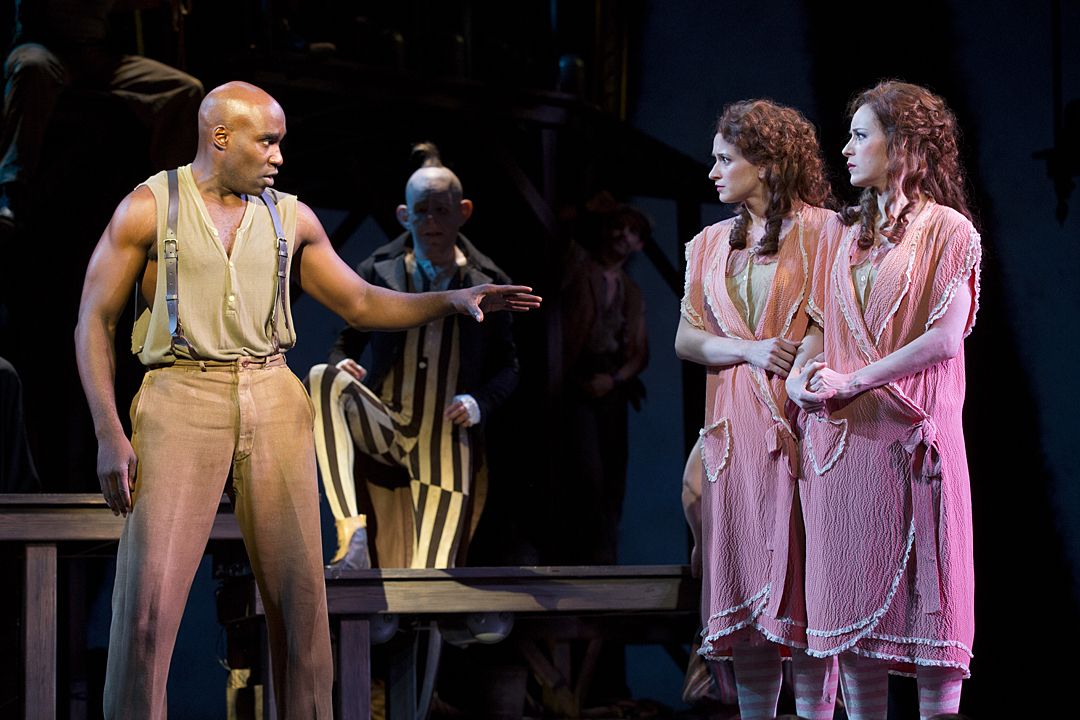 It's not an exaggeration to call Side Show the hippest thing on Broadway, if only because its dual protagonists are literally joined at the hip. But this zesty revival of the 1997 Tony contender is by no means overly concerned with being cool.
That works in its favor: Bill Russell and Henry Krieger's brilliantly sung, often touching musical send-up of Depression-era sideshow performers succeeds by eschewing the sullen self-consciousness that often bogs down contemporary carny lore. This is no brooding, Burtonian study of damaged souls wallowing in solitude and black-and-white striped hosiery; it's a frenetic celebration of freakdom, tinged with deeper questions about the line between fascination and exploitation, but not dampened by them. The circus is in town, folks, and it's a multilayered romp.
The show's commitment to impulse is evident from its bombastic opening number, "Come Look at the Freaks," in which we are introduced to a dancing cavalcade of stock characters: the Dog-Faced Boy, the Three-Legged Man, the Bearded Lady, the World's Tiniest Cossacks, and of course the headlining Siamese Twins, delightfully played by Emily Padgett and Erin Davie.Side Show is based on the lives of Daisy and Violet Hilton, a pair of British conjoined twins who became vaudeville sensations in the 1920s and were later immortalized in Tod Browning's 1932 cult classic Freaks.
We first meet the talented young sisters at a circus sideshow in Texas, where they spend their dreary days performing duets, for no pay, under the dictates of an exploitative ringmaster, played to creepy precision by a gaunt Robert Joy. The girls dream of a better future, because who enjoys being gawked at by booze-soaked Texans? But in spite of being tethered together by a bridge of pelvic flesh, the Hilton sisters want very different things out of life. The charismatic and outgoing Daisy (Padgett) seeks fame and fortune, while the sweet-natured Violet (Davie) hopes to settle down and find love. What to do?
Fate intervenes when the sisters are discovered by a city-slicker talent scout named Terry Connor (a perfectly polished Ryan Silverman), who promises them a shot at the big time. Soon the girls trade sideshow tents for glitzy vaudeville theaters, but the outside world they longed for proves to be no less cruel to them than the one they left behind.
The plot is serviceable, if not particularly original, but Side Show is elevated by Krieger's exceptional music. Songs like "The Devil You Know" and "Who Will Love Me As I Am?" are a rich confection of catchy hooks and operatic flourishes, exquisitely executed by a first-rate company. Cast standouts include Matthew Hydzik, who is likeable (in a Michael J. Fox kind of way) as Buddy Foster, Violet's conflicted love interest. The mesmerizing actor David St. Louis has mounds of stage presence as Jake, the girls' fierce protector, although he doesn't quite imbue the emotional depth this pivotal character needs.
Padgett and Davie are nearly flawless as Daisy and Violet, who teeter between savory harmonies and petty sibling squabbling. Getting past the logistical challenges of casting two actresses who can believably pass as twins, it's hard to picture two performers being more in sync. Their chemistry and friction preserves the illusion that these young ladies spent their entire lives in each other's company, for better or for worse.
Side Show was not a commercial triumph in its original incarnation, but it has been retooled by the film director Bill Condon, of Gods and Monsters fame, who laced it with period detail and historical characters. (Harry Houdini, who in real life taught the Hilton sisters how to use meditation to tune each other out, makes a cameo appearance.) The current version arrives at the St. James Theatre fresh from a well-reviewed run at the Kennedy Center in Washington, D.C. Along with the upcoming revival of The Elephant Man, it's one of two Broadway offerings this season that center around the morally questionable idea of physical abnormality as spectacle. Throw FX's American Horror Story: Freak Show into the mix, and the theme qualifies as a bona fide pop-culture trend.
Why we are suddenly interested in revisiting this chapter from entertainment's exploitative past is anyone's guess. It could be that we have not really come that far in the past 80 years, that the Hilton sisters of the sideshow circuit were not much different from the Hilton sisters of reality television. Paris and Nicky, too, serve as cultural barometers for so-called normal people—outsiders born for our amusement. The extent to which we are all complicit in the exploitation of others is one of the things that gnaw at you as you're watching Side Show, and being freakishly entertained by it.
Side Show; book and lyrics by Bill Russell; music by Henry Krieger; directed by Bill Condon, with additional book material by Condon; orchestrations by Harold Wheeler; musical direction and arrangements by Sam Davis; choreography by Anthony Van Laast; St. James Theatre, 246 West 44th Street, New York City; sideshowbroadway.com.