Sidney Powell, Facing Legal Sanctions, Says Trump Election Fraud Claims Just Her 'Opinion'
After seeking to overturn the 2020 election results, former Trump campaign attorney Sidney Powell now claims that the voter fraud allegations were just her "opinion" and not facts in the eyes of the law.
In a Michigan lawsuit filed after the November election, Powell alleged that widespread voter fraud ensured that President Joe Biden won against former President Donald Trump in the state and others. Powell asked a court to force Michigan Governor Gretchen Whitmer to give Trump the state's electoral college votes, but U.S. District Judge Linda Parker refused.
Michigan officials have accused Powell of knowingly filing false allegations in an effort to overturn the election and undermine people's confidence in the process, according to the Detroit Free Press.
Earlier this month, Attorney General Dana Nessel, who's seeking to sanction Powell, asked a federal judge to consider Powell's strategy in a $1.3 billion Dominion defamation suit in deciding the state's push to sanction her.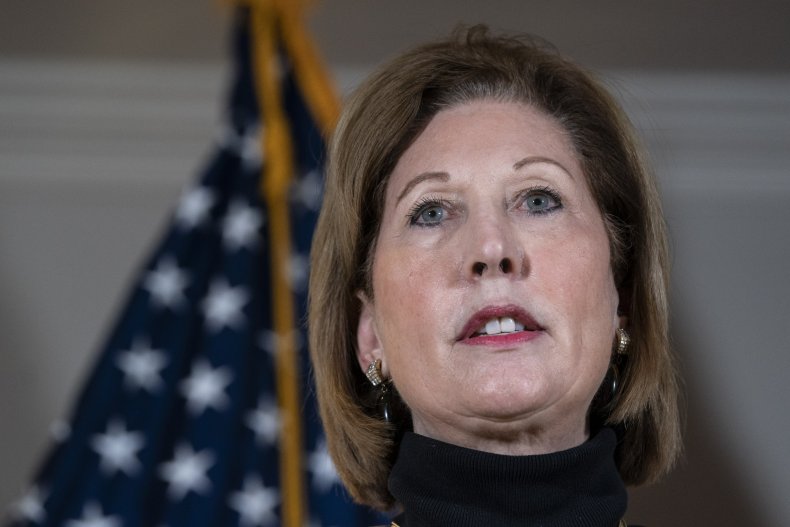 In a Friday court filing, Powell's defense attorney Stefanie Lambert Junttila argued that "based on case law, Ms. Powell's statements are not legally considered 'fact.' Rather, by placing her statements in the broad and specific context of political debate, there are legally considered 'opinion.'"
"No reasonable person would conclude that the statements were truly statements of fact," Junttila wrote, in reference to Powell's election fraud remarks. "Powell's statements would not be actionable for defamation because she disclosed the underlying facts supporting her statements, and her statements were legally opinion."
As part of the sanctions, Nessel wants Powell to pay the state more than $11,000 in legal fees.
In a recently filed brief, Nessel said Powell's strategy in the Dominion lawsuit could be enough to justify the sanctions.
"Faced with the specter of more than $1.3 billion in damages in the Dominion action, Ms. Powell has adopted a new litigation strategy to evade Dominion's defamation claim: the truth," Nessel wrote. "Whether that strategy will be advantageous in the Dominion action remains to be seen, but it strongly underscores why sanctions and attorneys' fees are appropriate here."
In Powell's Friday court filing, Junttila argued that Whitmer and Nessel "have actually engaged in the very same conduct they try to condemn."
"They pathetically believe that such malicious and unethical conduct will bolster their political careers," she wrote. "This Court should not be misguided by [Whitmer and Nessel's] continued frenzy of frivolous and repetitive filings, even though, sadly enough, they are brought by the highest officers in the state."
Newsweek reached out to Attorney General Dana Nessel's office for comment.