Sidney Powell Undermined Georgia GOP During Crucial Senate Runoff Before Trump Campaign Cut Her Loose
Sidney Powell, a former member of President Donald Trump's legal team who claimed she would "blow up" Georgia with a "biblical" voter fraud lawsuit, undermined top Republicans ahead of two key Senate runoff races in the state by peddling baseless conspiracy theories.
The lawyer, who was cut loose by the Trump campaign on Sunday, claimed that the Republican Georgia Governor Brian Kemp and Secretary of State Brad Raffensperger were paid to be involved in an alleged conspiracy around the use of Dominion Voting Systems.
"Georgia's probably going to be the first state I'm gonna blow up," Powell told the conservative network Newsmax TV yesterday.
She also made the unfounded claim on Newsmax that Rep. Doug Collins would have beaten Republican Sen. Kelly Loeffler in the special election for her seat, were it not for the alleged conspiracy.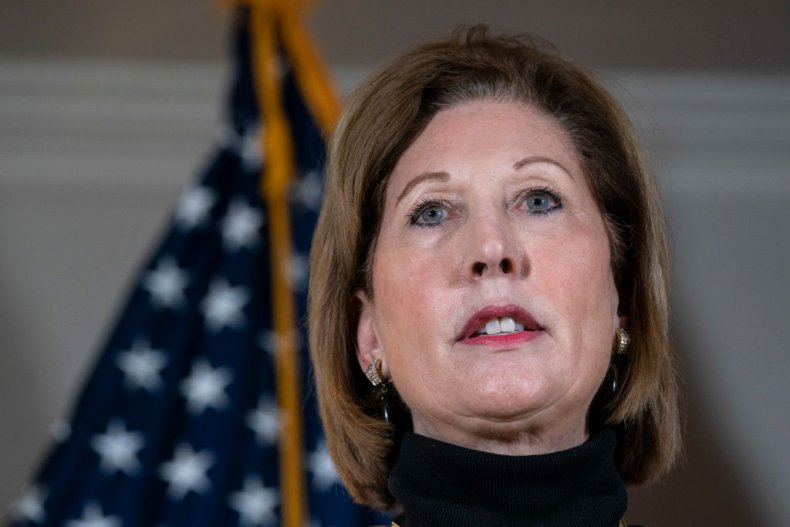 "There's no telling how many congressional candidates should have won that lost by the addition of... the algorithm that they were running against whoever they wanted," Powell later added.
Loeffler finished almost 6 points ahead of Collins in the race to keep her Senate seat. She has now advanced to a runoff contest against Raphael Warnock, the Democratic candidate vying to unseat her and overturn the Republican majority in the upper chamber.
After Powell appeared on Newsmax, the Trump campaign released a statement saying Powell was not a member of its legal team, nor working on behalf of the commander-in-chief in a personal capacity.
"Sidney Powell is practicing law on her own. She is not a member of the Trump Legal Team," Team Trump legal advisers Rudy Giuliani and Jenna Ellis said in a joint statement. "She is also not a lawyer for the president in his personal capacity."
Powell has previously appeared beside members of the Trump legal team at campaign press events, including one conference led by Giuliani last Thursday. Newsweek has contacted Powell for comment.
The Georgia Republican Party has also been approached for comment. This article will be updated with any response.
Powell undermined top members of the party as it sought to keep its hold on the state's Senate seats with less than two months to go until runoff elections slated for the first week of January.
If Republicans lose control of the seats held by Loeffler and her colleague Sen. David Perdue, the Senate will be split 50-50, handing Democrats an effective majority with Vice President-elect Kamala Harris' tiebreaker vote.
Three Senate runoff polls released in the wake of the November 3 elections have thus far been split, showing the races as either too close to call or narrowly favoring Republican incumbents.