Were Siegfried and Roy a Couple? The Love Story Behind 'Wild Things'
Siegfried and Roy are the subject of new Apple podcast Wild Things, coming out after the pair's deaths in 2020 (Roy Horn) and 2021 (Siegfried Fischbacher) respectively.
The podcast mostly covers the 2003 tiger attack that left Horn in hospital. However, many listeners have found themselves interested in something else about the legendary Las Vegas pair: whether they were ever a couple?
Fischbacher and Horn both gave interviews about their partnership, but were always coy about whether they had been romantically involved.
Close associates and friends of the pair, however, have spoken over the years about what relationship (if any) the pair of tiger trainers had outside of their show.
Were Siegfried and Roy a couple?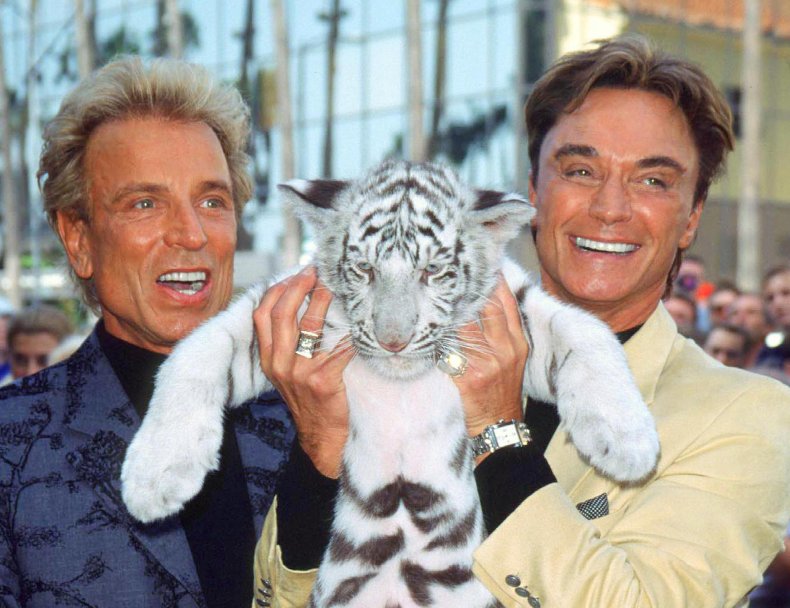 At the time of Fischbacher's death from COVID-19, Horn released a statement in which he called his stage partner his "best friend."
He said: "Today, the world has lost one of the greats of magic, but I have lost my best friend.
"From the moment we met, I knew Roy and I, together, would change the world. There could be no Siegfried without Roy, and no Roy without Siegfried."
This is generally how the pair framed their relationship in public. When Horn was in hospital following the tiger attack, for example, Fischbacher described their pairing as a "relationship second to none" in a Larry King interview.
Others, however, were less coy in calling the pair a romantic couple. Around the time of the tiger attack, MGM Miragesie (where the pair worked) spokesperson Alan Feldman told LGBTQ+ outlet The Advocate: "It's well-known that they were lovers at one time. I don't think anybody is hiding that."
Their former relationship was also confirmed by the actress Shirley MacLaine, a friend who met the pair when she was working in Vegas in the 1970s. In a Vanity Fair profile on Siegfried and Roy from 1999, the actress said, "The way they deal with the perception of them as a couple is as much sleight of hand as their act.... I mean, they used to be lovers a long time ago, yeah?"
In that same article, the reporter also discusses rumours that the pair had had a marriage ceremony when working on a cruise ship in 1960s. This rumor gives the article its name, "Married, With Tigers."
However, in that interview, the pair do not confirm that they were once a couple. Fischbacher is quoted saying: "What Roy's private life was is not my business; what my private life was is my business. You understand? Roy is his own man, and I am my own man. And Siegfried and Roy, who are friends, respect each other and went there without being married."
Horn adds: "But we are married. We are married to our profession. We are married to what we believe, and we are married to the whole substance of our beings. I mean, I have a family—not only of humans, but of animals. I feel that I am part of a family in many, many ways."
He later adds: "I am flattered to think that people think that I am versatile. You don't have to define everything, and I don't want to disillusion people. Besides, I'm not a guy who kisses and tells."
Feldman and MacLaine's comments are just two of many people close to Siegfried and Roy that confirmed the pair were, as the New York Times put it in both of their obituaries, "domestic as well as professional partners."
However, the pair were still reluctant to come out publicly. Many have put this down to their growing up in a time less tolerant of gay people. As Fischbacher himself said to Vanity Fair: "When we were on the ship, at that time, if you had just mentioned we had got married, they would have thrown us off the ship."
In a feature about the pair's reluctance to come out in the Washington Blade, gay Vegas historian Dennis McBride said of this: "They came of age and established their careers during a time when they could have been jailed for being gay and lost those very lucrative careers.
"I remember there was some resentment in the community because we needed role models—particularly in the 1980s and early 1990s during the worst of the AIDS pandemic—and both Liberace and Siegfried & Roy [sic] might have been a great help in our struggle, brought credibility and support to our fight."
Wild Things: Siegfried and Roy is streaming now on Apple Podcasts.