Sifan Hassan Miraculously Wins Olympics Race Despite Falling During Final Lap
Dutch Olympic star Sifan Hassan completed a remarkable recovery to win her heat in the women's 1,500m in Tokyo after falling with just 380 meters of the race to go.
The long-distance runner's hopes of claiming a medal in the event appeared to be all but over after she was left as much as 25 meters off her fellow competitors with the finish line almost in sight.
Hassan was tripped over with less than a third of the race to go after another athlete tumbled to the ground just in front of her, resulting in an unfortunate tangle of legs.
Undeterred, the Ethiopian-born Dutchwoman quickly jumped to her feet and continued on.
The reigning world 1,500m champion has set her sights on achieving an unprecedented treble of gold medal wins in the 1,500m, 5,000m and 10,000m at these Games.
Eager to keep her dream alive, Hassan was able to kick her efforts up a gear, quickly eating up the track between her and the main pack of runners.
By the time she crossed the finish line, the 28-year-old had made up the difference and then some, eventually catching up and overtaking the front runner, who had been 30 metres ahead when Hassan first fell.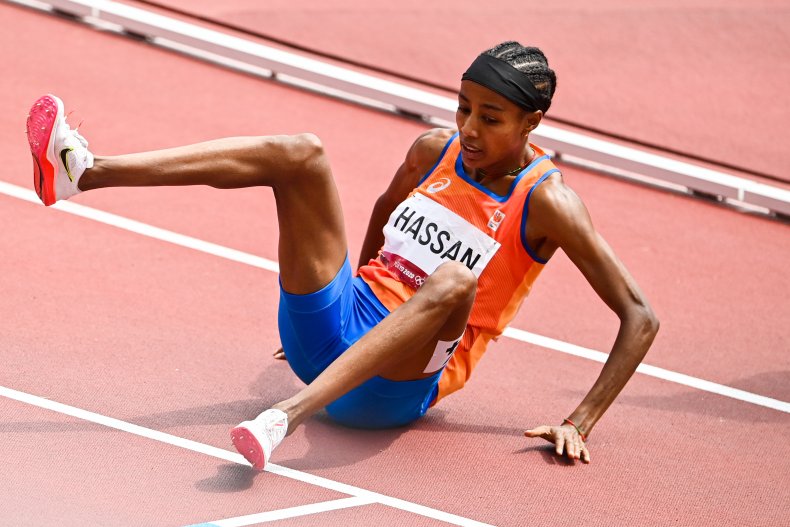 There was even time to ease up the pace in the closing moments, having safely secured a place in Wednesday's semi-finals.
She ultimately finished the race in 4:05.17 with data later revealing that Hassan ran the last 300 meters of the heat in just 43.7 seconds.
Footage of the Olympian's incredible efforts soon went viral on social media, with fans and pundits alike praising the Dutch athlete's superhuman powers of recovery.
US sports analyst and talk show host Gary Gottlieb shared a clip of Hassan's comeback on Twitter, writing: "Everyone gets knocked down... the question is who gets back up..."
Civil rights lawyer Sherrilyn Ifil described her as "an inspiration" while journalist Javed Hassan called it "the most extraordinary feat."
U.S. OIympian Clayton Murphy, meanwhile, wrote: "Sifan. Hassan. That's my tweet."
Many others saw her efforts as a prime example of why you should never give up.
Despite the stunning bounce back, Hassan's efforts could yet come at a cost.
Going into the heat, Hassan would have been hoping to conserve as much energy as possible as she goes in pursuit of three gold medals and appeared to be doing exactly that just prior to her dramatic fall.
She is due to compete in the final of the 5,000m later today with the 10,000m to come later this week.
Newsweek has reached out to Hassan's representatives for further comment.