Sigh of the Tiger: The Astonishing Free-Fall of Tiger Woods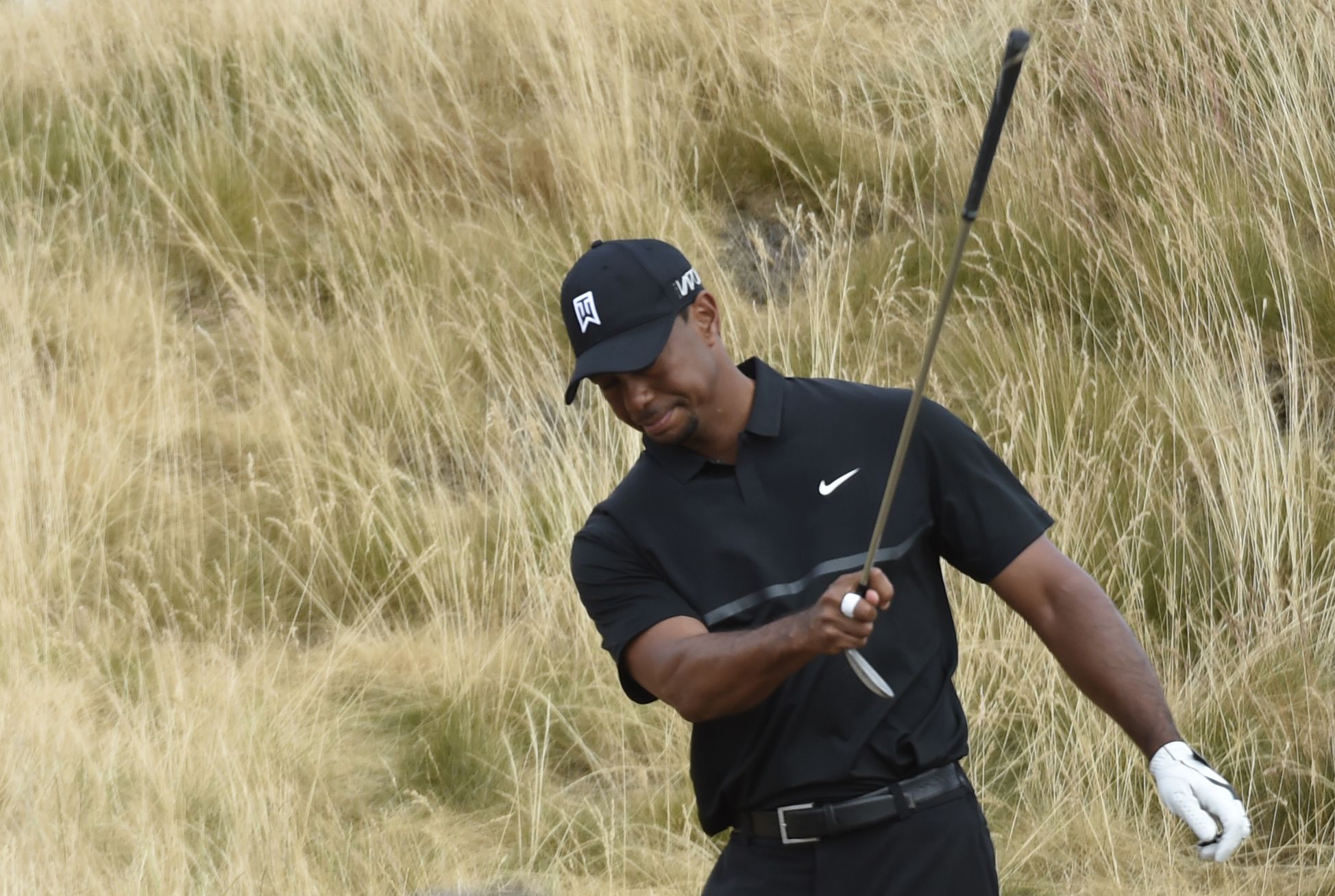 Has Tiger Woods hit bottom yet, or has he topped that shot as well, and hooked it left?
On Thursday afternoon at Chambers Bay, on the final hole of the first round of the U.S. Open, Woods stood over his second shot in the fairway, approximately 150 yards from the pin. It had already been a gruesome afternoon on the fescue along the Puget Sound for the 14-time winner of golf's crown jewels, its majors. Only one man, Jack Nicklaus, has won more majors (18) than has Woods, but Tiger's last win at a major championship was seven years ago this week.
The president at the time was George W. Bush.
Woods, wearing a black polo shirt, a black baseball cap and gray slacks, took out a 3-wood. As he pulled back his club, Fox color commentator Greg Norman, the only other man beside Woods who has held the title of World No. 1 for at least 52 consecutive weeks three different times, spoke not in terms of awe but rather pity. "C'mon, Tiger, give us a good golf shot," the Shark implored.
Instead, the man who was once arguably the greatest prodigy in the history of sports topped a 30-yard worm burner that found its way into a deep hole, albeit not one that had a pin stuck in it. The next shot of Woods showed him descending into a bunker until he was out of sight, a metaphor so obvious that it required no narration. Norman, dumbstruck, spoke for everyone watching when he stammered, "Iyeeeee…. I don't know what to say. I really don't know what to say."
Who does? To find any suitable comparison to the rise and fall of Tiger Woods, you must travel beyond the pantheon of sports.
Mozart? The Austrian composer, like Woods, was a virtuoso, a prodigy who grew into a legend, one whose best work came before his 30th birthday, but Mozart never produced a score as bad as the 13-over par 85 Woods posted earlier this month at the Memorial tournament.
Judy Garland, who starred in one of the greatest films ever made, The Wizard of Oz, at the age of 17, but whose final years were marred by substance abuse and who died at 47?
Who compares to Tiger? How many erstwhile geniuses out there can no longer spell "cat," because that is essentially Woods today. When Woods won the 2008 U.S. Open at Torrey Pines in a sudden-death playoff, essentially on one leg (he had chosen not to disclose that he was suffering from a double stress fracture of his left tibia that would also contribute to ACL damage in that knee), he was rightly lauded for his courage.
At the time, however, this was no surprise. Woods was not only the most dominant figure in sports, but also the best closer this side of Mariano Rivera. In the seven calendar years prior to that U.S. Open win, Woods had won eight major championships. In that same era, only Phil Mickelson had won more than two (3).
What was a drought, though, has become a drowning. And it is no less fascinating to watch than were Woods' years of hegemony. While Tiger is now seven years without a major championship, he was ranked No. 1 in the world as recently as May 2014—a ranking he held for 60 consecutive weeks. But in 2015, to use a word Woods employed after finishing 154th out of 156 golfers on Thursday, he has been "exposed." Woods has played approximately 1,150 rounds of golf in his professional career and only four times has he carded an 80 or above. Three of those misadventures have occurred this years, and two of them this month.
For the record, Woods shot an 81 at the British Open in 2002 but the conditions then were reminiscent of the night Andy Dufresne busted out of Shawshank: 10 other golfers shot in the 80s that day. In January, Woods shot an 82 at the Waste Management Open in Scottsdale, Arizona, and then he carded that 85 at the Memorial—an event he has won five times—a fortnight ago. Then Thursday's 80.
"At least I kicked Rickie's butt," Woods, employing gallows humor, told the media after his latest disaster. Rickie Fowler, who finished in a tie for second place at last year's U.S. Open, shot an 81 on Thursday. Misery loves camaraderie.
Still, this is fascinating. Has anyone who has ever been that good ever been this bad without allowing for age and injuries? Sure, some athletes hang on for too long (Muhammad Ali's final bout against Larry Holmes), but Woods will not turn 40 until December 30 (he shares a birthday with another former prodigy, LeBron James, by the way).
While 40 is a landmark in golf equivalent to hitting the back nine, four men have won majors after their 40th birthdays in the past 31 years: Nicklaus, Raymond Floyd, Lee Trevino and Hale Irwin. In 2009, Tom Watson finished in a tie for the lead after 72 holes at the age of 59. Watson, who like Woods attended Stanford, lost in a four-hole playoff.
Read the comments posted below any Tiger Woods story of late and you will find an enumeration of the reasons for his fall from, if not grace, then at least even par: the back injury, the philandering, the firing of his trusted swing coach (Butch Harmon) or caddies (Fluff, Steve Williams). The adulterer comments, by the way, are the most impassioned. There is a significant slice of the populace who wish that every Woods perambulation across 18 holes be as akin as possible to Cersei Lannister's naked walk of shame in Game of Thrones. As if, instead of being trailed by a caddy, Woods should be trailed by a septa ringing a bell intoning, "Shame...shame...shame."
Woods's philandering, like his fractured relationships with most of the men who, outside of his own late father, had the most positive impact on his game, has a more elemental root: narcissism. And while Woods is hardly the first superior athlete or artist to possess that trait—"I am the greatest!" cried Ali, who happened to be right—he happens to find himself playing the most humbling sport ever invented. It is not a good mix.
Earl Woods, Tiger's father, the man who taught him the game, was the only person who had the ability to tell Tiger what he did not want to hear without consequence. Earl passed away in 2006. And, yes, it is too simplistic to draw that linear conclusion, but in both his personal and professional lives, which mostly overlap, Woods has surrounded himself with people who tell him what he wants to hear and sacked those who do not. It is a recipe for continued failure.
And yet let me note that on the day Woods missed the cut at Chambers Bay, another 39-year-old who had written his own morality play of majesty brought down by deceit and self-destruction, Alex Rodriguez, notched his 3,000th career hit. While A-Rod will never be beloved, there is some redemption in his tale this season.
As for his play, at least Woods is not in denial. After shooting a 16-over-par in his two days at Chambers Bay this week and finishing ahead of just five of 156 golfers while not making the cut, the man who was once destined to be remembered as the greatest golfer of all time twice said, "I made nothing...on a golf course like this, you get exposed."
And he was. Several TV commentators tracking Woods on Friday said it was painful to watch, but as long as Tiger Woods continues to tee off in majors, he will remain the most fascinating story in golf. Probably in all sports. The elegy of Tiger Woods is a story structure that dates back to the Greeks and has since been adopted by Hollywood.
Act I: Meet the cat.
Act 2: Put the cat in a tree.
Act 3: Save the cat.
In this instance, the cat is a Tiger. And he has put himself in that tree (or bunker). Is there an Act 3?