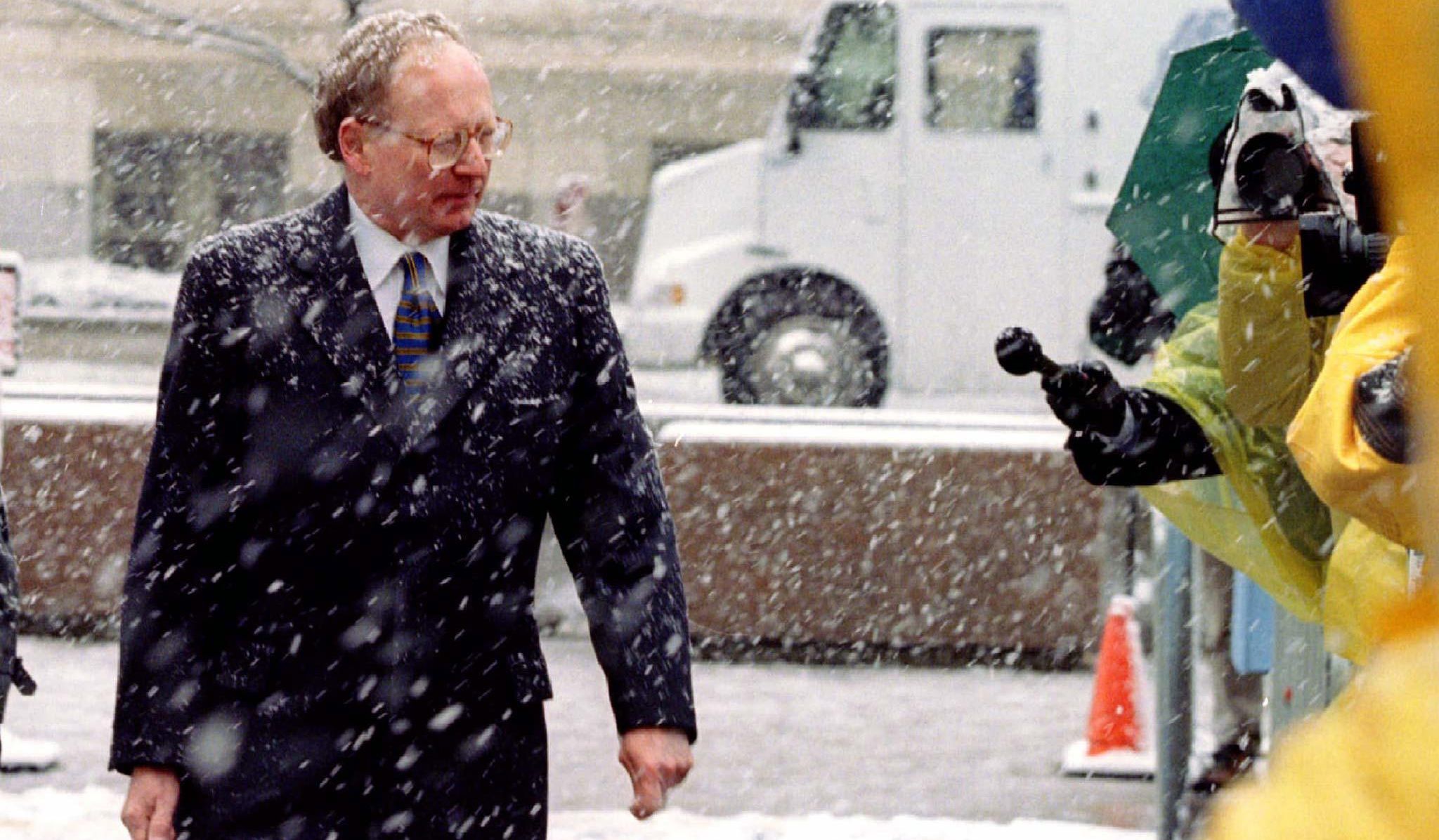 Updated | As members and alumni of the embattled Sigma Alpha Epsilon (SAE) fraternity at the University of Oklahoma issue public apologies for a racist video, they have hired controversial defense attorney Stephen Jones to look into pursuing legal action against the school and its president.
Jones, an Oklahoma native, specializes in "high profile" cases "involving alleged acts of terrorism and/or disloyalty," according to his website. He defended Oklahoma City bomber Timothy McVeigh following a domestic terror attack in 1995 that killed 168 people and injured 680 others. McVeigh was executed by lethal injection in 2001. Jones has also worked for Richard Nixon, Donald Rumsfeld and "each of the three Republican Governors of Oklahoma."
The university's president, David Boren, is a former governor who held office as a Democrat. As NBC pointed out, Jones unsuccessfully ran against Boren for a United States Senate seat in 1990.
"All of us agree that the actions which led to this matter at the University of Oklahoma are inexcusable. Let me be clear, there is no justification for what occurred. Zero. The incident, however, occurred on one of five buses," Jones, who attended the University of Oklahoma for law school, said at a press conference this afternoon. "So we are talking about one incident with nine seconds of video on one of five buses."
Jones said he represents the chapter's board of directors, not the students who were expelled. He was unclear about the specifics of what he and his clients are seeking, but said they are most concerned for the safety of current members, whom he said have been under threat and the victims of "physical assaults or altercations," and for the need "to protect the due process rights" of chapter members with both the university and the national fraternity.
"I'm not ruling out a lawsuit. I'm saying that our preference is to proceed in a non-legal solution, a non-adversarial solution and a non-litigation solution."
He also cited the belief that "every 19-year-old male is entitled to five minutes of foolishness," which in this case "might be a good guideline," he said.
Prior to the press conference, a university spokesman told Newsweek, "It would be inappropriate for us to comment regarding pending litigation."
The decision to lawyer up comes as legal experts have said that the school had no grounds to expel two students for their roles in singing a song that used a racial slur and referenced lynching, captured in a video that went viral earlier this week. The school also closed the fraternity chapter.
National SAE fraternity officials said Friday morning that the larger organization was not involved in the Oklahoma chapter's possible legal action.
"The Sigma Alpha Epsilon national headquarters, or national fraternity, has not retained legal representation, nor do we intend to pursue any action against the University of Oklahoma," they said in a statement. "There has been no communication from the alumni advisory group to the national headquarters since the chapter closing. We support and respect the university administrators' decision to revoke recognition of the group."
The fraternity officials previously said they supported the academic expulsion of the two students.
The decision to hire Jones follows a series of public apologies. "I am deeply sorry for what I did Saturday night. It was wrong and reckless. I made a horrible mistake by joining into the singing and encouraging others to do the same,'' Parker Rice, 19, who was expelled, told the media. He added that he and his family had left their home because of threats made against them.
The parents of Levi Pettit, 20, the other student expelled, issued a statement saying their son "made a horrible mistake, and will live with the consequences forever," and offered apologies to the black community and university students and the administration. A family spokesperson declined to comment further.
On March 11, chapter trustees and alumni spoke out about the incident, saying in a statement: "The OU SAE Board of Trustees has discovered that a horrible cancer entered into the OU chapter of SAE three to four years ago and was not immediately and totally stopped. It should have been.
"We are sincerely remorseful for the pain that this terrible chant has caused and would ask for your forgiveness. We are truly sorry. For the safety of the students that were involved and the students who were not involved, our desire would be for all parties to begin the healing process. We hope that this despicable situation will forever change an atmosphere that would even allow an incident like this to take place."