To Prevent More Black Kids From Drowning, Sigma Gamma Rho Is Teaching Them How to Swim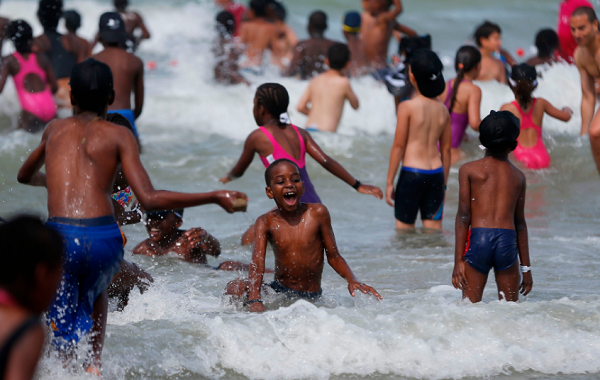 A black child in the U.S. is five and a half times more likely to die from an unintentional drowning than a white child, according to the Centers for Disease Control—the alarming statistic primarily is due to a lack of swimming ability. The rate only gets worse as kids get older: 11- and 12-year-old black children are 10 times more likely to drown than their white peers.
However, one sorority is doing its part to reduce those deaths simply by getting black children excited about swimming.
The ladies of Sigma Gamma Rho have developed an initiative aimed at teaching inner-city black children how to swim. Called Swim 1922, the program offers a hands-on approach toward more water awareness by pairing Sigma Gamma Rho volunteers with youngsters who have limited or no swimming knowledge or skills. The sorority teamed up with USA Swimming—which is the national governing body for the sport in the U.S.—to offer one-day lessons to students of all ages at community center swimming pools around the country.
"It's about getting more people into the pool," Dawne Stanton, president of the Silver Spring alumni chapter of Sigma Gamma Rho in Maryland, told The Baltimore Sun. "It's about water safety and saving people's lives."
The program comes after Sigma Gamma Rho teamed up with USA Swimming to offer lessons to black parents in 2012. That effort was launched after the sorority surveyed more than 3,200 women in the organization about their swimming experiences and found many of them recalled terrible memories, like being thrown into water unexpectedly. Many said they never learned how to swim because their parents didn't know, either.
According to USA Swimming, there's only a 19 percent chance that a child will learn how to swim if he or she comes from a household with parents who can't swim. But formal swimming lessons can reduce the odds of childhood drowning by 88 percent, the organization said.
The sorority also said it hoped the free sessions would increase kids' interest in water activities as well as open doors for broader career trajectories that could include working as a marine biologist, a member of the U.S. Coast Guard or a lifeguard.
For more information on swimming sessions in various areas around the U.S. click here.