Sign of the Times? Fans Who Heckled Astros for Sign-Stealing Had Their Signs Taken
It seems that stealing signs works both ways when it comes to Houston Astros games. The Astros opened their spring training schedule Saturday against the Washington Nationals, and fans who took shots at the Astros organization, via signs, had their signs taken from them.
Saturday's game was the first competition for the Astros since Major League Baseball found the club guilty of stealing pitching signals to get an advantage for their hitters during the 2017 season, which was capped by the Astros winning their only championship in club history.
One fan at Saturday's Grapefruit League game held up a sign with an asterisk, which clearly indicated he thought Houston's 2017 title should have a mark behind it.
The Astros game against the Nationals on Saturday—which got rained out—wasn't necessarily a rematch of last season's World Series, which the Nationals won in seven games. The teams share the same spring facility in West Palm Beach, Florida. It's fairly common for teams that share the same stadium, or those that train in the same city, to play the opener against each other.
Fans showed up with all kinds of sgns to shame the Astros, only to have them confiscated.
Matthew Silliman drove from the Florida southwest coast to heckle the Astros, and to let the Texas team know how he felt about their sign-stealing.
"I'm a big Nats fan, and it's wrong," Silliman said in this ESPN report. "They're cheaters."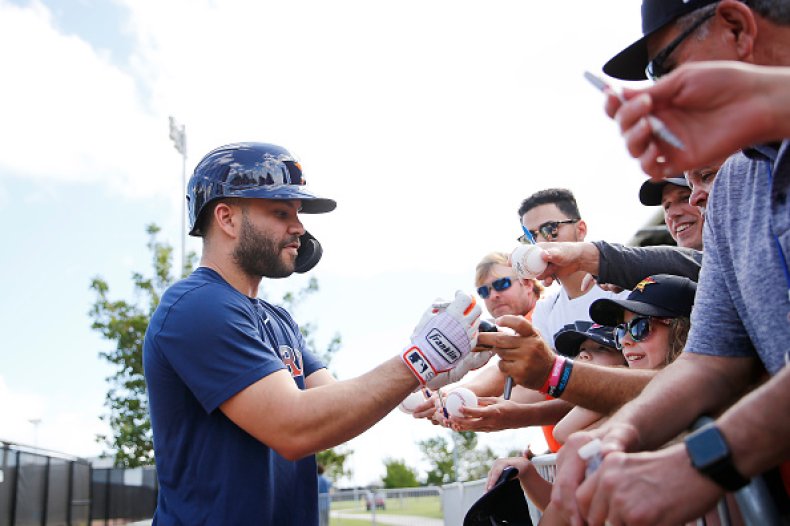 Then there were those who did not have signs, but booed everyone wearing an Astros jersey, from the manager to coaches and even Orbit, the team's mascot. They booed players who were not even on the team from 2017, players who will most likely get booed most of the season.
Houston manager Dusty Baker, in his first year with the Astros, said he expected to hear boos, and that the team just needs to get used to it.
"You'll probably get the same reception most places you go, especially the first go-round," Baker said. "So you've just got to put your big-boy pants on and then just try to shut it out and just play baseball and realize this too shall pass."
Major League Baseball last month found the Astros guilty of stealing pitching signs from their opponents in 2017. The sign-stealing scheme involved a video camera set up in centerfield at Houston's Minute Maid Park, and videos of signals being recorded, decoded and sent to the dugout with a buzzing sound.
The information was then relayed to hitters by banging trash cans, and that would supposedly let the hitters know what pitch to expect.
MLB suspended Astros manager A.J. Hinch and general manager Jeff Luhnow for one season without pay, and former assistant GM Brandon Taubman is ineligible to perform any services for any other baseball club for the 2020 season. In addition, the Astros were fined $5 million and must forfeit its first- and second-round draft picks in both 2020 and 2021.
None of the Astros players were punished, and the suspended managerial staff were all fired by the Astros.
The investigation began after former Astros player Mike Fiers came forward last November to say his team used electronic sign-stealing during that season's World Series championship run.
Fiers, who now plays with the Oakland A's, said he has received death threats for outing his former team.