'Significant' Ancient Roman Shipwreck With Thousands of Amphorae Could Reveal Clues to Rise of the Empire
Researchers have discovered a "significant" ancient Roman shipwreck, one of the four largest ever found in the Mediterranean Sea.
The vessel was identified during sonar imaging investigations carried out along the coast of Kefalonia—a Greek island in the Ionian Sea, which forms part of the eastern Mediterranean—according to a study published in the Journal of Archaeological Science.
A team led by George Ferentinos from the University of Patras, Greece, said that the vessel, dubbed "Fiscardo," dates back to between the 1st century B.C. and 1st century A.D.—the early stages of the Roman Empire's rise to power.
They dated the ship—which measures 34 meters long and 13 meters (111 feet and 43 feet) wide—with the help of plentiful jug-like vessels known as "amphorae" found among the wreckage.
These amphorae are in a "very good state" of preservation, thus the researchers hope that the wreck has the potential to provide a wealth of information about the Roman Empire at this time, shedding light on things like sea trade routes and ship construction.
Given the size of the vessel, they estimate that it was likely carrying around 6,000 amphorae—which were normally used to transport products like wine, grain and olive oil—when it sunk.
"It's half buried in the sediment, so we have high expectations that if we go to an excavation in the future we will find part or the whole wooden hull," Ferentinos told New Scientist. "This could tell archaeologists when and where the ship was made, where the material came from and how it was repaired."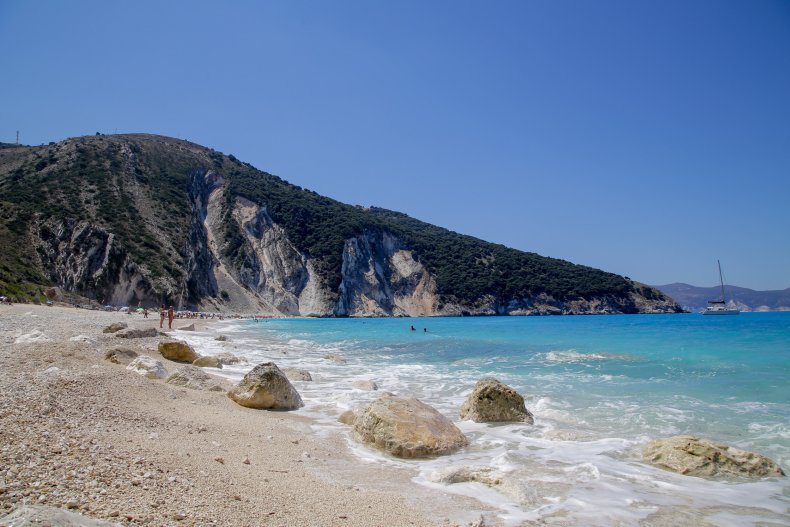 The team's data indicates that the hull of the ship could be more than 3 meters tall, opening up the possibility that more artifacts could lie hidden beneath the amphorae.
Aside from the well-preserved amphorae, the researchers say the Roman shipwreck—located around 1.2 miles off Kefalonia's northeastern tip—is also notable for being the largest found to date in the eastern Mediterranean.
During the sonar survey, the team also found three almost intact World War II wrecks: two ships and a plane.
Last month, marine archaeologists announced that they had uncovered five shipwrecks in the waters off the Greek island of Kasos—the southernmost in the Aegean Sea (part of the eastern Mediterranean)—dating from several different historical periods.
Most notable among the wrecks, the researchers said, is one vessel from the late classical period that features five stone, pyramid-shaped anchors.