Silas Redd Slams NFL for Deshaun Watson Suspension Lasting Only Six Games
In a social media post going viral, Silas Redd has slammed the National Football League (NFL) for only suspending Deshaun Watson for six games, when Redd was suspended for one year over marijuana.
After the news broke about the Cleveland Browns quarterback, Watson was suspended without pay for six games for sexual misconduct, Redd shared this tweet about his suspension.
"I got suspended for a whole year from the NFL for weed.. but sexual misconduct gets you 6 games.. make it make sense," Redd tweeted on August 1. The athlete has received over 600,000 likes and 68,000 retweets.
One Twitter user commented, "Oh so now you're aggrieved somehow??"
Redd replied with, "aggrieved? No lol I made my bed. I'm just pointing out sexual allegations constitute less disciplinary actions than marijuana."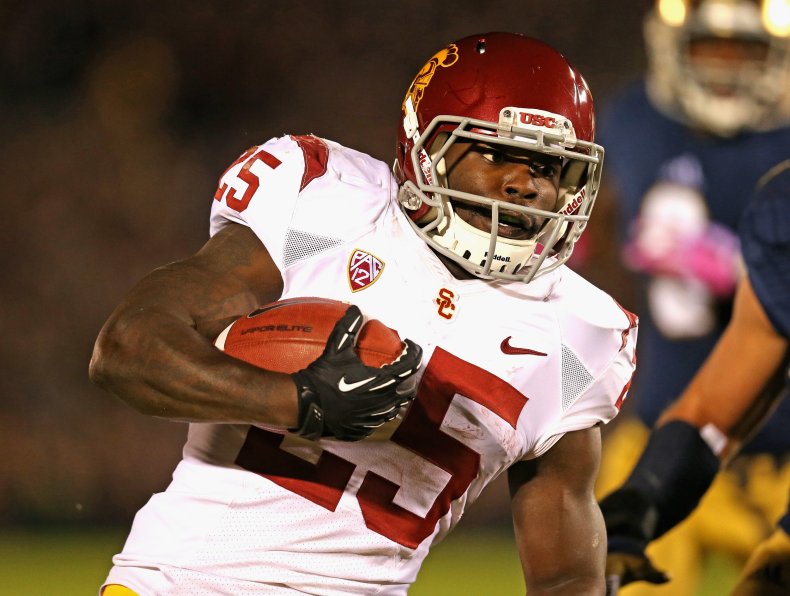 Redd played football for Penn State University and the University of South Carolina. He was signed as an undrafted free agent to play for the Washington Redskins as a running back in 2015. His career with the Redskins was short-lived after he was first suspended for four games after violating the NFL's performance-enhancing drug policy. He was also receiving surgery for a torn ACL and MCL and could serve his suspension while recovering.
Less than a year later, Redd was suspended indefinitely for violating the NFL's substance abuse policy due to smoking marijuana.
Newsweek reached out to the NFL for comment.
Watson has been suspended following sexual misconduct allegations made against him by 24 women working as massage therapists during sessions between 2020 and 2021. All but one of the 24 lawsuits has been settled. The Cleveland Browns quarterback has denied the charges and says that he is innocent.
Sue Robinson, NFL disciplinary officer, has determined that he "engaged in sexual assault" against four massage therapists. Watson will be able to participate in the preseason and can return to the team during the second half of the season.
Dee and Jimmy Haslam, owners of the Cleveland Browns said in a statement: "We respect Judge Robinson's decision, and at the same time, empathize and understand that there have been many individuals triggered throughout this process.
"We know Deshaun is remorseful that this situation has caused so much heartache to many, and he will continue the work needed to show who he is on and off the field and will continue to support him."
The NFL also released a statement on Watson's suspension: "We thank Judge Sue L. Robinson, the independent disciplinary officer, for her review of the voluminous record and attention during a three-day hearing that resulted in her finding multiple violations of the NFL Personal Conduct Policy by Deshaun Watson. We appreciate Judge Robinson's diligence and professionalism throughout the process."
O.J. Simpson has also shared his thoughts on the situation, saying that he wants the case to "go away" as he thinks it's too "negative." The internet has also shared its opinions on the suspension news.