Silicon Valley is all about high-tech gizmos and futuristic gadgets, so it makes sense that the show enters into the world of VR. A new experience called Inside the Hacker Hostel lets users interact with their favorite Silicon Valley characters while chilling inside Erlich's incubator.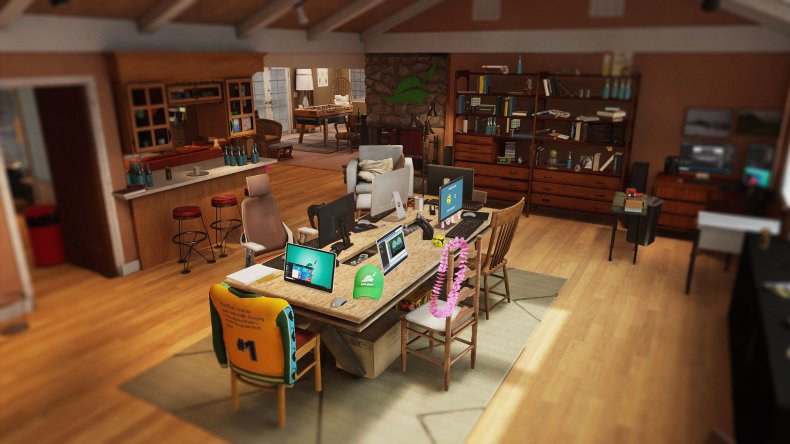 There are a number of fun references to be found while exploring the hacker hostel. There's the SWOT analysis board Gilfoyle and Dinesh came up with to determine if they should let an annoying stuntman die on his next risky performance. Also the "Always Blue" ball that can be tossed around, a bottle of tequila to drink and even some weed to smoke. Thanks for sharing, Elrich!
Other fun references from previous episodes include yogurt cups, the Not Hot Dog app, cans of Homicide Energy Drink and more. Users can watch TV, make food, play a completely working piano, get in a few rounds of foosball and even help Richard with some programming problems.
Users can also interact with a number of characters from the show, including Richard, Gilfoyle, Dinesh, Jian-Yang and Big Head. It will be possible to have video chats with them using your in-app smartphone.
Silicon Valley: Inside the Hacker Hostel is available right now and is free to download, but is only available for the HTC Vive through Viveport. Unfortunately for Gavin Belson, the app isn't compatible with Hooli VR goggles either. The app was developed by studio REWIND, and was built using Unreal Engine 4. To download, go to SiliconValleyVR.com.
Silicon Valley has begun its fifth season on HBO, with the premiere episode airing earlier this week. The next episode will air on HBO this Sunday, April 1 at 10 p.m. EDT.
So what do you think? Are you going to strap on your Vive and hang out with the cast of Silicon Valley? Are you excited about Season 5? Let us know your thoughts in the comments section below.