One of Silicon Valley's Largest Hospitals Hits Full Capacity After COVID Surge in California
As California's average daily COVID-19 cases hit yet another record high on Tuesday, one of the largest hospitals in the Silicon Valley region has run out of beds for the first time since the pandemic, including within its intensive care unit.
The Regional Medical Center in San Jose, Silicon Valley's most populous city, is the region's fifth-largest hospital based on the number of days that in-patients (excluding newborns in the nursery) were hospitalized in 2017, according to data from California's Office of Statewide Health Planning and Development.
The hospital's more than 200 beds are filled, with 40 percent of their ICU capacity consisting of COVID-19 patients, California's ABC 7 reported.
"We are at capacity. We don't have any free beds in the hospital," a spokesperson for the hospital, Sarah Sherwood, told ABC 7.
Noting "this surge is directly related to Thanksgiving," Sherwood warned "We cannot visit other families and we cannot gather in large gatherings."
The hospital was reported to be preparing for the worst. "We are talking about putting up tents and transferring patients out, we haven't had to do that yet and that's because we are treating patients more quickly," Sherwood noted.
The Regional Medical Center in San Jose, the state's third-most populous city with a population of just over a million, has 264 beds and serves "Silicon Valley and beyond," according to the hospital's LinkedIn page.
Silicon Valley has a population of over 3.1 million, according to state and county level data compiled by the Silicon Valley Institute for Regional Studies.
Total confirmed cases in California have surpassed 1.4 million, with 20,275 total reported deaths, as of Wednesday, according to Johns Hopkins University.
The state's seven-day average of cases has been rising sharply since early November, hitting a record high of 24,475 on Wednesday, after remaining flat for most of the outbreak since late March, according to data compiled by Worldometer.
There are at least 10,991 COVID-19 patients currently hospitalized in California, which includes both suspected and confirmed cases among adults and children, according to data published by the U.S. Department of Health and Human Services (HHS).
Hospitals across California could hit full capacity by January 6, when the number of all beds projected to be needed (around 27,301) is expected to exceed the number of all beds available (26,654), according to the latest forecast by the Institute for Health Metrics and Evaluation (IHME) at the University of Washington.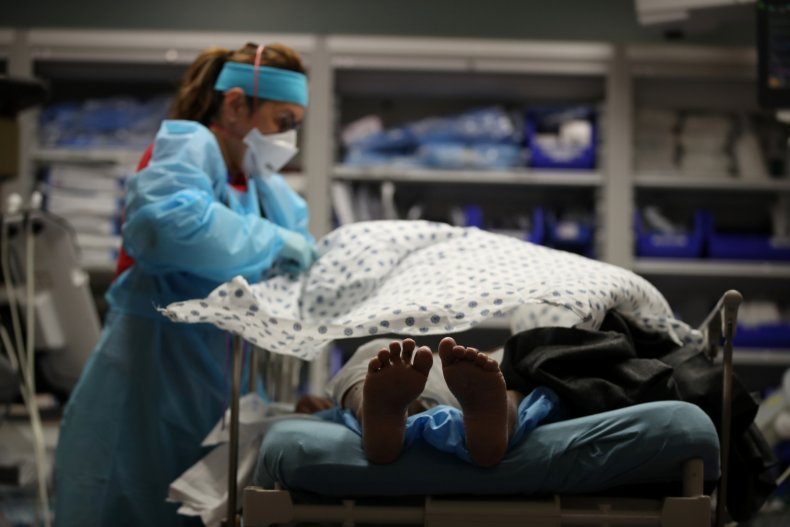 The wider picture
The novel coronavirus has infected more than 68.3 million people, including over 15.1 million in the U.S., since it was first reported in Wuhan, China.
More than 1.5 million people have died worldwide and over 44 million have recovered as of Wednesday, according to Johns Hopkins University.
The graphic below, provided by Statista, shows the spread of COVID-19 cases in the U.S.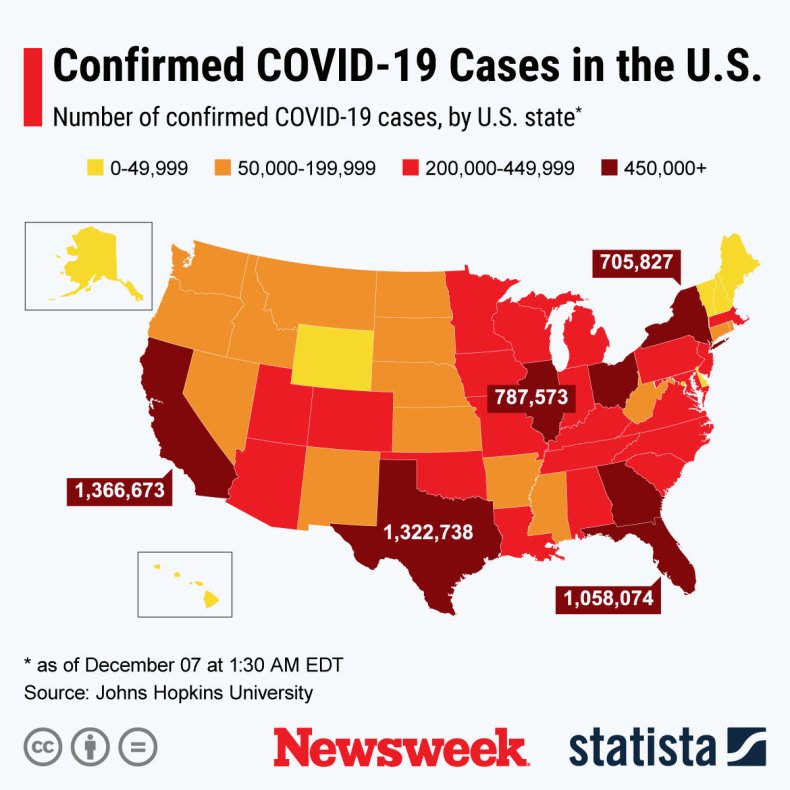 The graphic below, produced by Statista, shows the distribution of COVID-19 deaths among the U.S. population.