Silverado Fire Update: 60,000 Residents Forced to Evacuate in California's Orange County
The Silverado Fire in Southern California forced 60,000 people from their homes as it spread to more than 2,000 acres on Monday, with firefighters battling high-speed "erratic winds."
On Monday, Orange County officials issued mandatory evacuation orders for Orchard Hills on Irvine Boulevard, from Bake Parkway to Jamboree Road. Irvine Mayor Christina Shea noted that an evacuation warning would likely be issued for residents north of Irvine Boulevard and that Route 241 was closed from Santiago to Route 133.
"The fire started in Silverado Canyon, and helicopters and fixed wing aircraft are on the way," Shea said in a statement. "The wind is making it move very quickly."
As of Monday afternoon, three of the seven evacuation facilities were already full, according to the city of Irvine. People were still able to evacuate to the Los Olivos Community Center, Harvard Community Center, Las Lomas Community Center and the Village Church of Irvine.
Newsweek reached out to the city of Irvine for comment but did not receive a response in time for publication.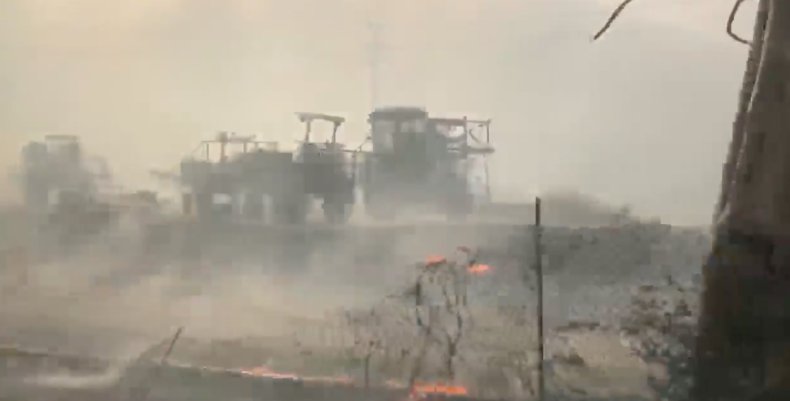 Because of the high winds, which could reach up to 60 or 70 miles per hour, according to the Orange County Fire Authority, air support was grounded. Five hundred firefighters making up 150 units were working at the scene.
The county was under a high wind warning until 2 p.m. PDT on Tuesday, and the National Weather Service warned that isolated gusts of 80 miles per hour were possible. The wind, combined with the low humidity, prompted the National Weather Service to issue a red flag warning for the county until 6 p.m. local time on Tuesday.
"Due to the damaging wind gusts expected with this event, there will be an increased risk of fire ignitions due to downed trees and power lines. If fire ignition occurs, conditions will be favorable for rapid fire spread, long-range spotting and extreme fire behavior, which would threaten life and property," the National Weather Service said.
Under the red flag warning, people in the area were told to use "extreme caution" with potential fire sources and to know their evacuation route in the event they have to leave at a moment's notice.
In an effort to prevent more fires from starting, the Southern California Edison company implemented a public safety power shutoff beginning at 7:30 a.m. local time on Monday for about 19,614 customers in Los Angeles, Orange, Riverside and San Bernardino counties. An additional 115,977 customers may also have their power shut off.
Wind was driving the fire with a "moderate rate of spread," the Orange County Fire Authority said, and in about four hours the blaze went from 10 acres to 2,000.