Sim Bhullar's Long Road to Sacramento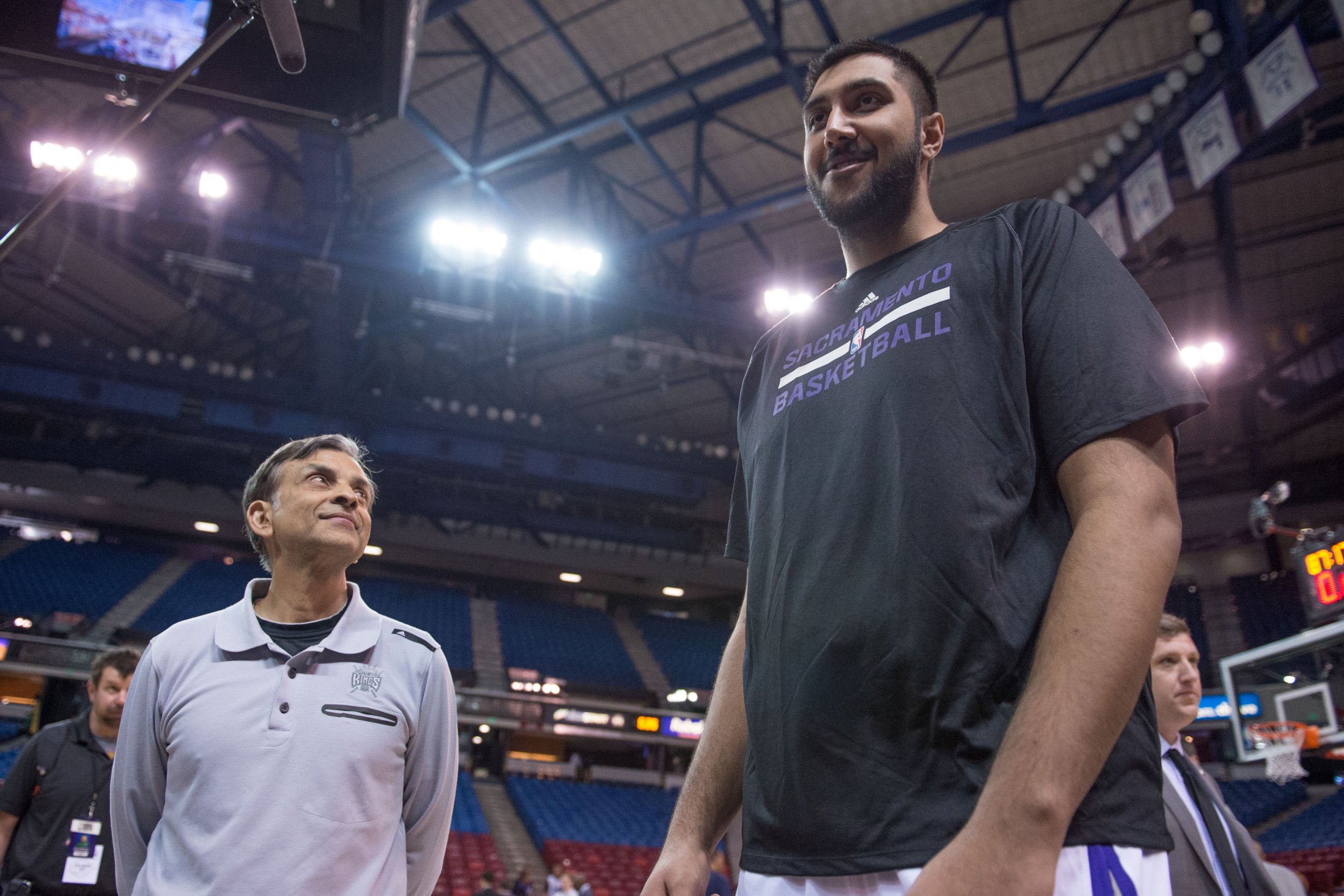 Sim Bhullar has been running all year. At 7 feet, 5 inches and 360 pounds, the undrafted center from New Mexico State University ended up a member of the Reno Bighorns, a farm team of the lowly Sacramento Kings, currently the third-worst franchise in the formidable Western Conference of the National Basketball Association. The Bighorns play a frenetic style of basketball called the Grinnell System; its small, fleet players sprint constantly up and down the court, shooting three-pointers and pressing full-court on defense. Bhullar is neither small nor fleet, nor much of a threat from beyond the arc. But this was his team. So the big Bighorn ran.
Bhullar is Indian. So is the majority owner of the Kings. That's no accident. The two marched together in New York's "India Day" parade last year, suggesting a player-owner relationship of genuine personal affinity. Perhaps this provided some small measure of succor to the hulking young center as he battled on the blocks against the Fort Wayne Mad Ants or the Bakersfield Jam.
Somewhat improbably, Bhullar thrived in Reno, averaging 10.3 points, 8.8 rebounds and 3.9 blocks per game with the Bighorns this season. Those may not be Hall of Fame numbers, but they were good enough for Bhullar to get called up to the pros as the Kings concluded another un-regal season. Freedom, to borrow from Janis Joplin, is knowing that you don't have a chance in hell of making the playoffs.
By signing a 10-day contract with the Kings on Thursday, the 22-year-old Gursimran Bhullar became the first player of Indian descent to play professional basketball in the United States. More relevant, as far as basketball is concerned, is that Bhullar is the heaviest player ever officially listed in the league, Indian or not.
Bhullar (whom some on Twitter have called "Mahatma Grande") was born in Canada: His parents, who are Punjabi immigrants, run a gas station in Toronto. In affect, he is a slightly dopey American kid still learning the powers and limits of his own body. Nevertheless, his signing was big news in a league that hopes to emulate soccer in global reach. "This Punjabi is now a King," proclaimed one Indian news outlet on the eve of his professional debut. NBA India branded it "a watershed moment in Indian basketball history," comparing the signing of Bhullar to that of Yao Ming by the Houston Rockets 13 years ago. The hope, quite clearly, is that Bhullah will do for basketball in India what Yao did for basketball in China.
But on Friday night, his first in the NBA, Bhullar sat, a huge but inert presence on the Sacramento bench. The New Orleans Pelicans were in town, striving for a playoff spot; the Kings, on the other hand, were playing for nothing. Before the opening tip, the Kings' announcer had proclaimed to the crowd: "We are live in India!" He asked the fans to cheer, presumably to impress those gathered in Delhi and Mumbai.
I asked the blogger next to me in the press box about Bhullar's prospects. About these, he was pessimistic, deeming Sim "super slow." He did add, however, that he has "a soft touch." Earlier that day, at the Kings' morning shootaround, I had seen Bhullar tossing baby hooks effortlessly into the basket. If he raises his arms, his hand is only about three inches below the rim, making a soft toss into the basket a high-percentage proposition, as long as he is able to maneuver himself into position.
After the shootaround, Bhullar faced his first NBA media scrum. He did so with affability and ease. Grinning the whole time through his slightly uneven teeth and scraggly beard, he noted that he'd had some 20,000 Twitter mentions on Thursday, which had drained his iPhone battery.
Bhullar did not end up on the Kings by accident, and it's doubtful that other NBA teams were ever angling for his services. The Sacramento franchise is owned by Vivek Ranadivé, the only Indian-American to own an NBA team (he had previously owned the Golden State Warriors, too). Ranadivé, who made his wealth by founding companies in the 1980s that provided financial information, bought a majority stake in the Kings in 2013 for $348 million. His first serious experience with basketball had been coaching his daughter's team in the Bay Area. The MIT- and Harvard-trained engineer had so cleverly used the full-court press that the team briefly became a powerhouse, and Ranadivé was one of the underdog heroes of Malcolm Gladwell's David and Goliath, a book about converting weakness into strength.
Ranadivé aims to bring some of that scrappy spirit to Sacramento, a flat place blasted by dry heat. Unlike nearby cities closer to the Pacific coast, Sacramento hasn't benefited much from the tech boom of Silicon Valley. Currently, the Kings play at the dreary Sleep Train Arena, a tan concrete box in an area dominated by strip malls and new condominiums. Ranadivé intends to move the Kings to a new downtown arena that will be completed in 2016. He hopes the new building, near the state capitol, will spur a revitalization of the city, whose mayor is former Phoenix Suns point guard Kevin Johnson. Through the use of technology inside the arena and in the surrounding neighborhoods, Ranadivé told me he aspires to turn Sacramento into "the first city of the 21st century" and "the next great American city." Shanghai may have some qualms about the former claim, Austin and Portland about the latter.
The plans to make the sport a global phenomenon in synch with the digital revolution is what Ranadivé calls "NBA 3.0." India, understandably enough, is the focal point of his revolution. He has traveled to his native country, which he left as a teenager, with both NBA commissioner Adam Silver and President Barack Obama. He acknowledges that cricket will always be the favored sport of India's 1.25 billion citizens; but cricket, he notes, "is the sport of our rulers," introduced to India by its British colonial masters. He believes that basketball can be "a strong No. 2" in India, where he estimates there are now "one million boys and girls bouncing basketballs." He notes that basketball has a "21st century vibe to it," that it's an urban sport of the upwardly mobile but concrete-bound.
Under Ranadivé's push for NBA 3.0, the Kings became "the first professional sports team to accept Bitcoin and offer live streams through Google Glass," according to a report by Business Insider. But the Google Glass experiment has been killed by Google. The arena's myriad consumers of beer and nachos did not appear, as far as I could tell, to rely on crypto-currency. If the Kings keep losing, they could stream their games via hologram and still no one will care.
The signing of Bhullar has led some to question Ranadivé's motives and basketball knowledge. Bleacher Report deemed the acquisition an "opportunistic late-season ploy."
"Nobody can teach 7-feet 5," Ranadivé countered when I asked him about that charge. Slim and intense, he was dressed in a fleece and black pants, with a shirt that was untucked in the back, in true Silicon Valley fashion; like the region's young lords, hoodie-wearing and otherwise, he does not appear to question his own decisions. In these parts, nothing is quite as intoxicating as the notion of the new.
Ranadivé notes that Bhullar was twice named the most valuable player of the Western Athletic Conference tournament while he was at New Mexico State, where he played for two years. "This is very much earned," Ranadivé says. At the same time, Bhullar's signing is obviously more than a pure basketball consideration. "He breaks a lot of stereotypes," Ranadivé says, challenging the notion that Indian-Americans are a "model minority" adept at electrical engineering but not the pick-and-roll.
Ranadivé says he will defer to his general manager and coach, the widely respected George Karl, regarding Bhullar's future with the team. But with an estimated 50,000 Sikhs who live in Sacramento and its environs, having a potential star of Indian descent would be an obvious boon to the Kings. Ever since Jeremy Lin, then of the New York Knicks, came out of nowhere in 2012, every team has tried to replicate the marketing dream that was Linsanity, ethnic appeal coupled with genuine basketball talent.
Professional sports may be the last true meritocracy in American society. There are no legacy admissions, no affirmative action, no appeal to emotion. If you can put up the numbers, you belong. In the famous formulation of NBA veteran Rasheed Wallace, "Ball don't lie."
Nor does ball favor the narratives we might want to impose on the game. On Friday night, the Kings kept things close, but the Pelicans withstood Sacramento's second-half rally. Kings center DeMarcus Cousins finished with a triple-double, his second in a row. Truculent and tattooed, frequently penalized for tough talk and rough play, "Boogie" Cousins is nobody's marketing dream. But he is very good at basketball, and only getting better with time. His effort on this night was, in a sense, responsible for Bhullar spending his entire professional debut on the bench. The player from Alabama stole the night from the player from Punjab.
Defeated, as they have been so many times this year, the Kings shuffled into their locker room. It is too late for Sim Bhullar to save Sacramento's season. As for his own professional career, it is still an open question. Ball don't know, just yet.