Simi Valley Fire Map: Easy Fire Ignites in Ventura County, California, Prompting Mandatory Evacuations
With at least nine fires already burning, California firefighters had to wage yet another battle after flames ignited in Ventura County on Wednesday morning.
The incident, dubbed the Easy Fire, started as a brush fire in the southern part of the Golden State between Simi Valley and Moorpark. At the time, large portions of California were under a red flag warning, meaning weather conditions signaled an increased risk of wildfires, and the Los Angeles County Fire Department (LACOFD) said powerful winds were fanning the newest fire.
"This fire is likely to have regional implications," the LACOFD wrote on Twitter.
Given the location of the fire, the Ventura County Fire Department (VCFD) took control of the flames and sent firefighters to the scene. Even before they reached the blaze, which broke out near the 118 Freeway and Madera street, units reported its large size, according to the VCFD.
Within minutes of reporting news of the brush fire, the VCFD ordered mandatory evacuations in the area. People within the borders of Tierra Rejada Road to the north, Olsen/Madera Street to the south, Madera Street to the east and Highway 23 to the west were required to leave, according to the VCFD.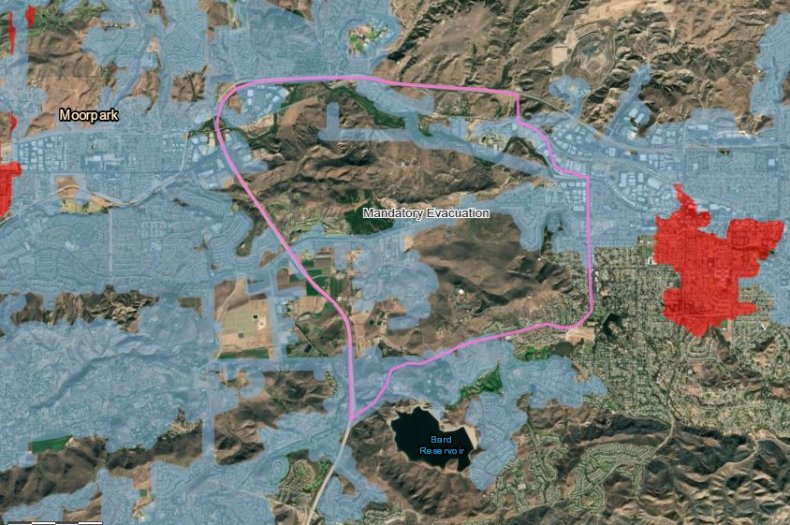 To help inform residents if their homes were located within the evacuation area, Ventura County Emergency Operations Center (VCOES) posted an interactive map on its website. Residents could type in their address to find out if they needed to leave.
Those who were forced to quickly leave their homes were able to relocate to the Thousand Oaks Community Center, where officials established an emergency shelter. Large animals were welcome at the Ventura County Fairgrounds.
A number of roads were also closed, which the VCFD identified as:
SR-23 between Avenida de Los Arboles and Los Angeles Ave.
Moorpark Road at Tierra Rejada Road
Santa Rosa at Moorpark Road
As of 11:00 a.m. EDT, the fire had burned 200 acres, according to the California Department of Forestry and Fire Protection. Along with ground personnel, the LACOFD reported that aircraft were also responding to the "fast-moving" fire.
On Wednesday, Santa Ana winds were expected to peak in Southern California, reaching up to 80 mph in certain mountain areas. In Simi Valley, the National Weather Service reported wind speeds of 33 mph, and a high wind warning was in place for Ventura County Valleys. The warning was in effect until noon PDT on Thursday.