Simon Schama on Skyfall's Leaner, Meaner James Bond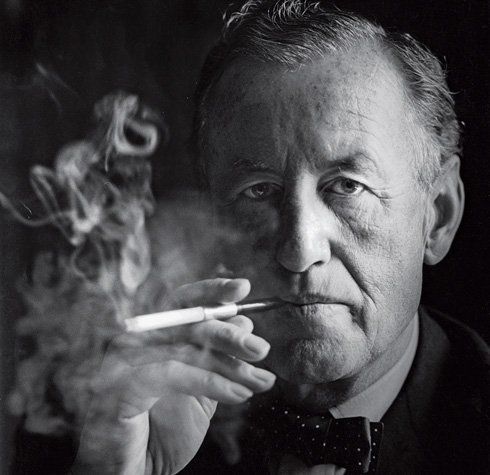 50 years of excitingly detonated hardware and women breathing "Jaaames" in states of postcoital gratitude, thousands of air miles clocked en route to tropical lagoons where villainy lurks among the ravenous barracuda—and where has it gotten Bond? Trafalgar Square, that's where. There he sits in Skyfall (released Nov. 9), the latest, cleverest, and most psychologically gripping of all the Bond epics—in London's National Gallery, in a mood of uncharacteristic pensiveness. A geeky tousle-haired 20-something joins him on the bench, and to Bond's incredulity claims to be the new Q, the master of all those boxes of tricks that have gotten him out of impossibly tight spots over the past 50 years. He hands Bond the usual elegant leather case. But this time it appears, mystifyingly, to be ... merely a leather case. Inside is a gun. And that's it. "Not exactly Christmas, is it?" the agent says, looking like a small boy who has just been handed a present of socks. "What were you expecting," asks the baby Q with an expression of condescending pity, "an exploding pen? Sorry, we don't do that anymore."
Conscious of having to mark the half century of Bond without compromising the pure adrenaline rush of entertainment, Skyfall's director (Sam Mendes, born anno Thunderball, 1965) has packed the movie so full of memories that watching it almost feels like experiencing the whole cycle of the films from the time when JFK (predictably an Ian Fleming fan) and Harold Macmillan were in power, through the death pangs of the Cold War, and into the age of cyberterrorism. At one point in the new movie Bond unearths his most cherished antique: the Aston Martin DB5 first unveiled in 1964's Goldfinger. "Not very comfortable, is it?" complains Judi Dench's M, who herself has gotten to the point where creature comforts matter: "Where are we going?" "Back in time," replies Daniel Craig's Bond, looking bony and haunted like the lone gray wolf he has become.
Time travel, as anyone who watched the opening ceremonies of the London Olympics (with its droll pageant of the Industrial Revolution) will know, is a British obsession. There was a point in the middle age of the Bond films (roughly coinciding with late-period Roger Moore) when mindlessly robotic futurism set in: all whooshing monorails and lame displays of whatever British techno-inventions—the (doomed) vertical takeoff Harrier Jump Jet in The Living Daylights (1987), for instance—could be wheeled out to advertise to the world that Bond's Britain was more than just an academy in advanced social deportment. But these sweaty efforts at rebranding missed the beating heart of Bond's enduring appeal, which was an updated personification of the British "gentleman" in a world of murder, terror, and imminent nuclear annihilation. Perfect tailoring and clipped wit, maintained even as Bond was either being tortured by, or dishing it out to, some sadistic monster. Brit brains could beat doltish megalomania any day.
In James Bond's universe, the delusions of common little people aspiring to be Masters of the Universe would always be their undoing. "Little fish pretending to be bigger than they are," Sean Connery sneered at the title character's heavily magnified aquarium glass walls in the series's first film (Dr. No, 1962). In Goldfinger, Oddjob perishes from the steel-tipped bowler hat he so presumptuously wears along with his inexcusably ill-fitting suit. Commander Bond of Scotland's Fettes College (Tony Blair's alma) is not for a minute fooled by the old-school-tied psychopathic strangler Captain Nash, played by the great Robert Shaw in From Russia With Love (1963). With every grating "old man" Nash sends Bond's way, the less likely it is that he is really the British agent he claims to be. Ordering (O horror!) red wine with his fish in the dining car of the Orient Express just clinches the unmasking.
Bond, like his literary creator, Ian Fleming, is always a snob but never a bore. His obsession with correct style is a defense against the coarse vulgarities of a changing world in which a conspiracy of global power and money seem to have the upper hand. In the Bondian fairy tale, they come a cropper against Savile Row suits and mordant asides. To the lethal sirens—think of the flame-haired vixen Fiona Volpe in Thunderball or Xenia Onatopp in 1995's GoldenEye (like Dickens, Fleming loved making his names act out the part)—Bond delivers lashings of rough sex and death. But to the drippy D-cup Andromedas, chained to their rocks by some lunatic captor, he is always the liberating knight-gallant.
American movie mythology has occasionally gotten mileage from this romance of the anachronism, in the form of the cowboy who has outlived his time—Butch Cassidy or one of Clint Eastwood's stubbly Unforgiven antiheroes. But America has always been about the rush of the now, whereas almost everything creative in Britain, Bond included, has come from a dialogue between past and future, the antique and the cool (think Sgt. Pepper). James Bond was dreamed up as the British Empire was on its last legs, and like Churchill, it was painfully aware of its dependence on the American protector. Writing before the independence of the Caribbean colonies from his windowless Jamaican villa (named Goldeneye after one of the wartime naval intelligence ops he was involved in, usually from behind a desk), Fleming was offering a placebo for the disappearing empire in the fantasy of a manly British style that would never be outmastered for seductive elegance. Nobody would do it better. Compared with Bond, Felix Leiter and the CIA looked like the duh-brigade, forever in need of catching on and catching up.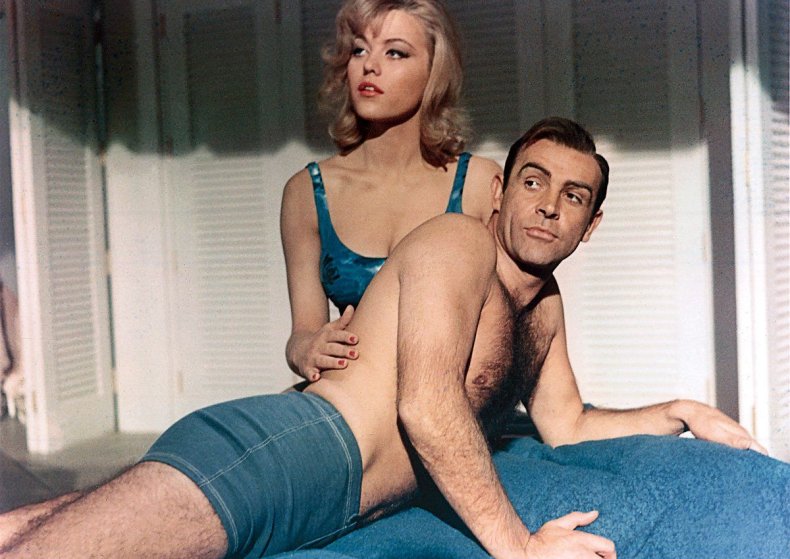 Bond was also the answer to another area where Britain felt challenged in the late 1950s: the shrinking manhood department. Films rehearsing the wartime heroics of escaping POWs or against-the-odds naval battles were an exhausted genre. The greatest generation wore trusses and had retired to the pub with a perpetual half pint of bitter. Churchill was doddering; his successors among the ruling class were ponderously tweedy. As Noel Coward once put it, "Continentals have sex; the British have hot water bottles." Not Fleming, though. A sexual omnivore with a "cruel mouth" and hawkish mien, he projected onto Bond and indulged a taste for the erotic whip that makes Christian Grey look like Mary Poppins. For years Fleming carried on a long affair with the decidedly upper-crust Anne Charteris, then married to the media magnate Viscount Rothermere. When with regret she returned to London from Goldeneye, she wrote wistfully, "I loved cooking for you, sleeping beside you, and being whipped by you."
Fleming was not the only writer who used spy literature to explore the many shades of British impotence. In the early '60s, when the Bond movies were launched, John le Carré, who knew whereof he wrote, created the dark, treacherous, authentically chronicled world of the Cold War MI6. But there was also the underappreciated and brilliant Len Deighton, whose "insubordinate" agent (called "Harry Palmer," and played by Michael Caine, in the movies) perfected a street-smart insolence that couldn't have been more different from Bond. Palmer seduced as much with his Gauloise-smoking cockney attitude as he did with his cooking. (Deighton wrote excellent cookbooks meant to persuade men their virility was not under threat from knowing how to dice an onion or make a cheese soufflé puff and rise.)
Books by both authors generated movies, in particular two little 1965 masterpieces: The Spy Who Came In From the Cold, based on a le Carré novel, and the even more brilliant The Ipcress File, adapted from Deighton. The first, with Richard Burton as the self-destructive Alec Leamas, all grubby trench coat and hooded-eye hangover, operated from start to finish under a shroud of dingy, cynical gloom. The Ipcress File, even with its delicious poke in the eye at the camel-coated and bowler-hatted brigadiers of MI6, was too local and British for mass export, even with the irrepressibly chirpy Caine as its standard-bearer.
No one appreciated this more than the producer of The Ipcress File, Harry Saltzman. A Canadian Jew settled in Britain since the late 1950s, Saltzman was the power behind Woodfall Films, the fountainhead not of fantasy Britishness but of hard-edged social realism. Movie after movie set in industrial wastelands—including Saturday Night and Sunday Morning (1960), A Taste of Honey (1961), and The Loneliness of the Long Distance Runner (1962)—explored sex, class, and all-around hopelessness. Each film spoke to the true condition of a Britain caught between postimperial hangover and the aggravated yearnings of a generation crushed by exactly the old-school complacency Ian Fleming and James Bond personified.
But Saltzman had a hunch that the new Britain, breaking spectacularly free from its ancient crust of decorum—the England of the Rolling Stones and the Beatles, of Mary Quant miniskirts and Carnaby Street bell-bottoms—was up for something more roguish than dramas of back-street abortions and the Friday-night puke. Wherever you looked, tongue-in-cheek self-mockery was at the pulse of what the raffish jazz singer George Melly called "revolt into style." Satire invaded the stage with the hit review Beyond the Fringe and flooded the television airwaves with That Was the Week That Was, a show so simultaneously cheeky and biting that it was suspended during the election campaign of 1964. Private Eye, the take-no-prisoners satirical magazine is (along with the still hot but wrinkly Rolling Stones) the only venerable British treasure to last the full 50 years alongside 007.
What these hoary pensioners all have in common is the talent to send up Britishness even as they affectionately rejoice in it. On this side of the pond (with the honorable exceptions of Stephen Colbert, Jon Stewart, and The Onion), you don't dare celebrate America by mocking it. In Britain, where during the Olympics the queen became the latest of the Bond girls to surrender to the gentle joke, it's virtually a patriotic obligation.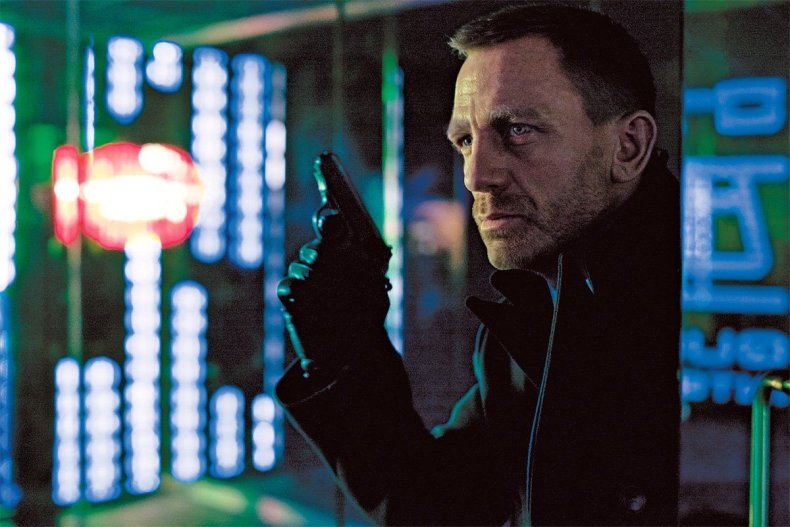 It's possible to overdo the caper side of Bond, and Roger Moore's broadly whimsical Bond did just that, with the lethal brutality of Connery's personable thug getting lost in all the bad puns and smirking. The stunningly shot and artfully written version of one of Fleming's best books, On Her Majesty's Secret Service (1969)—its lyric opening on a French beach as twilight hangs over the sea is evidence of the real gift Fleming could command when he chose—actually flirted with tragic tenderness. It was a quality Diana Rigg supplied but that was well beyond the talents of George Lazenby, who was cast as Bond after appearing in chocolate commercials. Timothy Dalton overdid the New Man's Bond, all feline edginess—though he was ill-served by formulaic writing, tinny scores, and low-budget action that exposed the strains in the franchise after Saltzman and his partner Albert "Cubby" Broccoli had gone their separate ways. It was left to the looker Pierce Brosnan and the terrific writing team of Neil Purvis and Robert Wade to restore the ballsy merriment.
Daniel Craig and his directors have aimed for something leaner, meaner, darker, and harder—though the blade edge of wit without which Bond wouldn't be Bond is still there. With Skyfall, Sam Mendes (and his writers Purvis and Wade, supplemented by John Logan) has done something genuinely remarkable. Summoning all those other spy ghosts from the time of Bond's creation—the Harry Palmer and le Carré moles—they have turned the epic inward, into Britain itself (where by far the greater part of the action takes place). The film isn't short on the standard supply of bang and splat, but the trajectory of the journey that Bond always takes is, this time, into the ruins of history, both public and personal. Freud rather than Blofeld lurks in the dystopian darkness, and the drive down memory lane is full of the pain of the orphaned.
Which might be said of Britain as well as 007. Bloodied and bashed about, where is its destiny supposed to lead these days? Not to collapsing Europe, but not across the Atlantic either, where the big boy is preoccupied with its own business. So Britain like Bond seems cut loose, a voyager on a sea of doubt. Which somehow does not make either Bond or Britain any the less riveting a story. It's just that these days, for them both, life is apt to seem shaken as well as stirred.
Timeline
In Dr. No, Sean Connery stars as the first James Bond,a character well known from Ian Fleming's novels. Ursula Andress sizzles as Honey Ryder, the first iconic Bond girl.
We meet Desmond Llewelyn as 007's go-to gadget guy Q in From Russia With Love. The villain Blofeld first appears stroking his white cat. A shoe blade is used as a weapon.
In Goldfinger, bad-guy Oddjob kills people with a steel-rimmed bowler hat, Honor Blackman plays the not-so-subtly named Pussy Galore, and Shirley Eaton (as Jill Masterson) dies after being painted in gold.
Thunderball grosses $141.2 million, the highest Bond box-office earnings when adjusted for inflation; Claudine Auger plays Domino Derval; and Bond blasts off in a jet pack.
Nancy Sinatra records the title song for You Only Live Twice, a haunting ballad revived most recently in the closing sequence of the Mad Men Season 5 finale.
George Lazenby performs for the first and last time as 007 in On Her Majesty's Secret Service. He marries Diana Rigg, the only bride of Bond, who is murdered on their honeymoon.
Connery receives $1.25 million plus 12.5 percent of gross profits to return to the franchise in Diamonds Are Forever. Shirley Bassey records the hit title track.
Roger Moore makes his Bond debut in Live and Let Die, with a hit theme song by Paul McCartney. Gloria Hendry plays Rosie Carver, the first black Bond girl.
In The Man With the Golden Gun, the title weapon is assembled from a pen, a cuff link, a cigarette case, and a lighter.
The Spy Who Loved Me includes a car-submarine and a ski chase that ends in an escape via a Union Jack parachute.
Bond goes to outer space in Moonraker.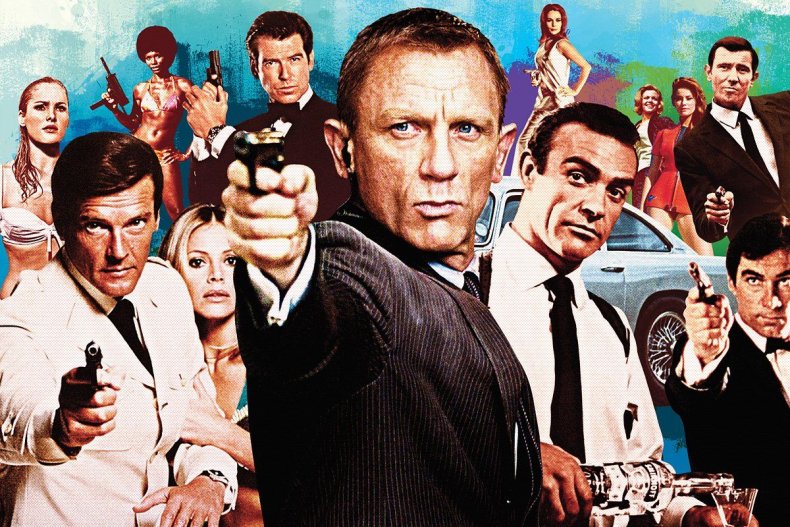 To protect 56-year-old Moore, more than 100 stunt doubles are used in filming Octopussy.
Timothy Dalton becomes the new James Bond in The Living Daylights. Critics credit him with reinvigorating Bond by making him darker and moodier.
In Licence to Kill, 007 goes rogue after his relentless pursuit of drug lord Franz Sanchez, leading to Bond's suspension from MI6.
Pierce Brosnan, making use of the iconic exploding pen, plays Bond for the first of four times in GoldenEye. Judi Dench appears for the first time as M, the head of the Secret Intelligence Service.
In The World Is Not Enough,Desmond Llewelyn makes his 17th and final performance as Q, dying in a car accident several months after the film's release.
Halle Berry echoes Ursula Andress's belted bikini and entrance from the sea as Giacinta "Jinx" Johnson in Die Another Day.
Daniel Craig replaces Brosnan as the new Bond. His first film, Casino Royale, becomes the (unadjusted for inflation) highest-grossing James Bond film of all time at $594.2 million.
In Quantum of Solace, Gemma Arterton as Strawberry Fields recalls Jill Masterson's death by gold when she is smothered in oil.
Playing Bond, Craig escorts Queen Elizabeth II to the Olympics in a video for the opening ceremonies. The release of Skyfall on Nov. 9 marks the 50th anniversary of the series.