Simone Biles, Ally Raisman to Testify on FBI's Role in Nassar Case to Senate Committee
Olympic gold medalists Simone Biles and Aly Raisman will testify before the Senate on Wednesday about the FBI's role in failing to properly investigate allegations against former USA Gymnastics team doctor Larry Nassar.
Biles and Raisman's former teammate McKayla Maroney and world champion gymnast Maggie Nichols will also testify in front of the Senate Judiciary Committee. Nichols was the first to report abuse by Nassar.
FBI Director Christoper A. Wary and Inspector General Michael Horowitz will appear on the witness panel as well.
Earlier in July, Horowitz released a 119-page report faulting the FBI's Indianapolis field office for not responding "with the urgency that the allegations required" and for making "fundamental errors when it did respond," which allowed Nassar to continue abusing young athletes for months.
Nassar, who pleaded guilty to sexually abusing 10 minors in a Michigan court in January 2018, is serving up to 175 years in prison.
During his time working with the U.S. women's national gymnastics team, Nassar allegedly sexually assaulted at least 265 girls under the guise of medical treatment.
In January, Biles said that she was abused by Nassar in the past and it had sent her into a deep depression. This summer, Biles withdrew from a number of events at the Tokyo Olympic Games, citing a need to work on her mental well-being
"I am not afraid to tell my story anymore. I too am one of the many survivors that was sexually abused by Larry Nassar," Biles tweeted on January 18.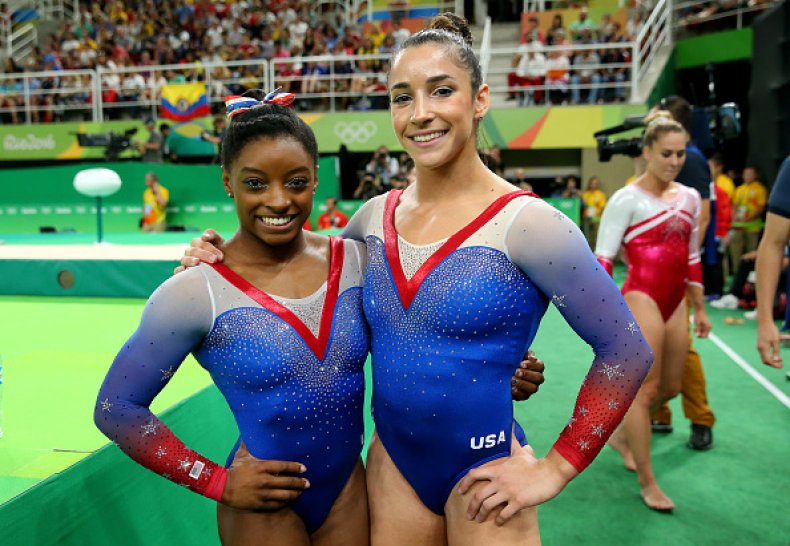 Horowitz's report was set out to determine why it took nearly a year for the FBI to pursue complaints against Nassar after USA Gymnastics first reported complaints to the FBI's Indianapolis field office in July 2015.
Between July 2015 and August 2016, when Michigan State University (MSU) Police received a separate complaint against Nassar, 70 or more girls were allegedly sexually abused, according to the probe.
Maroney said the FBI first interviewed her over the phone in September 2015, but has testified that she did not receive any communication from the agency until she was interviewed again in 2016.
According to the report, the FBI's office in Lansing, Michigan didn't learn about the allegations against Nassar until after MSU police executed a search warrant of the former doctor's home in September 2016.
The FBI declined Newsweek's request for comment.
USA Gymnastics has proposed a $425 million settlement between the organization and the victims for covering up the sexual abuse.
According to The Wall Street Journal, some of the gymnasts are calling for separate action against the FBI for dereliction of duty in the Nassar case.
Wednesday's Senate Judiciary Committee hearing is scheduled to take place at 10 a.m.
Updated 09/14/21 9:01 a.m. ET, with comments from the FBI.