Simone Biles Called Herself the Greatest of All Time. Is She?
Gymnast great Simone Biles made worldwide headlines this week that she probably never expected at the 2020 Tokyo Summer Olympics. Or maybe she did.
As the American women gymnastics team began competition in the team finals Wednesday in Tokyo, Biles informed officials that she would no longer compete for a gold medal. Though the remaining three team members went on to win the silver medal, the talk was about Biles' absence rather than her team going on to win silver.
The Russian Olympic Committee (ROC) team won the gold, nearly three-and-a-half points ahead of the Americans. The Russians claimed they could have won whether or not the Americans had Biles running their team.
Biles, 24, said she abruptly withdrew from the finals to protect her mental health, this while riding a wave of momentum to Tokyo proclaiming that she was the "Greatest of All Time" or, the G.O.A.T.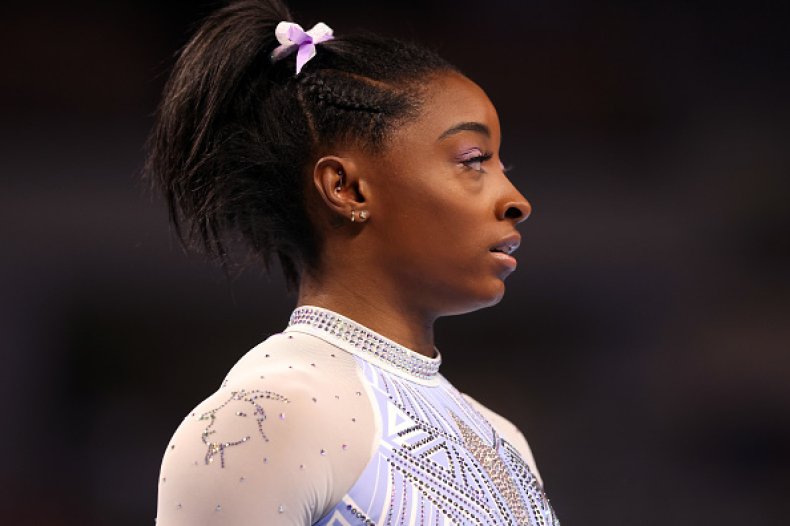 During last month's Team Trials in Fort Worth, Texas, Biles wore a leotard that had a "goat" outlined in sequins. The "goats" were on both her right shoulder and the middle of her back.
Just before the Tokyo Olympics began, Twitter unveiled an emoji to honor Biles. It was a goat flying through the air with a gold medal wrapped around its neck.
Biles touted herself as the GOAT heading into the Tokyo Games, and she said she was ready to deliver her best, despite the pressure she has faced with everyone aiming for her.
The pressure began mounting more than five years ago, though. Biles didn't say what "mental health" issues she has faced after her Tokyo withdrawal, but the signs were there over the years.
Shortly after the USA gymnasts returned from their triumphs in Rio, it was revealed that former team doctor Larry Nasser had sexually assaulted multiple girls and young women in the program. It was learned of the stringent training at the Texas compound of the Karolyis, who were famed coaches of Nadia Comaneci and eventually the Americans.
Biles talked about being hungry at the Texas camp, even breaking into the camp cafeteria and sneaking food into her hoodie back to carry back to her room. She didn't enjoy being hungry like she was as a poor kid who had to pour water over her cereal because the family couldn't afford milk.
Biles has detailed these conversations over the years.
When asked during a 60 Minutes interview about the time with Nasser in charge of the USA team's doctor duties, Biles said it was something she couldn't even tell her parents.
"It was so hard for me to even say it out loud, that I knew how hard, like, it crushed me. It would crush my parents. And I didn't want them to feel the same pain that I felt. Because it was very dark times," Biles said on 60 Minutes.
Biles said USA Gymnastics hasn't done enough to address sexual assault issues and other problems within the team program.
"One hundred percent. We bring them medals. We do our part. You can't do your part in return? It's just, like, it's sickening," Biles said.
Biles said that if she had a daughter, she would not put her in the USA Gymnastics program until lots of things get resolved.
"I don't feel comfortable enough, because they haven't taken accountability for their actions and what they've done. And they haven't ensured us that it's never going to happen again," Biles said.
Then there have been Biles' bout with going to therapy over the last two years.
"I'm on anxiety medicine now because I had a lot of ups and downs throughout the year, trying to figure out what was wrong," Biles told NBC in late 2018. "So I go to therapy pretty regularly. It's not easy, but the people surrounding me are some of the best."
During the team qualifying in Tokyo, it was Biles that tripped off the mat during a floor routine and had a bad landing on the vault, which resulted in the Americans getting the No. 2 qualifying spot behind the ROC.
Biles after Wednesday's meet said she pulled out of to protect herself, her mental health and to look out for her teammates.
"Physically, I feel good, I'm in shape," Biles said on NBC's TODAY. "Emotionally, that kind of varies on the time and moment. Coming here to the Olympics and being the head star isn't an easy feat, so we're just trying to take it one day at a time and we'll see."
Most folks in the United States will likely say Biles is the greatest gymnast of all time, or at least in America. Here are the top female gymnasts in history, from Larisa Latynina to Nadia Comaneci to Biles (in alphabetical order).
Simone Biles
Biles has won more world championship medals than any gymnast in history with 25. Of those, 19 were gold medals. At the 2016 Rio de Janeiro Olympics, she won four gold medals and a bronze. She's become so sophisticated in the sport that new moves are named after her. She's also performing some routines that only the men have accomplished.
Nadia Comaneci
She was the first woman to score a perfect 10 in the Olympics (Montreal 1976), and she nailed seven 10s in those same Games. She won five Olympic gold medals in her career.
Gina Gogean
Won a total of 20 medals between Olympics, World and European championships, including nine golds at Worlds. She was known for trying new, tough tricks and for her longevity in the sport.
Svetlana Khorkina
The first gymnast to win three all-around titles at the World Championships, including five gold medals in the uneven bars. She also has seven Olympic medals and 47 total medals for the Olympics, Worlds and European championships.
Olga Korbut
Korbut helped popularize gymnastics around the world while winning three medals at the 1972 Munich Games and 13 overall medals at major events. She had moves named after her like the "Korbut Flip" and the "Korbut Salto."
Larisa Latynina
She was the first female Olympian to ever win nine gold medals, and she has 18 overall Olympic medals through three Games. The total Olympic medals count stood until American swimmer Michael Phelps broke it in 2012.
Correction 7/30/21, 5 a.m. ET: This article was updated to correct the spelling of Larry Nassar.