Simone Biles Hits Back at Critics in Viral Tweet
A discussion around mental health was sparked during the 2020 Summer Olympic Games when Simone Biles withdrew from the team competition and several individual events.
Now the gold medal gymnast is hitting back at critics in a viral tweet she posted Thursday following criticism to what she had gone through publicly.
"Some of the stuff I've been through publicly and having such negative responses makes me hope your peers/family don't see what y'all tweet," she wrote. "It's really sad. I hope they never go or have gone through some of the same things."
Although Biles did not specify what prompted her tweet, which has generated 47,300 'likes' as of Thursday afternoon, Twitter users were quick to offer their support. Many suggested she take a break from social media and block those sending negativity, while others thanked Biles for shining a light on mental health.
"I know that seeing positive tweets does not erase the impact of negative ones, but I'd like to thank you for what you've done to destigmatize taking care of your mental health," one Twitter user wrote. "I feel very lucky to be able to witness your accomplishments!"
Another user posted: "Don't let those people get to you. They have no clue. Keep your head held high. You have achieved so much in your life. What have they achieved? Probably nothing besides being heartless..."
"I can't imagine what you have endured," someone wrote in response to Biles. "I truly hope that the bad messages are far outweighed by the good ones. Please know you are a light and inspiration to so many. Especially those of us who have struggled with mental health."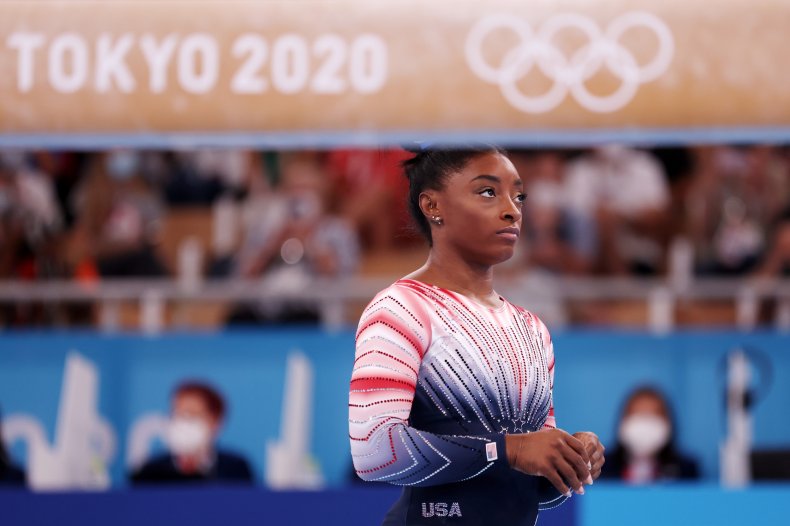 While competing in Tokyo in July, Biles said she left the team competition after experiencing the "twisties," which happens when an athlete loses a sense of spatial awareness during a routine. This can lead to serious injuries.
Criticism followed her decision to withdraw. In July, Texas Deputy Attorney General Aaron Reitz retweeted a video from the 1996 Olympics in which American gymnast Kerri Strug competed while injured.
"Contrast this with our selfish, childish national embarrassment, Simone Biles," Reitz tweeted. He later apologized after receiving backlash for the post.
Conservative activist Charlie Kirk called Biles a "sociopath" and a "shame to the country."
However, a number of athletes, celebrities, political figures and social media users rallied around Biles in support of her decision to prioritize her mental health.
"The outpouring love & support I've received has made me realize I'm more than my accomplishments and gymnastics which I never truly believed before," Biles tweeted following the team competition, where the U.S. Women's team won a silver medal.
Biles qualified for all five individual events, but only competed on the balance beam, where she won the bronze medal. CNN reported that she revealed her aunt passed away just two days before the competition.
"Two days ago my aunt unexpectedly passed, and that was something I wasn't expecting to happen at the Olympic Games either, so at the end of the day, you have to be a little bit more mindful of what you say online, because you have no idea what these athletes are going through as well as [in] their sports," she told the Japanese media.
Newsweek has reached out to Biles and her management team, but did not receive a response at press time.