Simone Biles Hailed An 'Inspiration' After Overcoming Twisties to Win Olympic Medal
Simone Biles is being hailed as an inspiration after she won the bronze medal on the balance beam at the Tokyo Olympics on Tuesday morning.
The 24-year-old gymnast scored 14.000 on the balance beam to finish third after withdrawing from many events at this year's Games due to mental health issues and problems with the twisties.
On Monday, Team USA announced that the gymnast would take part in one more event—the beam.
This is Biles' seventh Olympic medal which puts her in a tie with Shannon Miller as the most decorated U.S. Olympic gymnast ever.
Guan Chenchen and Tang Xijing of China took first and second place respectively on the apparatus.
Sports journalist Lukas Weese described Biles as an "inspiration" following her bronze medal win on Tuesday.
"Simone Biles is the BRONZE MEDALIST in the Women's Balance Beam, securing her 7th career Olympic Medal," he tweeted. "But most important of all, Biles went out on her own terms and showed the importance of athletes preserving their mental health.
"What an inspiration."
One gymnastics fan on Twitter tweeted to say how proud they are of Biles.
"So proud. It might not have been Simone's highest scoring beam routine but the most impressive routine shes ever done after the week shes had," the tweet reads. "The courage it took to get back up & NAIL it is proof of how capable, beautiful, and heroic she is. The GOAT, inside and out. Forever."
"The athletes in attendance giving Simone Biles a standing ovation after she completed her routine on the balance beam. Amazing," said activist Charlotte Clymer.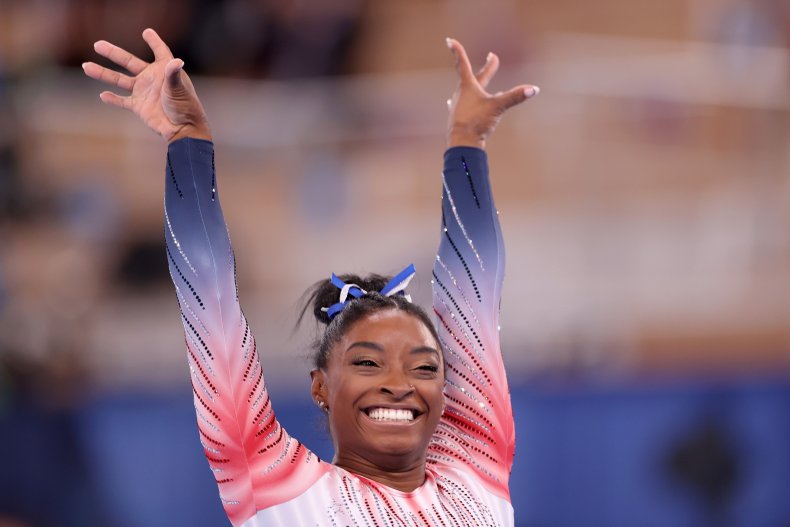 Olympic swimmer Simone Manuel added: "SIMONE BILES *all the applause* So awesome to see you back up there! You have so much to be proud of! Your resilience is so inspiring!"
Sports broadcaster Jacqui Hurley described Biles as a "trailblazer."
"Bronze medal for Simone Biles in the beam," she tweeted. "Even with all her gold medal successes, that might be the most important moment in her career. Can't imagine how difficult this week has been for her. She's a trailblazer in more ways than one."
Sportswriter Will Graves added: "Simone Biles has often said the bronze she won on beam in Rio is the one she's proudest of. Well ... now she's got two. And I imagine this one might even carry more weight than the first."
Another fan tweeted: "SHE DID IT OMG SIMONE BILES BEAUTIFUL BEAM ROUTINE AND HER DOUBLE PIKE DIsmount wow so so thrilled for her and happy that she's back and better!!!!! GOAT."
The All Things Gymnastics Podcast said that "proud is an understatement."
They tweeted: "Simone Biles may be adding another medal to her Olympic collection, but what's even more special is the way that she set a boundary for herself on the world stage. No medal is worth your physical or mental health. This one she did for herself."