Simone Biles Nearly Quit Gymnastics Before Tokyo Olympics Postponement - 'I Can't Do This'
Simone Biles considered quitting gymnastics if the Tokyo 2020 Olympics were canceled and believed she had contracted coronavirus in March last year.
"If they cancel the Olympics, I'm quitting. I can't do this any longer," the 24-year-old says in the first episode of Simone vs. Herself, a new seven-part documentary which premiered on Facebook Watch on Tuesday.
The most decorated gymnast in history, Biles has won four Olympic gold medals and 19 world titles over the course of a stellar career and had planned to retire after the 2020 Olympics.
Her plans, however, were put on hold by the coronavirus pandemic which ground the world of sports to a halt.
In March 2020, the IOC and the Tokyo 2020 organizers postponed the Games by 12 months because of the COVID pandemic.
With the exception of the two world wars, the Olympics have never been canceled since they began in their modern guise in 1896.
In the documentary, Simone Biles reveals she found out about the postponement via a text message and that the news was a significant blow from a psychological standpoint.
"I actually found out from text, because I was already in practice this morning," she says during a FaceTime call.
"I looked at my phone because people started texting me and that's when I found out it had been officially postponed.
"I don't know. There was a lot of emotions running through my mind. What I was gonna do [...] we're gonna work with whatever they throw at us. We'll figure it out."
The first episode of the documentary, which is produced by Religion of Sports and directed by Gotham Chopra, also reveals Biles thought she had COVID-19 and that she thinks she may have contracted it after attending an event in Times Square at the beginning of March 2020.
"The coronavirus outbreak is happening, so I feel like I have coronavirus," she says.
"Everyone keeps reassuring me that I don't have it, but I've had basically every symptom apart from a cough and a fever and I was just in New York, in Times Square with millions of people."
Eventually, a chat with one of the U.S. Gymnastic team's doctors allays her fears and she is reassured that she's suffering from a common flu, rather than COVID-19.
Physically not at her best, Biles faced a significant psychological challenge as the IOC's decision to postpone the Games meant she would have to put herself through another 12 months of gruelling training sessions.
After 10 years in the sport, the prospect of pushing herself for another year tested Biles' mental resolve.
"Physically I feel fine. I'm conditioned, I'll be ready when it's time to compete. I'm not worried about that," she explains.
"Mentally, on the other hand, I was really worried because as I'm getting older and getting tired, it's getting harder to get up in the morning and go to the gym.
"I seriously can't get up anymore. It's very different but I still go in there [the gym] and get my work done."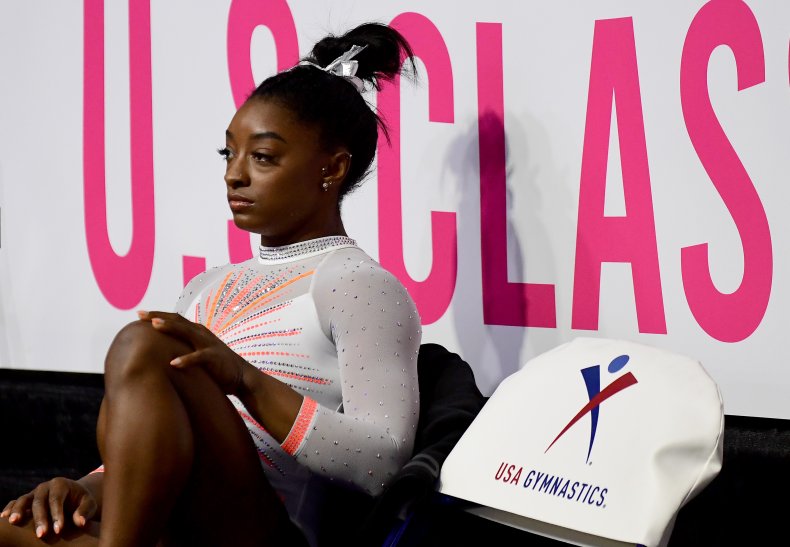 Biles' coaches, Laurent Landi and Cecile Canqueteau-Landi, acknowledged postponing the Games ramped up pressure on the four-time Olympic gold medallist.
"It's the mental [side of it]," Landi explains.
"She [Biles] will be the number one attraction of Team U.S.A. at the Olympics and that's a lot of pressure on her shoulders, but we're gonna try and take all that pressure away from her and try to focus on what's controllable and that's her gymnastics."
His wife echoes the concerns: "It's very difficult mentally. One more year is a long time on your body and mentally as well."
The attraction of adding to her Olympic medals tally eventually proved too hard to resist and Biles opted against giving up gymnastic, "the one stable thing in my life that has brought me joy no matter how I'm feeling".
She will be part of the U.S. team in Tokyo for the Olympics this summer, which are scheduled to begin on July 23.
"Adding another year is gonna be hard but it's gonna be worth it," she explains.
"During the quarantine process I got to relish my emotions for the first time in my life without any outside voices telling me that it was gonna be OK."
However, she acknowledges there are major challenges ahead.
"Deciding to still move forward and train for the 2021 Olympics was only up to me, no outside voices. That was what I was fighting for and training for," she adds.
"I worry if I'm gonna be just as good. That's my real fear: To see whether I can get back to 2019 shape. Can I do it again?"
If her performance at the U.S. Classic in Indianapolis is anything to go by, Biles has little to be worried about. In her return to competition after an 18-month break, the reigning Olympic and world champion became the first woman in history to execute a move known as the Yurchenko double pike vault.
Considered so dangerous no other female gymnast had even considered attempting it, the routine earned Biles a score of 16.100.
Despite being slightly penalized for her landing, the score was higher than both of those Biles received for her performances at the 2016 Olympics in Rio de Janeiro, Brazil when she won four gold medals.