Simone Biles Reveals, Thanks Secret Training Gym in Japan to Get Past Mental Issues
American gymnast Simone Biles revealed Wednesday that she trained in a Japanese gym to help get past some mental hurdles that sidelined her at the Tokyo Olympics over the last week.
Biles revealed that she trained at Juntendo University, which was first reported by GymCastic on its Twitter.
Biles pulled herself from the team competition last week after her first run in the event, saying mental health issues had worked her into a foggy mental state. She sat out the team and all-around events, and then sat out individual events before rebounding with a bronze medal on the balance beam to wrap up competition this week.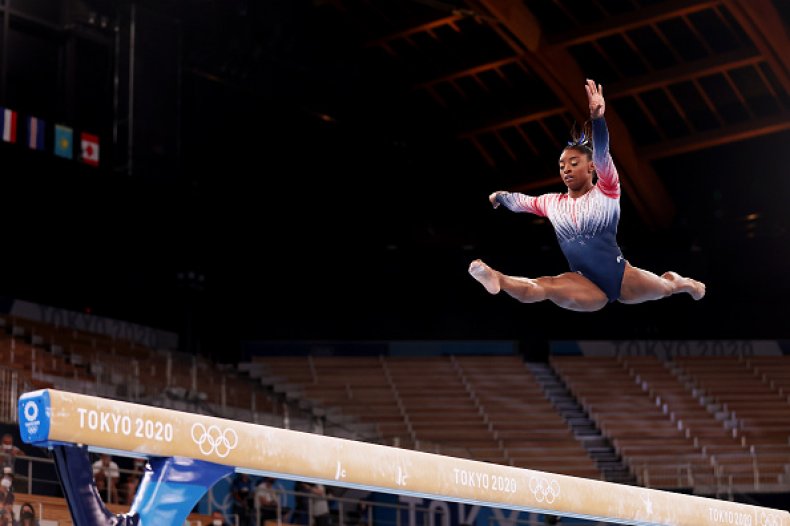 Biles, 24, tweeted her thanks to the university for allowing her to get back into the groove of working out.
"I'll forever be thankful for Junetendo [heart emoji] for allowing me to come train separately to try to get my skills back. The japanese are some of, if not the sweetest people I've ever met," Biles tweeted.
The university is located in a Tokyo suburb, about an hour's drive away from the competition arena. According to a statement on GymCastic, the American gymnastics team called Juntendo University professor Kazuhiro Aoki with a discreet request.
"This is a complicated matter," Aoki was told. "But this is for Biles."
The call happened roughly 12 hours after Biles withdrew from competition. She said upon her withdrawal that it was the right time, and the right stage, to shed light on mental health issues.
"Mentally I still have a lot of things that I have to work on but to bring the topic of conversation on mental health to light means the world to me," Biles said. "People have to realize that at the end of the day we're humans, we're not just entertainment."
Biles was allowed to train inside the Juntendo gym as she needed a private gym with "soft mats" and foam pits to re-learn basic gymnastics.
The gymnast arrived about two hours later at the gym, and the doors were locked so no one could know who was training inside. She was accompanied by coaches and medical doctors each time she trained there.
Biles trained two hours the first day, and then came back for three hours the next day.
On Tuesday this week, she won the bronze medal on the balance beam, saying it meant more than any of her four gold medals won at the 2016 Rio de Janeiro Olympics.
Upon winning bronze on the beam, she also revealed that her aunt had passed away two days before that event.
The 2020 Tokyo Olympics, which were delayed a year because of the COVID-19 pandemic, wrap up this Sunday with the Closing Ceremonies.