U.S. gymnastics star Simone Biles withdrew from the team competition Tuesday at the Tokyo Olympic Games because of a mental health issue.
Biles, 24, spoke out about her decision to withdraw from the event following the announcement that she left due to "a medical issue."
"Physically, I feel good, I'm in shape," Biles told TODAY. "Emotionally, that kind of varies on the time and moment. Coming here to the Olympics and being the head star isn't an easy feat, so we're just trying to take it one day at a time and we'll see."
After Biles adjusted her vault midair, she walked off with team doctor Marcia Faustin and then left the arena. The vault she intended to perform was an Amanar, which includes a roundoff back handspring on the table and two and a half twists in the air. Biles only completed one and a half twists, according to ESPN.
It is unclear whether Biles will compete in the individual women's gymnastics event on Thursday where she is the defending champion.
"We're gonna take it day by day, and we're just gonna see," Biles said.
NBC, the official broadcasters of the Games, confirmed Biles's withdrawal:
"We've just been told that, with regard to Simone withdrawing, it is not injury-related. It is a mental issue that Simone is having."
Biles will be assessed daily to determine whether she will compete in future events at the Tokyo 2020 Olympics, according to a statement from the U.S. Gymnastics team.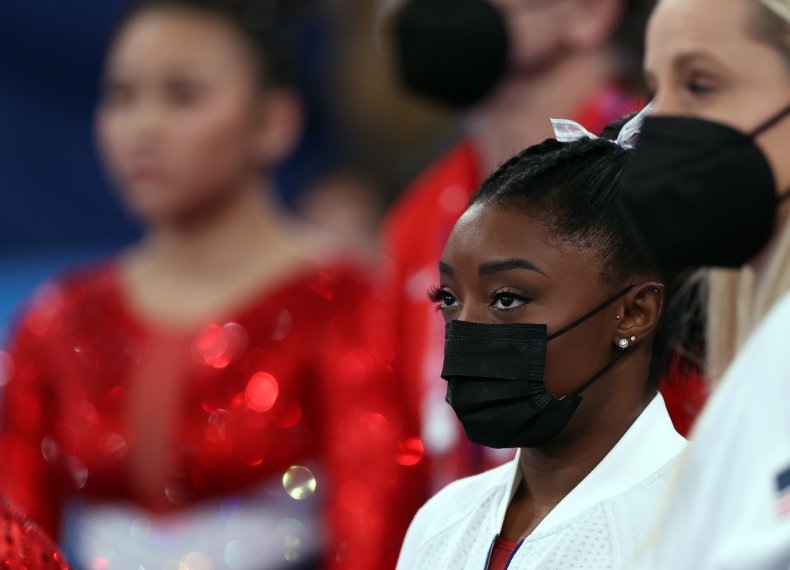 The gymnastics superstar told Eurosport she has lost trust in herself and said she is not having fun, citing her age as a possible reason for her nervousness toward competing.
"Even though it's so big, it's the Olympic Games," Biles said. "But at the end of the day, it's like we want to walk out of here, not be dragged out here on a stretcher."
"I have to focus on my mental health. We have to protect our minds and our bodies and not just go out and do what the world wants us to do," she added.
The U.S. Women's Gymnastic Team finished the competition in second place, earning them silver medals for the team competition. Biles watched from the sidelines and cheered on her teammates after returning to the arena with her right foot wrapped.
Biles told TODAY that her teammates were emotional when she told them she withdrew from the rest of the event and would not be competing on the uneven bars.
"They were freaking out," Biles said. "They were like crying, and I was like, 'You guys need to relax, you're gonna be fine without me. Go out there, kick some butt just like you've done in training, and just lay it out on the floor and see what happens.'"
Newsweek reached out to the U.S. Gymnastics Team and Biles but did not hear back by publication time.
This story was updated at noon EST with additional information.
Updated 07/27/2021, 12:10 p.m. ET: This story has been updated with a statement from Simone Biles and additional information.
Uncommon Knowledge
Newsweek is committed to challenging conventional wisdom and finding connections in the search for common ground.
Newsweek is committed to challenging conventional wisdom and finding connections in the search for common ground.