Rio 2016: Simone Biles Stumbles on Balance Beam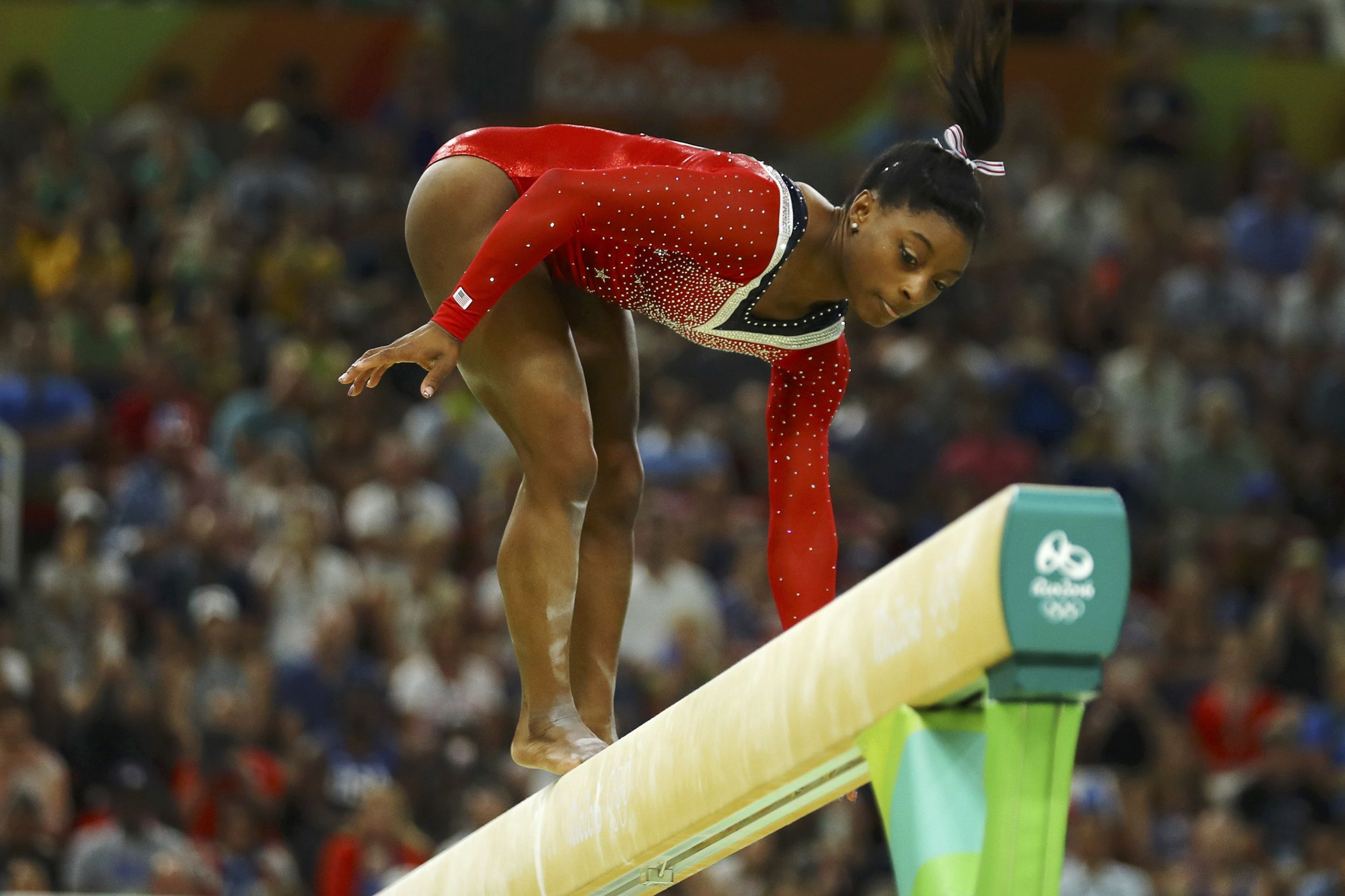 RIO DE JANEIRO (Reuters) - As expected, gymnast extraordinaire Simone Biles picked up her fourth medal at the Rio Olympics.
Only problem was it was not the color the American wanted.
The glum look on her face as she stood on the lowest platform of the podium said it all -- she had not won a bronze medal on the balance beam. She had just lost her chance at creating history.
All the soaring expectations about Biles becoming the first female gymnast to win five golds at a single Olympics came crashing down in a heartbeat -- thanks to a split-second wobble on a four-inch wide block of wood.
That mistake elevated Dutchwoman Sanne Wevers to the most unexpected of victories and left Biles to rue her slipped footing.
"I'm disappointed at the routine that I did. I don't really know what happened," said Biles, who had no idea her foot had slipped till she got off the beam and saw the replay.
There was no need for Greek muscle man Eleftherios Petrounias or North Korea's Ri Se-gwang to watch any re-runs of their performances on the rings and vault respectively to know they had struck gold.
Petrounias showed off his superior power in the strongman's event as he edged out local favorite and 2012 champion Arthur Zanetti to win with a score of 16.000.
Zanetti lost out on the top prize by 0.234 of a point while Russia's Denis Abliazin settled for bronze.
A big stumble backwards after his first soaring vault could not prevent Ri from becoming only the second man from communist North Korea to win an Olympic gold medal in gymnastics.
An average score of 15.691 allowed him to emulate the success of 1992 pommel horse champion Pae Gil-su.
Abliazin picked up his second medal of the day, this time a silver, after being pipped by 0.175 of a point.
Japan's Kenzo Shirai edged out 35-year-old Romanian Marian Dragulescu for the bronze on the tiebreak rule after both earned the same average score of 15.449.
BIG MISS
Rather than the feats of excellence, it was Biles's big miss that grabbed the spotlight.
The double world champion on the beam was rock solid as she spun around 900 degrees on her right toes. There was not a wobble in sight as she executed her backflip into two layouts.
With the gold medal in her sights, she soared high into a front somersault but lost her footing and had to grab the beam with both hands to save herself from falling off.
A routine that had been spell-binding till that moment suddenly lost its sparkle within a blink of an eye.
After completing her dismount, Biles's frustration was clear to see as the megawatt smile that had lit up the Rio Olympic Arena time and again over the past week failed to materialize.
The judges pondered over her score for several minutes and when 14.733 flashed up on the big screen, Biles rolled her eyes skywards as the mark was almost a point lower than her qualifying effort of 15.633.
Her misfortune allowed Wevers to become the first female Dutch gymnast to grab gold in an individual final, with a graceful yet low-risk routine featuring numerous spins, including a triple. She scored 15.466.
The Netherlands' only previous top prize for the women had been in the team competition in 1928.
Biles, whose score was only good enough for bronze behind team mate Laurie Hernandez, will get a chance to win a record-equalling fourth gold on Tuesday when she competes in the floor exercise final.
The Soviet Union's Larisa Latynina (Melbourne 1956), Hungary's Agnes Keleti (Melbourne 1956) and Czech Vera Caslavska (Mexico City 1968) are the only women to have won four golds at a single Games.