Simone Biles' Tokyo Olympics Off to Shaky Start but Golds Still in Reach
Simone Biles and her fellow Team USA gymnasts made a somewhat shaky start—relative to their exceptionally high standards—at the Tokyo Olympics.
Biles, a four-time Olympic gold winner and the most successful U.S. gymnast ever, narrowly qualified for the uneven bars finals.
She finished tenth in qualification for the event. However, while only eight make the finals, a maximum of two athletes from each country can go through. With four Russian athletes ahead of her, Biles made the cut.
But in what is arguably her weakest event, Biles was outshone by fellow American Sunisa Lee, who also scored higher on the parallel bars and beam.
Biles qualified for all three of the other individual finals—the beam, floor, and vault—as well as the all-round. If the U.S. team wins gold, she could potentially still win six golds.
Team USA finished second on a score of 170.526 behind the Russian Olympic Committee on 171.629.
It is the first time the U.S. has not led after day one of a Worlds or Olympics in more than a decade.
In the all-around standings, Biles leads earning a total score of 57.731. Team USA's Suni Lee is currently second at 57.166, followed by Melnikova at 57.132.
Earlier, she had briefly faced the real prospect of missing out on two more of the finals.
The 24-year-old was penalized on two disciplines: the floor (which she normally dominates) and the vault.
She flew way out of bounds on her third tumbling pass—a full-twisting double back somersault—and, as a result, was deducted 0.3 points.
A maximum of two gymnasts from each country can qualify for each of next week's finals, meaning if the two remaining Americans beat her, Biles would not make this final.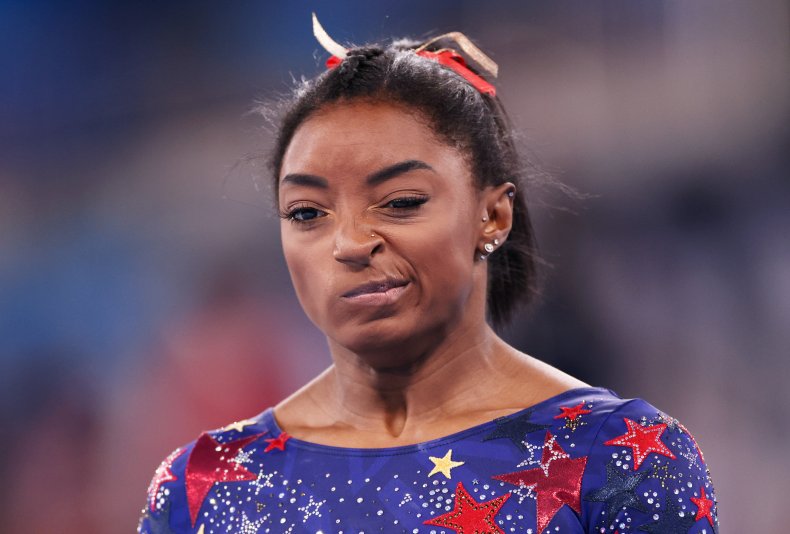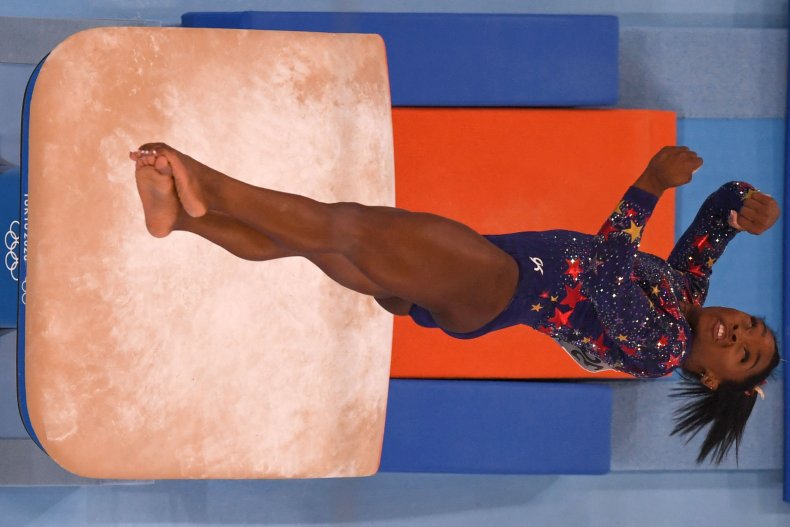 MyKayla Skinner, however, could not better her score.
And, in part thanks to her typically complex routine, Biles did enough, finishing in second place on 14.133, behind 30-year-old Italian Vanessa Ferrari, who scored 14.166.
On the vault, Biles landed off the mat at the end of her first routine. But she recomposed herself to finish with just a small hop forward next time around.
Once again she faced the prospect of MyKayla Skinner and Jade Carey out-scoring her. Neither did, and Biles went on to take the top spot on the apparatus, scoring 15.183, ahead of team-mate Jade Carey (15.166).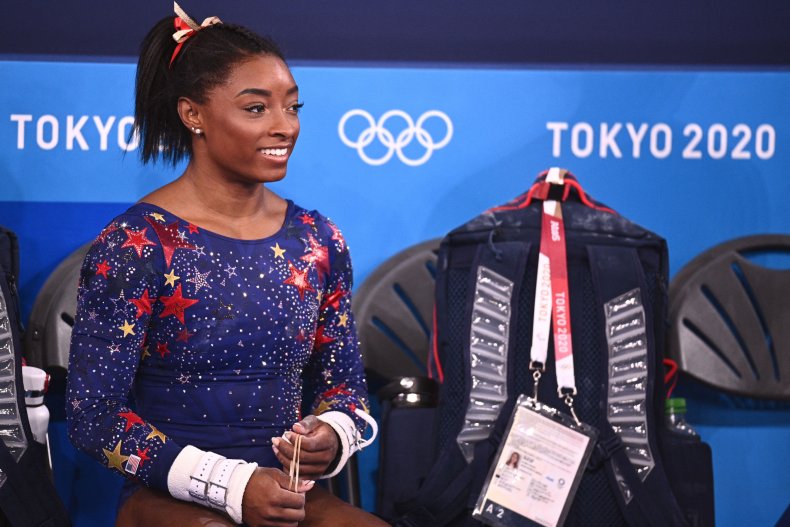 Biles is seeking to become the most decorated female Olympic gymnast of all time.
Biles dazzled at the last games, Rio de Janeiro 2016, taking four medals and wowing with her signature floor move, now officially known as "The Biles," that had never been seen at the Olympics or the world championships.
Since then, she has added "The Biles II," a triple-twisting double-tucked backward somersault.
Win four more medals at these games in Tokyo and Biles would have more medals than any other female Olympic gymnast.
Before these games, the gymnast received her own Twitter emoji, a flying GOAT with a gold medal, in recognition of her achievements and quest to become the greatest of all time.
Update 07/25/21, 8:55 a.m. ET: This article has been updated with the latest results and photos.
Correction 07/25/21, 9:45 a.m. ET: This article reflects that Simone Biles qualified for all of the individual event finals.