Simone Biles made history on Sunday night by becoming the first woman gymnast to successfully complete a triple-double in a floor routine.
The 22-year-old won gold at the U.S. Gymnastics Championships in Kansas City, Missouri, becoming the first woman to win six all-around titles in the competition since 1952.
Biles finished the two-day event with an overall score of 118.500, almost five points clear of second-placed Sunisa Lee and nearly eight clear of Grace McCallum, who finished third.
The six-time national champion topped the rankings on floor, vault and balance beam, finishing third on bars.
However, there was a lot more to Biles that caught the eye than just the national title. In her routine on Sunday, she attempted a triple twisting-double somersault.
Biles had attempted the same jump on Friday night, but pitched too far forward and had to put her hand down to regain balance.There were no such issues at the second time of asking as she landed perfectly, becoming the first woman gymnast to successfully land a triple-double in a floor exercise.
"I was so relieved," she was quoted as saying by USA Today. "Today I was very, very pleased."
The triple-double earned Biles a score of 15.1 and she followed it up with the night's second-best score of 14.750 on the uneven bars—her least favorite event.
Biles' floor routine offered yet more proof she is now competing against herself more than against her rivals.
A four-time gold medal winner at the 2016 Olympics in Rio de Janeiro, Biles has amassed a staggering 20 medals at the World Championships since her first appearance in 2013.
Of those 20 medals, 14 are gold, a record in men's and women's gymnastics.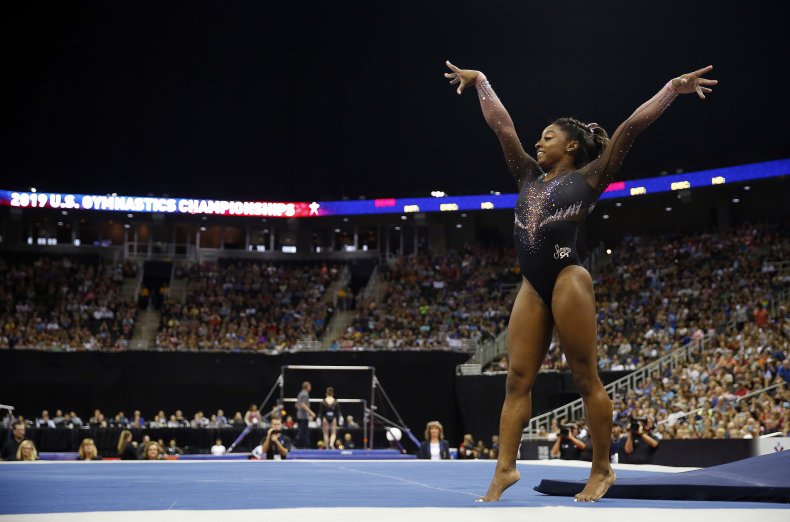 The Texas native took a year off after the 2016 Olympics but the spell away from the sport did not diminish her dominance, in fact it only appeared to recharge her.
Team U.S.A will select its five-woman team next month ahead of this year's World Championships, which take place in Stuttgart, Germany in October.
With Biles all but certain to be part of the team, Lee strengthened her chances by recording the night's top score on the bars and finishing second overall.
McCallum, who was part of the team who won the gold medal at the team event at the World Championships last year, put up the second-best all-around score on Sunday to surge from ninth to third.