Simone Biles has pulled out of the women's Olympic gymnastics team final in Tokyo due to a "medical issue."
The gymnast left the competition floor after making a mistake during her performance on the vault at Tuesday's Olympic Games.
The four-time Olympic gold winner and the most successful U.S. gymnast ever was going for her first of six possible gold medals in Tokyo in the women's team gymnastics final.
The 24-year-old did a Yurchenko one-and-a-half and almost fell forward on the landing.
She had planned to execute a Yurchenko vault with two-and-a-half twists, but bailed out at the last second, meaning she only performed one-and-a-half twists which resulted in a much lower starting score for the athlete.
Biles also, unfortunately, had a shaky landing that saw her knees buckle, propelling her forward, but she managed not to fall.
After leaving the stadium, it was then confirmed that Biles was not part of the trio taking part in the uneven bars for Team USA.
Biles scored 13.766—her worst score in years. She returned moments later with her right foot wrapped where she took off the grips she wore for her bars routine.
The gymnast then hugged her teammates Grace McCallum, Sunisa Lee and Jordan Chiles and watched them from the sidelines in a sweatsuit.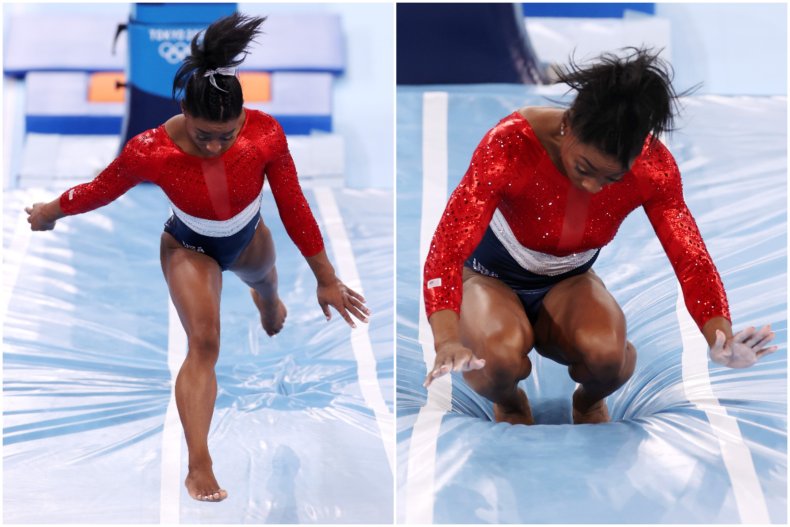 It was later confirmed that Biles had been pulled out of the entire team finals.
USA Gymnastics said in an official statement: "Simone Biles has withdrawn from the team final competition due to a medical issue. She will be assessed daily to determine medical clearance for future competitions."
A Team USA coach confirmed that Biles' exit from the gymnastics team event "is not injury related."
Per an NBC broadcast, Biles' exit is due to a "mental issue she is having."
Biles was originally due to compete on uneven bars in the second rotation, but Jordan Chiles was subbed in.
Carol Fabrizio, a U.S.A. Gymnastics spokeswoman confirmed Biles' exit to The New York Times.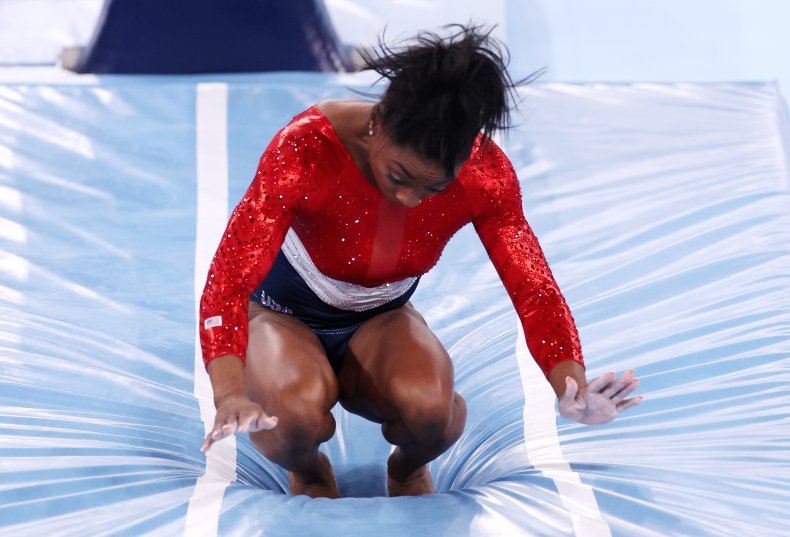 The team will now continue to compete without Biles.
Biles qualified for every individual apparatus final and finished top of the all-around standings. However, a series of unexpected errors had raised questions over her ability to repeat the same levels of the Rio 2016 games when she won four gold medals.
Earlier this week, the gymnast said she "felt the weight of the world on my shoulders" in an Instagram post about the upcoming games.
"it wasn't an easy day or my best but I got through it," she said. "I truly do feel like I have the weight of the world on my shoulders at times. I know I brush it off and make it seem like pressure doesn't affect me but damn sometimes it's hard hahaha! The olympics is no joke! BUT I'm happy my family was able to be with me virtually they mean the world to me!"