Simone Biles Wows the World, Yet Again, With This Powerful Floor Routine
Simone Biles has stated the Tokyo Olympics will be her swan song as age is creeping up on her. On the first night of the United States Gymnastics Championships in Fort Worth on Friday, the reigning Olympic and world champion soared to the top of the standings.
Literally.
Biles, 24, leads in a landslide after Friday night's events, which included a high-flying floor routine that left the crowd in awe. Her routines are so intricate that they're called "Biles" passes, of which she made two on Friday. The first was a triple twist double back, in which she stuck the landing.
Biles shimmied on the mat, and then went into her next skill: the double layout with a half turn. She had another great land.
Biles didn't even go to the Yurchenko double pike, which she nailed two weeks earlier in her first competition in more than 18 months. That maneuver is high on a difficulty level, and Biles decided to keep that in her pocket for later.
"That's on the (International Federation of Gymnastics) that's not on me," Biles said. "They have an open-end code of points and now they're mad people are too far ahead and excelling."
She stuck to the basics on Friday, which was good enough to vault her into the overall lead.
Here's a look at her first pass in super slow motion.
She probably could've just breakdanced to fill out her time from that point, but she kept performing to gain a sizeable lead during the floor routine and end the first night's activities.
Biles wore a leotard Friday that had an outline of a goat on her right shoulder, which indicates Greatest of All Time in a nod to herself.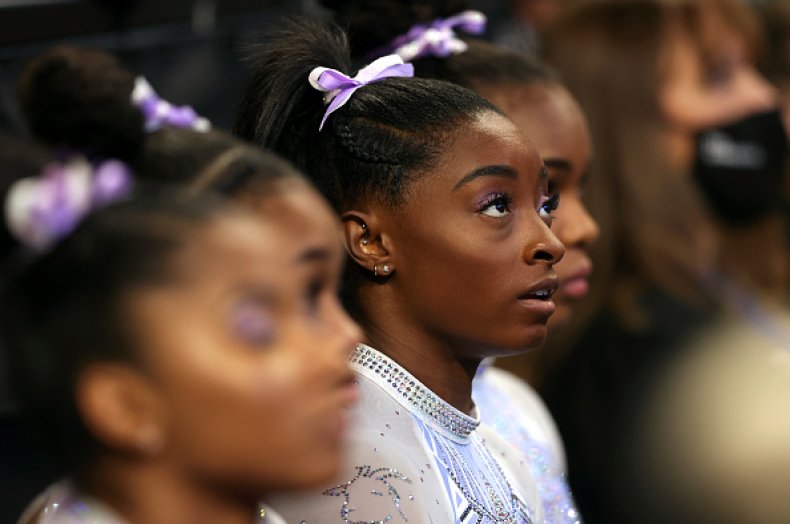 Here's her full floor routine performance on Friday.
Biles had the most points in three of the first four events on Friday and leads the all-around with 59.55 points, which is better than Suni Lee's 57.35 and Jordan Chiles' 56.90.
"Tonight I feel like it was really good," Biles said, according to the Associated Press. "It was definitely better than Classic. ... Floor could have been a little bit better. I need to control my adrenaline a little bit better going into my passes but I'm not mad at today's meet at all."
Biles took the top spot in the balance beam (14.35), floor exercise (14.65) and vault (15.8). She finished second in the uneven bars (14.75) behind Lee (15.3).
Brody Malone leads the men's all-around standings after six events, despite landing the top spot in only the vault and a top-three finish in two other events.
The men's finals will conclude Saturday at Dickies Arena in Fort Worth, and the women's finals will wrap on Sunday.