'The Simpsons' Is Cutting Apu Character From Show After Racism Furor: Report
The character Apu may be leaving The Simpsons after 28 years of appearing in the show. Film producer and YouTube personality Adi Shankar revealed in an interview with IndieWire that two people involved with The Simpsons and another person who works directly with creator Matt Groening told him Apu is set to be dropped from the long-running animated series.
"I got some disheartening news back that I've verified from multiple sources now: They're going to drop the Apu character altogether," Shankar told the site. "They aren't going to make a big deal out of it, or anything like that, but they'll drop him altogether just to avoid the controversy."
Apu—a convenience store owner voiced by Hank Azaria—has been the subject of controversy in recent times with many believing the character reinforces negative stereotypes of Indian-Americans.
In 2017, Indian-American comic Hari Kondabolu released a documentary titled "The Problem with Apu" to highlight the issue.
At present, Fox have not said anything publicly regarding the matter. A representative for the broadcasting company only provided this cryptic response when IndieWire pressed them for comment: "Apu appeared in the 10/14/18 episode 'My Way or the Highway to Heaven.'"
This appearance was brief though, with Apu only present in a single shot alongside numerous other characters.
In April, Shankar launched a spec script contest for The Simpsons in an attempt to address the so-called "Apu Problem."
A spec script—otherwise known as a speculative screenplay—is a non-commissioned and unsolicited screenplay usually written in the hope that it will eventually be purchased by a producer, production company or studio.
Shankar wanted to find a script that "in a clever way subverts [Apu], pivots him, writes him out, or evolves him in a way that takes a creation that was the by-product of a predominately Harvard-educated white male writers' room and transforms it into a fresh, funny and realistic portrayal of Indians in America," he told IndieWire.
Shankar thought that the winning script may have a chance of being picked up by Fox, however, he soon learned that the character will not be around much longer.
"If you are a show about cultural commentary and you are too afraid to comment on the culture, especially when it's a component of the culture you had a hand in creating, then you are a show about cowardice," Shankar said.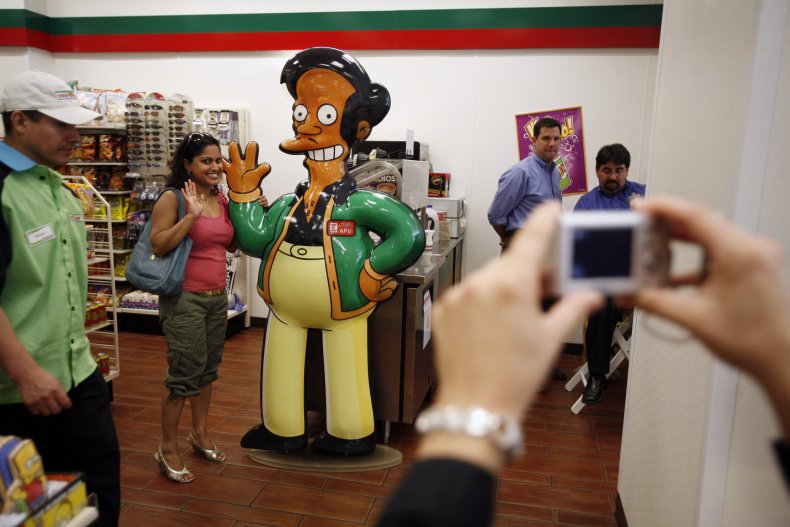 "It's not a step forward, or step backwards, it's just a massive step sideways. After having read all these wonderful scripts, I feel like sidestepping this issue doesn't solve it when the whole purpose of art, I would argue, is to bring us together."
Shankar says he intends to produce a version of the winning script—written by Vishaal Buch, a doctor from Bethesda, Maryland—himself, via his Bootleg Universe YouTube page.
The Simpsons is the longest-running American sitcom, and the longest-running American scripted primetime TV series in terms of seasons and number of episodes. Since its debut on December 17, 1989, 643 episodes of the show have been broadcast.